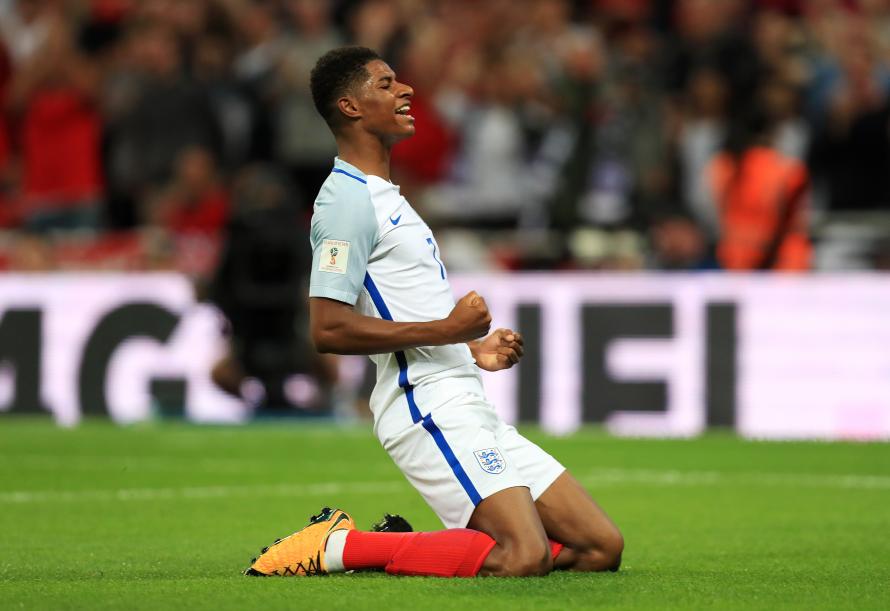 In a battle of Group F's top two sides in UEFA World Cup Qualifying, England held off Slovakia 2-1 at Wembley Stadium. A 59th-minute winner from Marcus Rashford sealed three points for the hosts in a hotly-contested match. The visitors opened the scoring in the third minute as Stanislav Lobotka slotted home from close range. Eric Dier equalized for the Three Lions in the 37th minute, finishing Rashford's cross following a corner kick. Rashford's long-range right-footed strike before the hour mark found the bottom left corner to put England ahead for good. Slovakia's Martin Dubravka made eight saves in the loss, the first for the Slovakians since October 2016. England remains atop of Group F, and unbeaten in qualifying.
Elsewhere on Monday, Germany routed Norway in Group C, while Northern Ireland clinched a second-place finish with a win over the Czech Republic. Poland bounced back from defeat in Denmark by edging Kazakhstan, while Denmark blew by Armenia.
Here's a closer look at all of Monday's UEFA World Cup Qualifiers:
Group C
Northern Ireland clinched a second-place finish in Group C, defeating the Czech Republic, 2-0, at Windsor Park. Jonny Evans's 28th-minute opener gave the hosts the lead as the West Brom defender headed home Oliver Norwood's assist. Evans' Baggies teammate Chris Brunt doubled the lead before halftime, scoring from a left-footed free kick in the 41st minute The Czechs only recorded one shot on goal, losing for the second time in four days. Northern Ireland have now won five consecutive qualifying matches.
Germany remained unbeaten in qualifying, routing visiting Norway 6-0 in Stuttgart. The hosts led 4-0 at halftime in what was a pretty comfortable opening 45. Mesut Ozil opened the scoring after 10 minutes before Julian Draxler added to the lead seven minutes later. Timo Werner made it 3-0 in the 21st minute before heading home Germany's fourth in the 40th minute. Leon Goretzka's 50th-minute header extended the lead to 5-0 before Mario Gomez headed home Germany's sixth with 11 minutes left on the clock. Norway was held to one shot on goal, suffering their fifth loss of qualifying.
Azerbaijan 5 – San Marino 1
Germany 6 – Norway 0
Northern Ireland 2 – Czech Republic 0
1. Germany | 24 points | 8-0-0 | 35 goals scored | 2 goals allowed
2. Northern Ireland | 19 points | 6-1-1 | 16 goals scored | 2 goals allowed
3. Azerbaijan | 10 points | 3-4-1| 8 goals scored | 12 goals allowed
4. Czech Republic | 9 points | 2-3-3 | 10 goals scored |9 goals allowed
5. Norway | 7 points | 2-5-1 | 8 goals scored | 16 goals allowed
6. San Marino | 0 points | 0-8-0 | 2 goal scored | 38 goals allowed
Group E
After being drubbed by Denmark on Friday, Poland bounced back by defeating Kazakhstan, 3-0, in Warsaw. An 86th-minute penalty kick goal by Robert Lewandowski capped a perfect evening for the Polish, who remain atop of Group E. Arkadiusz Milik opened the scoring 11 minutes in, heading home from close range. Monaco defender Kamil Glik added to the lead after 74 minutes, finishing Piotr Zielinski's cross to the top left corner. Lewandowski scored his 12th goal of qualifying, which is second only behind Portugal's Cristiano Ronaldo (14). Poland now sits three points clear of Montenegro and Denmark.
A hat trick from Thomas Delaney sparked Denmark to a third consecutive qualifying victory, as they defeated Armenia 4-1 away from home. However it was the hosts who held an early lead, as Ruslan Koryan's long-range strike opened the scoring in the sixth minute. Delaney equalized for Denmark after 16 minutes, heading home from inside of the box. Christian Eriksen continued his strong run of form, curling home a 29th-minute free kick for a 2-1 Denmark lead. Delaney's second goal came after 81 minutes from a long-range left footed blast before capping his hat trick in stoppage time. The Werder Bremen midfielder headed home Eriksen's assist for his fourth goal of qualifying.
Armenia 1 – Denmark 4
Poland 3 – Kazakhstan 0
Montenegro 1 – Romania 0
1. Poland | 19 points | 6-1-1| 18 goals scored | 11 goals allowed
2. Montenegro | 16 points | 5-2-1 | 18 goals scored | 7 goals allowed
3. Denmark | 16 points | 5-2-1| 18 goals scored | 7 goals allowed
4. Romania | 9 points | 2-3-3 | 8 goals scored |8 goals allowed
5. Armenia | 6 points | 2-6-0 | 8 goals scored | 19 goals allowed
6. Kazakhstan | 2 points | 0-6-2 | 4 goals scored | 22 goals allowed
Group F
Scotland remained alive in qualifying, defeating visiting Malta 2-0 at Hampden Park. Christophe Berra's ninth-minute header opened the scoring for Gordon Strachan's side, who looked comfortable from the get go. Celtic's Leigh Griffiths doubled the lead after 49 minutes, scoring from close range after James Morrison struck the left post. Malta's Andrew Hogg made eight saves in the loss, as his side remain winless in qualifying. Scotland drop to fourth on goal difference, but remain alive in the race for second place.
England 2 – Slovakia 1
Scotland 2 – Malta 0
Slovenia 4 – Lithuania 0
1. England | 20 points | 6-0-2| 16 goals scored | 3 goals allowed
2. Slovakia | 15 points | 5-3-0 | 14 goals scored | 6 goals allowed
3. Slovenia | 14 points | 4-2-2| 10 goals scored | 4 goals allowed
4. Scotland | 14 points | 4-2-2 | 14 goals scored |10 goals allowed
5. Lithuania | 5 points | 1-5-2 | 6 goals scored | 18 goals allowed
6. Malta | 0 points | 0-8-0 | 2 goals scored | 21 goals allowed