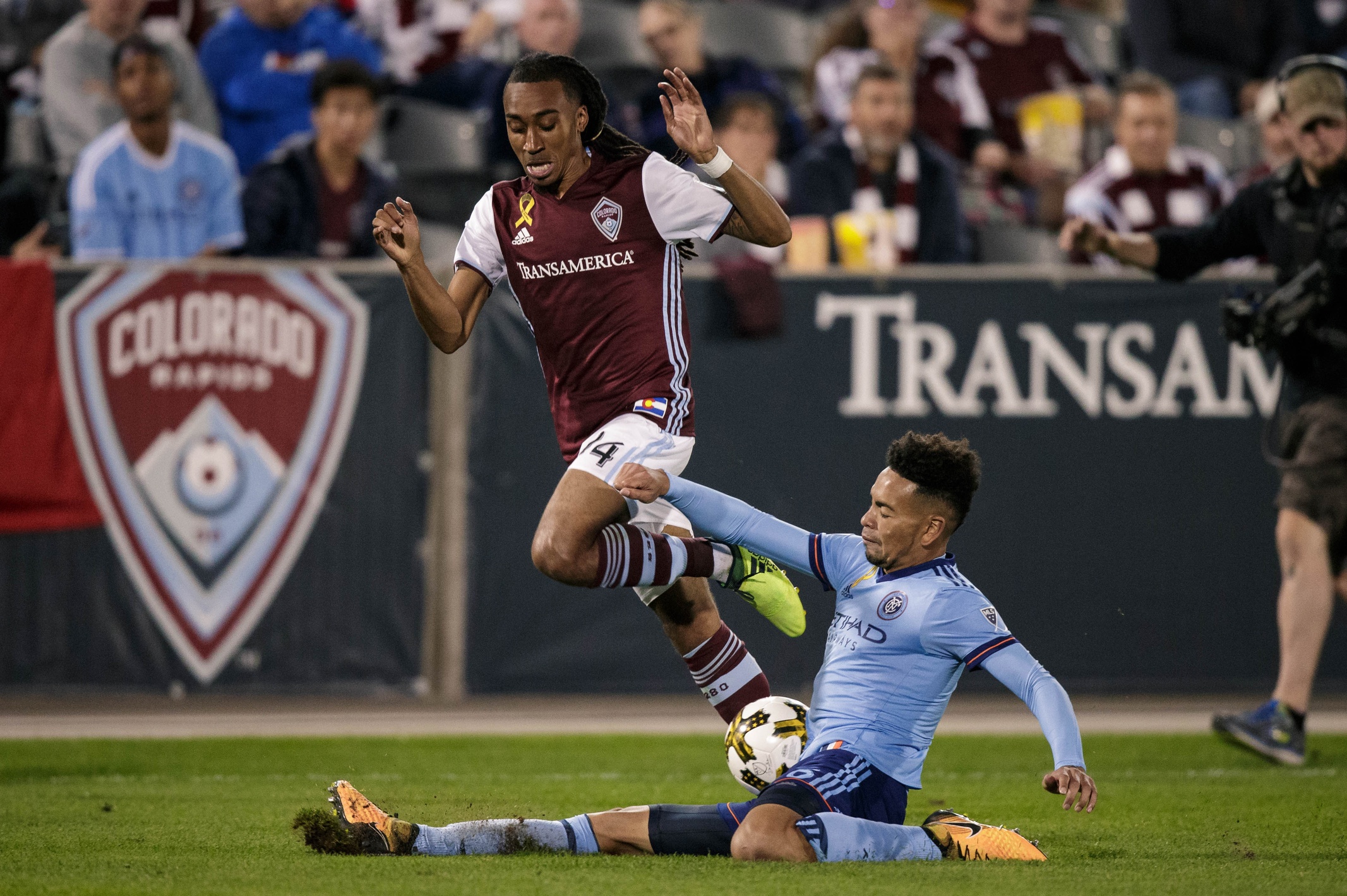 For most of Saturday's match at Dick's Sporting Goods Park, it looked like NYCFC would claim an important three points on the road. Colorado Rapids forward Dominique Badji had other ideas, scoring an equalizer in the 89th-minute in a 1-1 draw.
A long-range strike from Thomas McNamara stole the show early, before Badji canceled it out late.
Badji had the first crack towards goal in the 14th-minute, seeing his left-footed effort saved by Sean Johnson. McNamara broke the deadlock, rifling home a right-footed shot into the top right corner.
It was the midfielder's third goal of the season, and his first since May 15th. Andrea Pirlo's effort in the 24th-minute struck the crossbar, keeping the score at 1-0.
Marlon Hairston's long-range effort in the 40th-minute forced Johnson into his second save of the night before halftime. Michael Azira was next to be kept out by Johnson in the 3rd-minute from a long-range effort.
Tim Howard made a huge save on Jack Harrison in the 70th-minute from long-range to keep the score at 1-0.
Badji came up with the good for his side, beating Johnson to the bottom right corner in the 89th-minute. The Senegalese forward rifled home from a left-footed effort, for his eighth goal of the season.
At the final whistle, the sides had to share the points in a highly-entertaining 1-1 draw. Howard made four saves for the Rapids, while Johnson made four for NYCFC.
NYCFC (15-8-6) return home on Sept. 23rd, welcoming the Houston Dynamo to town. The Rapids (7-16-5) next head on the road also on the 23rd, facing off with the Vancouver Whitecaps.
MAN OF THE MATCH
Badji earned man of the match honors, scoring the late equalizer for Steve Cooke's side. After it looked like the Rapids would have to settle for second-best on Saturday, the 24-year-old had other ideas finding the back of the net.
MOMENT OF THE MATCH
After taking a 1-0 lead, NYCFC kept their foot on the gas. Andrea Pirlo was unlucky in the 24th-minute, striking the crossbar. That effort has a greater meaning now with the sides ending in a draw.
MATCH TO FORGET
Rapids midfielder Josh Gatt was disappointing on Saturday night, coming off as a 65th-minute substitute. Gatt completed only nine passes, which was the second fewest by a Rapids starter. He also failed to record a shot and lost possession eight times.