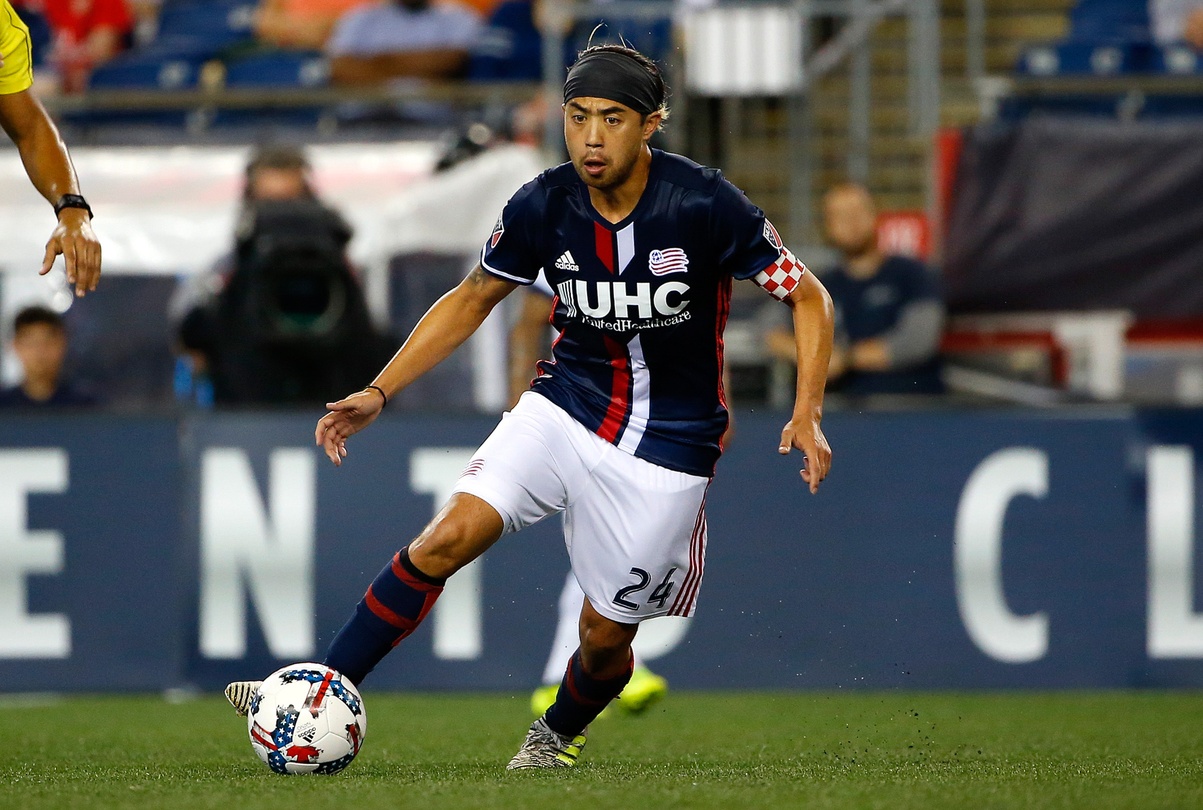 Major League Soccer's 50-50 club is reserved for the best the league has seen. Less than 20 players have been able to produce 50 goals and 50 assists in their careers.
New England Revolution midfielder Lee Nguyen, who is tied for the league lead in assists with 14, is two goals and two assists away from becoming the 19th player to join the illustrious group.
But as the milestone approaches, the American midfielder is only focused on one thing: the Revolution's push toward the postseason.
"At the end of the my career, when I look back on it, I've done a great job with the time I've been in this league," Nguyen told SBI. "I have to be happy with that, but at the same time I want to be in a situation to help my team win and be able to challenge for a title. We should be in a situation where we're challenging for another cup run. That's what I hope to do. I hope to help my teammates and myself in chances to be able to make that type of run." 
Some may count the Revolution's chances as slim as they sit in eighth place with 32 points, four back of both the Montreal Impact and Atlanta United, but the Revs still have a chance to control their own destiny with two games each against their playoff rivals, including Saturday's game with Montreal at Gillette Stadium.
"Obviously you can't control the future and what other teams do, but we take it one game at a time," Nguyen said. "We do know some results are going to have to fall in our favor as well. Right now all we can control is the next game and we need to be able to force the issue when we play Montreal and Atlanta twice. Those games are must-win. If we do our jobs then, we give ourselves a good chance going into the end of the season." 
Forcing the issue won't just be saved for the Montreal and Atlanta games. In order to make another late-season push, the Revs must improve on their Eastern Conference worst 0-10-3 road mark.
"I think it's a mentality thing," Nguyen said. "We have to approach no matter if it's home or away like we are at home. We have to go out and attack teams. We have some great attacking players and we have to go out and push the issue against these teams. I know playing away from home sometimes can be tough in a different environment, but we're not a team that's built to sit back and take on the pressure." 
Although the focus is solely on the team's achievements at this point in the season, Nguyen is deserving of individual praise once again as he's recorded 10 or more assists for each of the last three seasons. At 30, he might not be the hottest USMNT prospect, but one could make an argument he's worthy of a look from Bruce Arena between now and June.
"I've always said in the past for me I can only control what I can control and I'm going to continue to do what I do best and that's creating chances for myself and my teammates and try to be the best playmaker I can in this league," Nguyen said. "If I get my chance, I'll be ready for that and if not, I'll continue to do what I do. My job is to help my team reach for the playoffs and have a chance to go after that cup. That's my main goal and if I get the chance to represent my country, I'll always be ready for that." 
As a possible national team call-up, presumably at least a shot in January camp, looms in the distance, Nguyen is trying to inspire the Revs to go on yet another late run to the postseason, one in the past that led the club to MLS Cup.
"We know that we have guys in the squad that have been through these rough patches," Nguyen said. "We know that it might come down to that last game of the season against Montreal, and if that's the case, we've been in that situation two years ago and we got through and a similar situation last year and missed out on goal difference so we know every game, goal and point counts.
"Now more than ever it's crucial that we maximize points at home and go away from home and get results, especially against the two teams ahead of us."