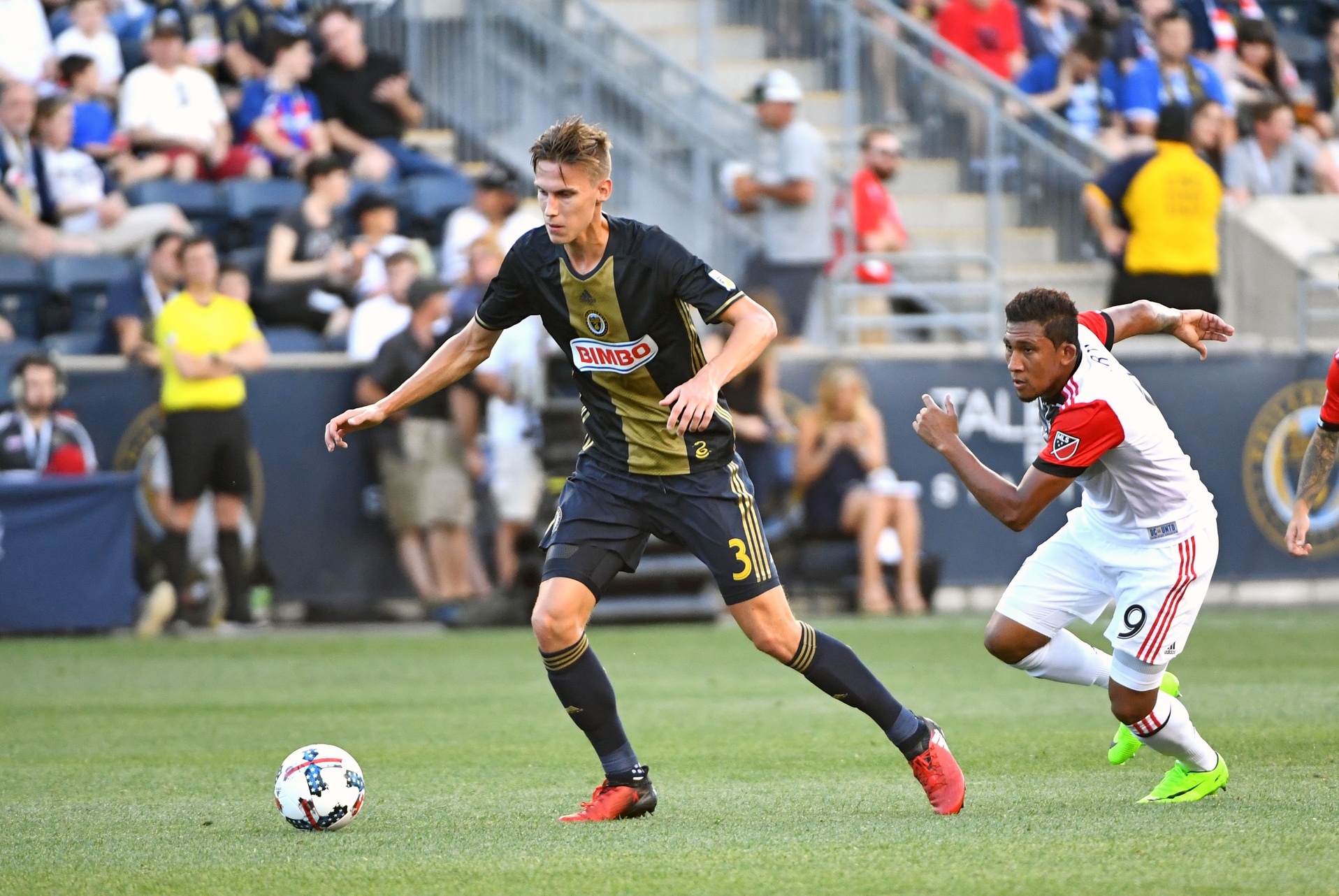 CHESTER, PA– The lanky Englishman walking off the practice field with his fellow rookies after collecting every loose soccer ball doesn't look like a commanding center back.
Jack Elliott, the 22-year-old fourth-round pick of the Philadelphia Union, has turned himself into one of Major League Soccer's top young defenders in 2017, and his relentless work effort has put him at the forefront of the Rookie of the Year race.
Elliott's path to Jim Curtin's starting XI on a regular basis is as unlikely as a fourth-round pick thriving in MLS. Fourth-round picks have little value to MLS teams, and that's shown by the five passes made by Real Salt Lake, D.C. United, the LA Galaxy and Montreal Impact this January.
But Elliott didn't look at himself as a fourth-round pick in preseason. All he wanted to do was prove his abilities on a level playing ground.
"Obviously I was looking to get playing time at some point," Elliott said. "I knew that once I was drafted, it was basically a trial and it's not what happens in the lead up through college or the hype that you come in with, it's what you do when you get there. That's one thing I focused on when I first got here was making an impact on the team and the coaches and showing them how I play."
Elliott earned his first start on April 14 against New York City FC and hasn't left the starting lineup since. He's been paired mainly with Oguchi Onyewu in an unlikely, but successful partnership.
"I think it just progressed throughout the year and I'd say we're pretty similar players and we can read the game very well," Elliott said. "We obviously aren't the quickest so we have to read the game very well. That helps both of us to just know each other. We know what each other is going to do and things like that."
Elliott's breakout game came on August 19 in San Jose as he scored his first professional goal and he put in a massive defensive effort that included several key blocks and clearances. That showing boosted him into the driver's seat for Rookie of the Year, but he isn't focused on that right now.
"It's obviously nice to be up in that category, but I don't pay too much attention to it," Elliott said. "I've got to keep working for the rest of the season. That's not going to come by people saying it now. It's going to be what they're saying at the end of the season."
The path that took Elliott to Chester started in England, where he was raised by Scottish parents. His dad is a Rangers fan and converted Elliott early before his mom, a Celtic fan, could influence him. A few of his current teammates, Maurice Edu and Alejandro Bedoya, played for Rangers while he was growing up.
"My mom and dad are both from Scotland. My dad is a Rangers fan and my mom is a Celtic fan, but my dad obviously took the reigns there and put us into Rangers jerseys and took us to the games and I was a Rangers fan from a kid. I loved all the players," Elliott said.
"I was actually a fan of Mo when I was younger," the defender said. "He was a really good player. He still is. Ale was there for a little bit, but he was there when they started getting into a bit of trouble. He didn't really get to experience it too much from what he told me, but he said he loved it and said it was one of the biggest clubs he's been at."
Elliott caught on at West Virginia late in the recruiting process, but instantly fell in love with Morgantown. The different places Elliott's soccer adventure have taken him to some unexpected places, but he always had confidence in his abilities.
"I had one offer from West Virginia and it was fairly late in their recruiting," Elliott said. "I just thought I might as well come and see what it's like and do my best at it. After the first few weeks, I realized I was going to be there for four years and love it. It wasn't a huge decision actually. I said I want to do this and I went after it."
"It's been a journey for sure, even at the start of this year I didn't think I'd be in the position I am now," Elliott added. "I always thought I was capable of playing and I just kept advancing through the different hoops from doing well in college to doing well here as well. It's crazy to think about and I'm so glad that I'm here."
Although the Union are up against it in the Eastern Conference playoff race, Elliott still has confidence in his team, and he believes he'll be able to help not only his cause, but the team's in the final two months of the campaign.
"I don't think the playoffs are out of sight for us to be honest," Elliott said. "We can make a late push with the games we got and the players we have to push to at least make it close with a few things going our way too we can make it in there. Me personally is just keep performing the way I have been and just trying to show what I can do. It's more about the team at this time of the year anyway."