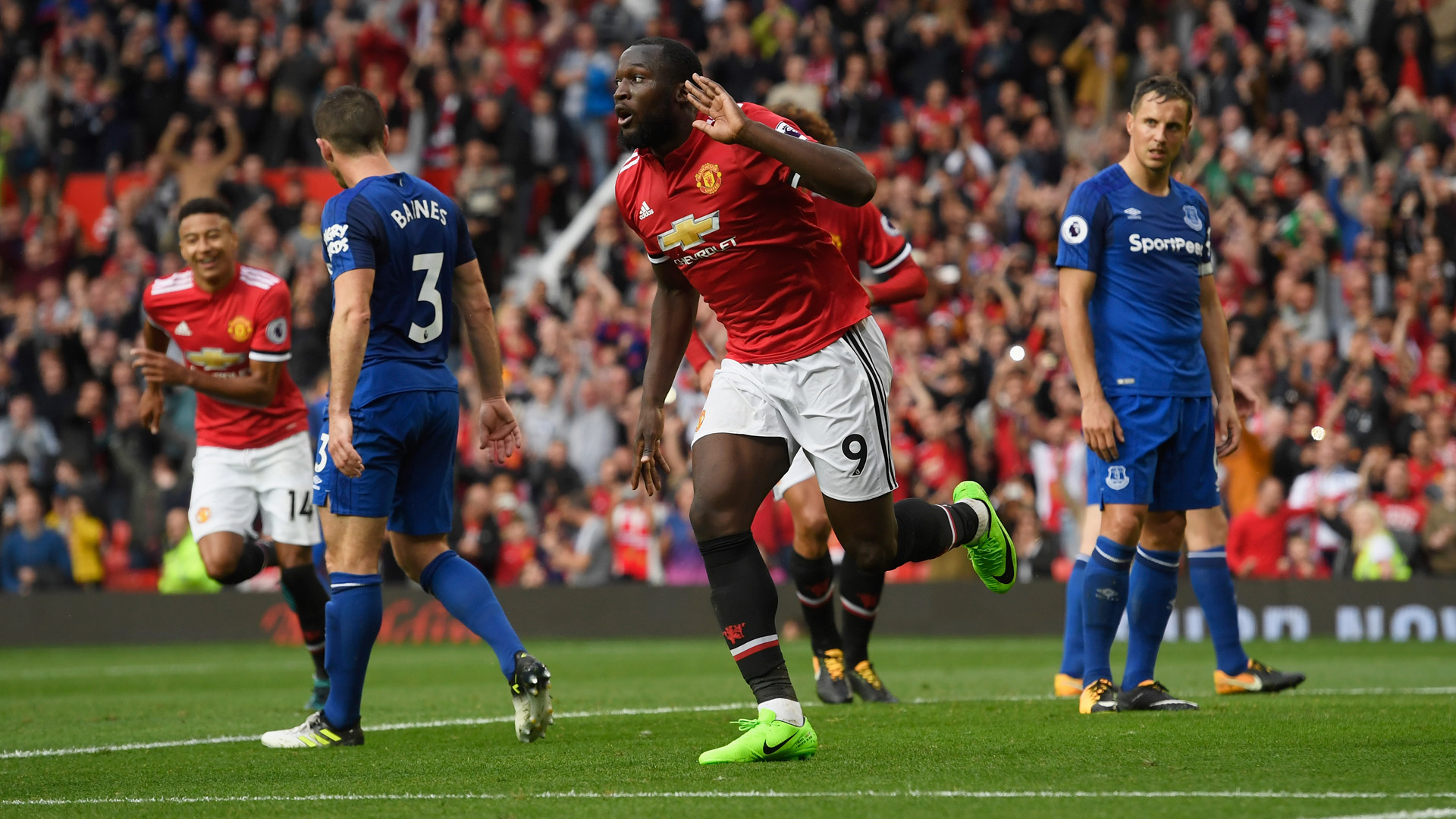 Manchester United kept on rolling in the Barclays Premier League, thumping Everton 4-0 on Sunday. Jose Mourinho's side saw goals from four different players in the dominant home victory. Antonio Valencia opened the scoring in the fourth-minute for United. Henrikh Mkhitaryan doubled the lead in the 83rd-minute, slotting home a fine finish. Romelu Lukaku's right-footed finish in the 89th-minute made it 3-0 before Anthony Martial slotted home a fourth from the penalty spot in stoppage time. Everton recorded three shots on goal, but ultimately fell for the fourth time in a row across all competitions. United sit second in the EPL table, behind city rivals Manchester City.
Elsewhere in Europe, Arsenal and Chelsea shared the points at Stamford Bridge, while Borussia Dortmund smoked Koln in Germany. Paulo Dybala carried Juventus to another Serie A win, while Lazio edged Genoa. Real Madrid made it back-to-back wins this week, while PSG defeated Lyon in Ligue 1 action.
Here's a closer look at all of Sunday's European results:
ENGLISH PREMIER LEAGUE
Chelsea and Arsenal shared the points on Sunday in a scoreless draw at Stamford Bridge. Aaron Ramsey had the best chance in the first-half, striking the left post in the 41st-minute. David Luiz was sent off for the hosts in the 87th-minute, after a foul on Sead Kolasinac. Petr Cech made four saves for Arsenal, while Thibaut Courtois made two for Chelsea. Arsenal are unbeaten in their last three matches, while Chelsea are unbeaten in five.
Chelsea 0 – Arsenal 0
Manchester United 4 – Everton 0
SPANISH LA LIGA
Real Madrid made it two straight wins this week, defeating Real Sociedad 3-1 away from home. Borja Mayoral's right-footed opener in the 19th-minute made it 1-0 to the visitors. Kevin Rodrigues equalized for Real Sociedad in the 28th-minute from a left-footed effort inside of the box. However, Los Blancos got some luck in regaining the lead as an own-goal off of Rodrigues made it 2-1. Gareth Bale stamped the final score at 3-1 in the 61st-minute from a left-footed effort. Sociedad suffered their first loss of the season, while Madrid sit in fourth place.
Sevilla remained unbeaten this season, edging Girona 1-0 away from home. Following a scoreless first-half, Sevilla used a left-footed winner from Luis Muriel in the 69th-minute. The Colombian netted his first goal for the club, finding the bottom left corner from his effort. Girona failed to record a shot on goal, suffering their second consecutive defeat. Sevills jumps up to second place with the win.
Here are all of Sunday's La Liga results:
Alaves 0 – Villarreal 3
Girona 0 – Sevilla 1
Las Palmas 1 – Athletic Bilbao 0
Real Sociedad 1 – Real Madrid 3
GERMAN BUNDESLIGA
Borussia Dortmund bounced back from a midweek European defeat in London, by drubbing Koln 5-0 at home. Maximilian Philipp and Pierre-Emerick Aubameyang each netted brace in the home triumph. Philipp opened the scoring in the second-minute by scoring from a header inside of the box. Sokratis doubled the lead before halftime, finishing from close range. Aubameyang extended the lead to 3-0 from a penalty kick in the 59th-minute, before netting his second a minute later. Philipp's second of the afternoon came in the 69th-minute after he blasted home from a left-footed effort. Koln was held to two shots on goal, and remain winless this season. Dortmund sit atop of the Bundesliga table with 10 points.
Here's all of Sunday's Bundesliga results:
1899 Hoffenheim 1 – Hertha Berlin 1
Bayer Leverkusen 4 – SC Freiburg 0
Borussia Dortmund 5 – FC Koln 0
ITALIAN SERIE A
Juventus bounced back from a midweek Champions League loss by defeating Sassuolo 3-1. Paulo Dybala scored his second hat-trick of the new season, giving him eight goals in total. Dybala opened the game with a screamer of a left-footed effort, which made it 1-0 in the 16th-minute. Dybala doubled the lead in the 49th-minute, from a nice finish inside of the box. Sassuolo cut the lead to 2-1 two minutes later through Matteo Politano, before Dybala capped his hat trick. The Argentinian's left-footed free kick in the 63rd-minute rifled into the bottom right corner for the final goal of the match. Sassuolo remain winless, while Juventus sit in second place.
Lazio used a brace from Ciro Immobile to hold off Genoa 3-2 on Sunday in Genova. Immobile's long-range strike in the 82nd-minute capped the three points for Lazio after the visitors were pegged back twice. Bartolomeu Bastos opened the scoring  in the 13th-minute from a close range finish. Pietro Pellegri drew Genoa level in the 57th-minute from a smooth finish into the bottom right corner. Immobile's first goal came in the 70th-minute from an assist from Jordan Lukaku. Pellegri's right-footed finish three minutes later put Genoa level for the second time on the afternoon. Immobile had the final laugh, scoring his seventh goal of the season. Lazio remain unbeaten, while Genoa have lost three in a row.
Here's all of Sunday's Serie A results:
Sassuolo 1 – Juventus 3
AC Milan 2 – Udinese 1
Napoli 6 – Benevento 0
Spal 0 – Cagliari 2
Torino 2 – Sampdoria 2
Chievo Verona 1 – Atalanta 1
Genoa 2 – Lazio 3
FRENCH LIGUE 1
PSG remained atop of the Ligue 1 table, defeating Lyon 2-0 at the Parc Des Princes. A pair of Lyon own-goals helped Unai Emery's side from avoiding their first draw of the season. Following a scoreless first-half, PSG got the opening goal from an own goal off of Marcelo in the 75th-minute. Edinson Cavani was kept out in the 79th-minute from the penalty spot as Anthony Lopes pushed his effort aside. PSG claimed the three points after an own goal by Jeremy Morel made it 2-0 in the 86th-minute. Lopes made five saves for Lyon, while Alphonse Areola also made five saves for PSG. Lyon drop down to fifth place with the road loss.
Here's all of Sunday's Ligue 1 results:
Amiens 0 – Marseille 2
Angers 0 – Metz 1
Rennes 0 – Nice 1
PSG 2 – Lyon 0