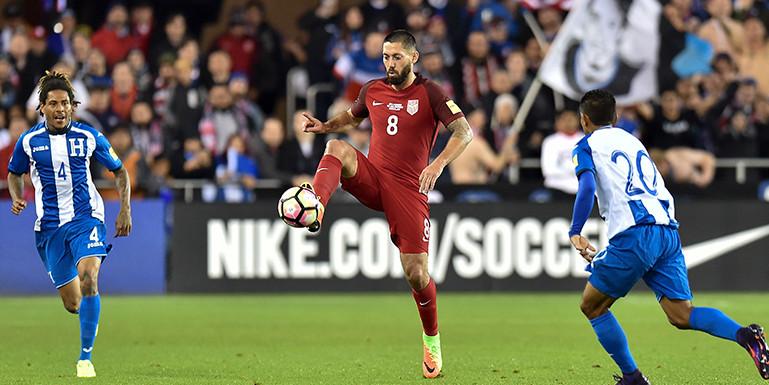 The U.S. Men's National Team wasn't very good on Tuesday. There's no secret to it. Tuesday's performance wasn't a good one, and the USMNT looked like they were well on their way towards being punished for it yet again.
Until they weren't, thanks to a Bobby Wood goal. Call it luck, call it timing, call it whatever you want. The USMNT will call it a point, and a much-needed one.
In a match all but controlled by a resolute and dangerous Honduras side, the USMNT escaped San Pedro Sula with a point. It was a match with few moments of brilliance, few strong performances, neither individually nor collectively. But it was also a match that displayed some major talking points, for better or worse.
With that, here's a look at the big takeaways from Tuesday's draw:
GOOD WOOD
Bobby Wood has shown a knack for scoring big goals in big games, and he did so again on Tuesday.
Kellyn Acosta's ridiculously well-hit free kick set it up and Matt Besler and Jordan Morris did the major lifting with contested headers. Eventually, the ball simply fell to Wood, and he smashed it exactly where he needed to.
Was it pretty? Absolutely not. It wasn't one for the highlight reels. It wasn't even one for the medium-light reels. It was an ugly goal for an ugly game, and it certainly fit the script.
A healthy, fit and confident Bobby Wood will be vital to the USMNT in the coming qualifiers. The USMNT faces must-win games, and those are the types of games Wood tends to pop up in.
MIXED BAG FOR ARENA
Bruce Arena's tactics were far from spot on against Costa Rica. Again on Tuesday, the USMNT XI was being thoroughly outplayed in a match that looked well on the way to a U.S. loss.
The difference was Arena made the changes on Tuesday, and the U.S. stole a point because of it.
Arena's lineup featured a whopping seven changes, and the logic was there for most of them. Players weren't fit and the heat was bad. Jozy Altidore was suspended. Friday's performance raised questions about several players.
In hindsight, and we're blessed with the opportunity of hindsight, the decision to bench Geoff Cameron might not have been the best idea. The two fullbacks were repeated roasted for a lack of pace. A three-at-the-back set may have been a better fit tactically.
That said, credit to Arena for seeing that himself and making the change midway through the second half. His team is now one step closer to a World Cup because of it.
CENTRAL DEFENSE FALTERS ONCE AGAIN
No reason to put it lightly: the USMNT central defense has been exposed in the past week.
There have been too many individual mistakes, too many mental lapses. It's been chaos at the back, and the U.S. has dropped points because of it. At any level, the team's spine is vital, and when the bottom half of that spine is running around making mistakes, it's hard to do much of anything.
To start, we'll spare Matt Besler from this, because he had a pretty good game. Geoff Cameron almost kind of made up for his shocker against Costa Rica. Omar Gonzalez made the game's big mistake, missing on a slide and allowing Romell Quioto to fire Honduras' goal.
The good news? Individual mistakes are fixable. Things happen, and teams tighten up. It is what it is. The bad news? It's hard to see what the first choice defense looks like for the final two qualifiers. John Brooks isn't walking through that door and, even if he did, the thoughts of his own Costa Rican nightmare loom large.
The U.S. has a month to figure out who to start in central defense for two massive games. It's a big question, but at least we know what we've seen over the last week or so won't be good enough.
FULLBACKS EXPLOITED
We knew DeAndre Yedlin's absence would be big, but it was plain to see just how different Tuesday's match would have been with the Newcastle defender.
Graham Zusi was, for lack of a better word, toasted several times by Alberth Elis and Romell Quioto. DaMarcus Beasley didn't fare much better. Honduras knew they had the advantage on the wings. The U.S. knew that too, but there was nothing they could do to stop it.
Eventually, the subs and the switch came, but it was too late to undo the goal or the questions that followed it. At right back, matters are fairly straight-forward. When Yedlin is healthy, he's in, and the U.S. is a better team.
At left back, though, questions remain. Has Jorge Villafana shown enough? Can DaMarcus Beasley still play at this level? Is it time to just give up on the Fabian Johnson midfielder experiment and just jam him back at left back?
The latter might just be the answer, given Johnson's success at the position and relative anonymity in the midfield. Zusi and Beasley can probably be veteran pieces, but starting them against world-class pace is a scary, scary thought.
GET IN, GET OUT
Let's talk big picture for a second. A point against Honduras, on paper, isn't ideal. Few will argue that Honduras is a better team than the USMNT. The U.S. is simply a stronger team with better players. That's that.
But better teams and better players, in some ways, don't matter in CONCACAF, as weird as it is to say. For all of the constant jokes and critisicms, CONCACAF is a strange beast where things always seem to go wrong one way or another.
Tuesday was one of those games, and plenty went wrong for the USMNT, as you can read above. However, they still did enough to earn a point and, in this case, that's good enough.
The U.S. went into Honduras needing something, anything. They got a point. It's not great, but it's okay, and Russia doesn't look quite as far with that point in hand.