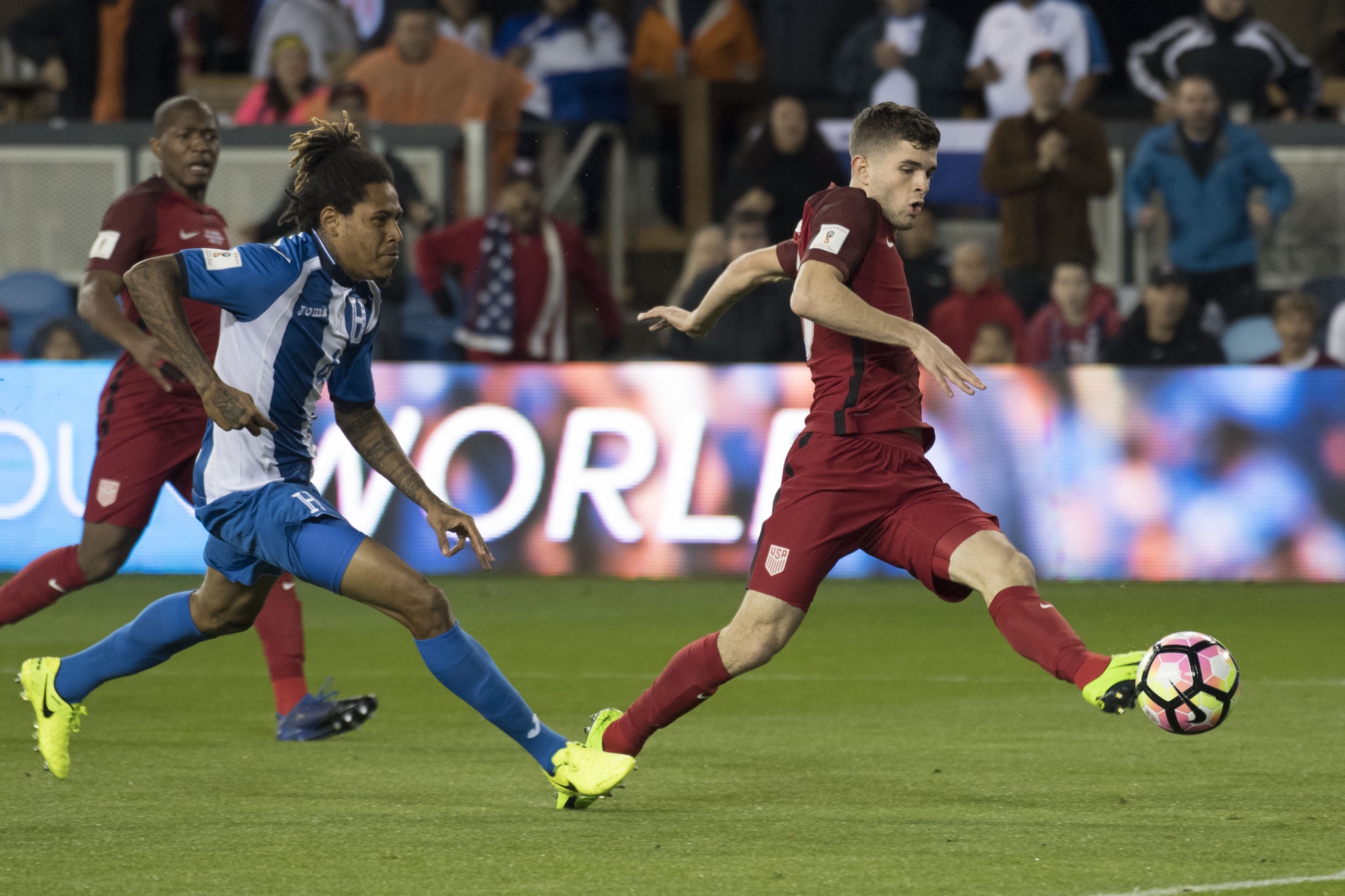 The U.S. Men's National Team is feeling the heat, in more ways than one.
Of course, there's the physical heat. Any trip to Honduras will bring a battle with the conditions, and Tuesday's World Cup qualifier is no different. Temperatures will be scorching and the humidity will be a factor.
Then, perhaps more importantly, there's the metaphorical heat that comes following Friday's 2-0 loss to Costa Rica. The USMNT's World Cup qualifying position is now just a bit more precarious, a bit more uncertain with just three games remaining on the road to Russia.
"It's going to be a grind in every sense of the word," Michael Bradley said, according to U.S. Soccer. "These are the days that are hard to explain to people who aren't here. We understand that, we have no problem with that – this is our reality, we're going to use (Monday and Tuesday) and make sure that come kickoff, we're ready to deal with whatever the game and conditions are and be ready to go for it."
The conditions will almost certainly play a factor. Bruce Arena already hinted at changes, and the U.S. is expected to rotate a bit to combat the heat. One necessary change will come at forward, where the USMNT will have to replace the efforts of suspended forward Jozy Altidore, who was instrumental in March's win over Los Catrachos.
They won't just be battling the heat, though. The U.S. also faces a Honduras team that's very much battling for their own spot in the World Cup. Houston Dynamo attackers Alberth Elis and Romell Quioto have combined for nine goals and will be a handful for a USMNT defense that floundered on Friday against Costa Rica.
Still, there is reason for confidence. Back in March, the USMNT thumped Honduras, 6-0, behind a Clint Dempsey hat-trick. It was a match highlighted by the Seattle Sounders star and a series of assists from Christian Pulisic, who could be one of the holdovers from Friday's lineup. Other than that, expect the addition of a few MLS players in place of European stars who failed to make their mark on Friday.
"I think you need to have the experience and playing under these conditions, which I think a majority of our players surely have," Arena said. "MLS players play a lot of games in hot and humid conditions on artificial fields, traveling in worse conditions. This is not going to be anything new to our players. It'll certainly be challenging, but I think we have enough experienced players to understand the circumstances."
The circumstances are clear: the USMNT needs points. Entering Tuesday, the U.S. is battling hard with Panama and Honduras for the third and final direct World Cup spot. The fourth-place playoff provides a little bit of safety, as does a semi-favorable schedule, but the U.S. still has to take care of business.
That process starts on Tuesday against a Honduras team very much still in the race. The competition will be a bit clearer following Tuesday's match, especially if the U.S. takes care of business in Central America.
"It's about the next three games," Bradley said. "It's so clear and all right there for us: three games, a little three-team tournament to see who is going to go to the World Cup directly, who is going to go to the playoff and who is going to be out.
"The idea of big games, the idea of everything on the line, that can't phase us," he added. "In every World Cup Qualifying cycle I've been a part of, even the ones looking back that appear to have gone a little bit differently than the others, you play games where everything is on the line. You play games where your backs are against the wall and you have to get a result, and that's what the next three games are."