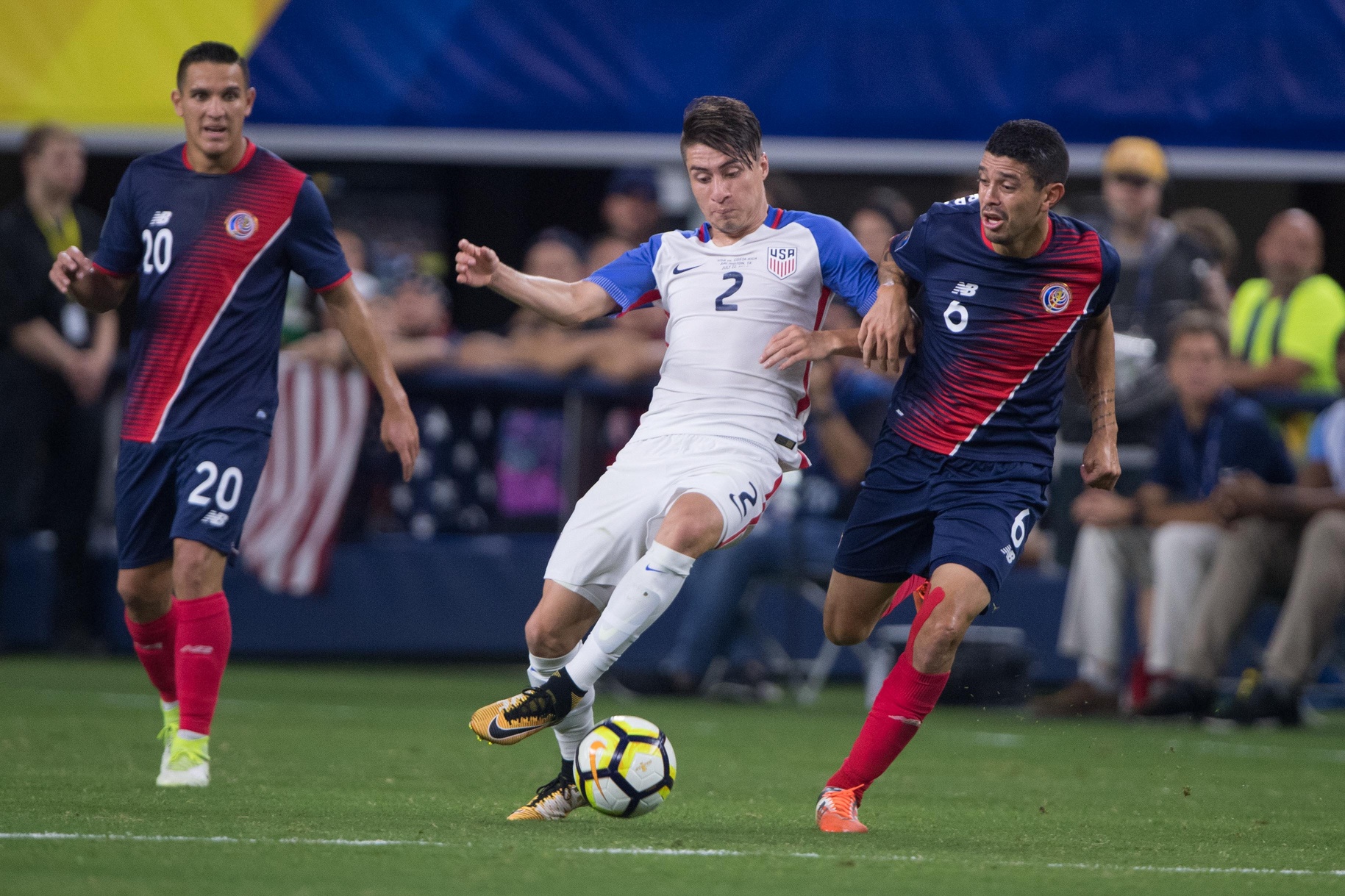 Tonight's U.S. Men's National Team's match against Costa Rica is a big one. It's pretty obvious. A win all but pushes the U.S. to Russia. A loss? Well, that makes things a bit more complicated.
To avoid those sorts of complications, the USMNT has to take care of business at home against a very game Costa Rica team. World Cup qualifying is all about amassing home points, even against teams as good as Los Ticos.
It won't be easy, as November's 4-0 beatdown in Costa Rica demonstrated. Friday's match will be a tactical battle between two of CONCACAF's top teams, two programs that expect to make waves on the way to and, eventually, in Russia.
Here's a closer look at some of the storylines, trends and decisions to watch on Friday:
BREAKING DOWN THE THREE
Costa Rica's gameplan generally isn't a mystery. It's relatively easy to predict how Los Ticos will come out and what type of game to play. However, just because it's easy to predict doesn't mean it's easy to break down.
For years, Los Ticos have prided themselves on defending and simply daring you to crack their three-at-the-back system. They're always solid defensively and they're always difficult to play against, and that gets frustrating.
The key to getting past that frustration is making the backline uncomfortable. You have to drag defenders out wide and put them in dangerous situations. You need to isolate the block of three and/or catch their wingbacks out of position.
Do you do that with Bobby Wood's speed and work-rate? Do you do that with Clint Dempsey's technique and experience? Do you do that with Jozy Altidore's physicality? It remains to be seen, but if the USMNT can break down Costa Rica early and snag an early goal, things will open up from there.
FULLBACK BATTLE
Fullbacks haven't been the USMNT's strong-suit in quite some time. The injury to DeAndre Yedlin only magnifies that. It robs the USMNT of speed and it puts pressure on the current crop of fullbacks to step up in a unique matchup.
Graham Zusi is the likely starter on the right and Jorge Villafana is likely to get the nod on the left. Yes, it's important that they defend and win one-on-one battles but they're also tasked with adding a bit more to the attack.
The USMNT's fullbacks have been high-pressing throughout the year, and that's obviously been good. The defense has been solid and the attack has been great, and part of that comes down to Villafana and Zusi's ability to get into the final third and contribute. They'll need to do that on Friday to help add numbers higher up the field, but there's also a big risk.
Costa Rica might be the region's most dangerous counterattacking team and neither Villafana nor Zusi have the ability to simply teleport back into position like Yedlin can. They'll press high on Friday, but one of the keys will be simply how high and how long they can get away with it before Costa Rica creates a big chance.
CENTRAL DEFENSING SHUFFLING
At this summer's Gold Cup, the USMNT contained the Costa Rica attack. John Brooks wasn't there and Geoff Cameron wasn't there. The min Costa Rican forwards were also largely absent, but they certainly won't be on Friday.
The Ticos frontline was missing some of the group's biggest stars this summer in what was a relatively comfortable 2-0 win for the USMNT. Now, several of the team's more dangerous attackers are back in the mix, providing a test for the backline.
That backline is one that will require shuffling. Cameron is likely to return at the centerback position, but who plays alongside him? Regardless of who does, they'll have to find some chemistry and communication early against a Ticos attack that should create dangerous moments.
PULISIC'S ROLE
Christian Pulisic is the USMNT's best attacking player. I doubt anyone will be arguing that point any time soon. The question is how you utilize him, especially against Costa Rica.
We've already discussed how hard Los Ticos are to break down, and Pulisic is probably the most likely player to cause problems for the Costa Rica defense. But from where do you want him causing those problems fun?
Do you put him out wide, where he can drag defenders out with his ability to beat players one-on-one? Or do you drop him centrally, where he can use his technique and touch as a playmaker to unlock the defense?
Pulisic's role will evolve and adapt throughout the next few years. It depends on what players develop around him and how pieces begin to fit around his game. But, for Friday, he can be used in a number of different ways, both with their own positives and drawbacks.
FORMATION DECISIONS
Bruce Arena has never been tactically rigid. He's never really been afraid to try different things and different looks when the situation arises. Formations, in some ways, don't matter. What matters is that players are placed in positions to succeed, regardless of where a lineup graphic says they're playing.
That said, there are still principles to look at and tendencies to observe, and the USMNT has largely been very fluid since Arena took over. They've shifted looks throughout, but it remains to be seen how Arena lines up on Friday.
Does he go with two central midfielders, pairing someone like Kellyn Acosta with Michael Bradley? That would allow Bradley to dictate from deep while giving Acosta free rein to wreak havoc everywhere else. It would also push Pulisic to the wing, which could be a positive or a negative depending on how you feel. It was a setup that worked well this summer, albeit against a weakened Costa Rica team.
Does he unveil a three-at-the-back set at some time over the week? Against Honduras, it could be an option, and there are enough reliable centerbacks to make it worthwhile.
Arena's tactics have depended on the matchup, and his decisions over the next week could go a long way towards locking up a spot in Russia.