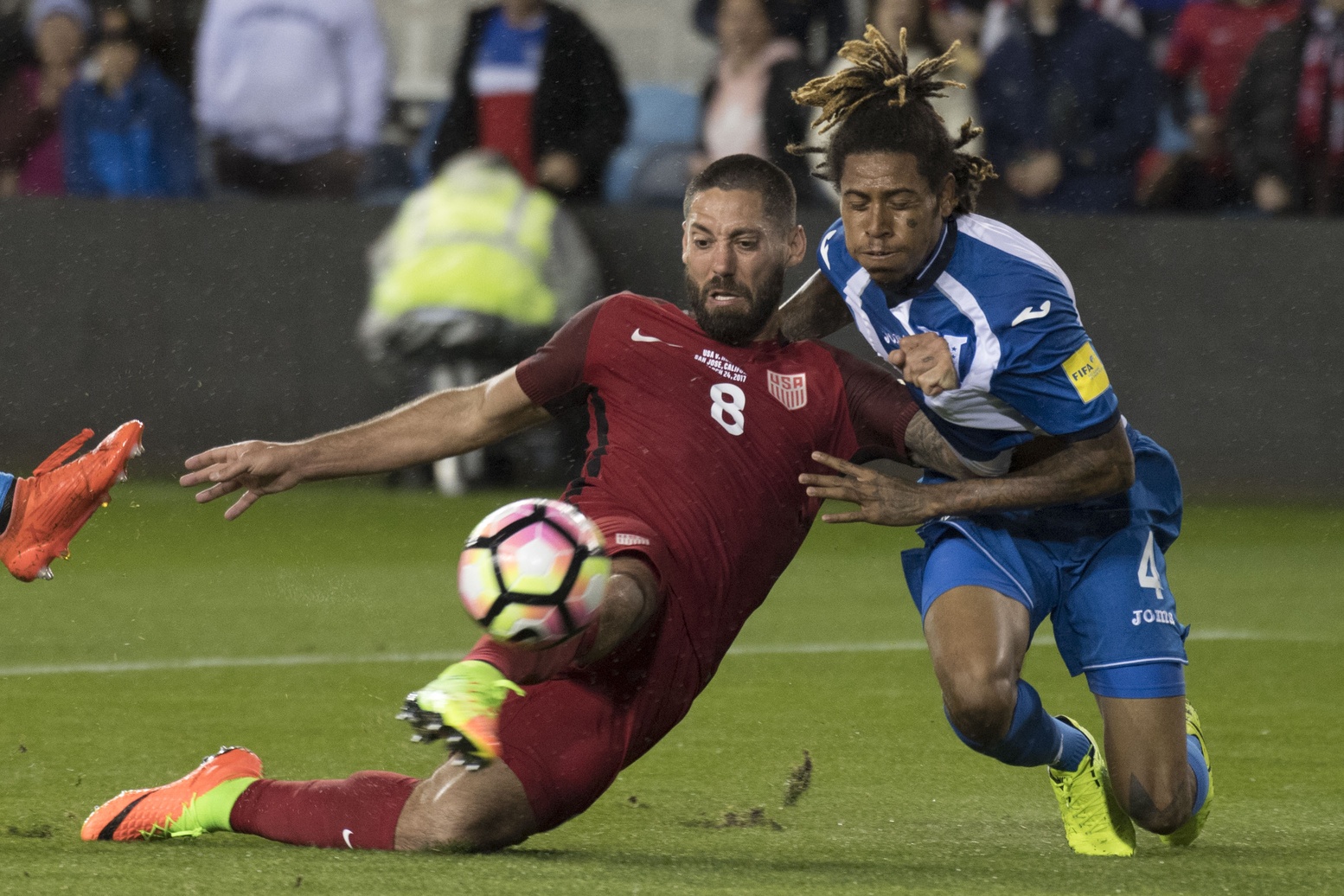 The importance of Tuesday's World Cup qualifier has been stated ad nauseum at this point. The U.S. Men's National Team needs a result in a big way on Tuesday night, but it certainly won't come easy.
Trips to Honduras are never simple, and Tuesday won't be any different. The U.S. will be tested in several ways by Los Catrachos, who remain very much in the hunt when it comes to World Cup qualifying.
What decisions does Bruce Arena make following Friday's loss to Costa Rica? How do the USMNT handle the conditions? What kind of mindset is required for a game like Tuesday's?
Here's a look at several storylines and scenarios to watch for on Tuesday night:
CONTAINING THE DYNAMO
Anyone who has watched the Houston Dynamo has seen Alberth Elis and Romell Quioto, and anyone that has seen Alberth Elis and Romell Quioto knows how dangerous they can be. On Tuesday, they're the USMNT's big problem on the defensive end.
The two have combined for nine qualifying goals this cycle, making them Honduras' most dangerous attacking weapons. They'll routinely challenge the USMNT backline, especially when Honduras does get the chance to break on the counter attack.
The key to containing them? Simply staying strong and not making stupid mistakes. Bad turnovers were part of the USMNT's downfall on Friday against Costa Rica, as was relatively lax defending from the centerback position. They can't afford to make those mistakes again. Quioto and Elis are young, dynamic and talented, and that will make things difficult for the USMNT on Tuesday.
REPLACING ALTIDORE
With Jozy Altidore out of action, the game plan shifts quite a bit. In March, Altidore was a key cog, holding up play and allowing Clint Dempsey and Christian Pulisic to shine.
Now, it will be on either Dempsey or Bobby Wood to lead the line, and they'll be asked to do a number of different things. They'll have to be physical, helping to hold up play in whatever way they can on a slow field. They'll have to be crisp, connecting passes to runners like Pulisic. Most importantly, they'll have to be clinical, unlike the performance we saw on Friday night.
USMNT forwards thrived against Honduras back in March, and one would certainly expect a much different game on Tuesday in Central America. But, if the U.S. can get a goal early and force Honduras to open up, there could be plenty of chances to fire goals and earn points.
BATTLING THE HEAT
CONCACAF qualifiers are always fun, but there's something even more unique about trips to Central America. Conditions are, we'll say, less-than-ideal, and that makes each and every visit something very, very different.
Tuesday will bring scorching temperatures and ridiculous humidity. It will bring long grass and poor field conditions. It will bring physical and mental tests that are pretty unique to CONCACAF play.
Knowing that, the USMNT is set to rotate. MLS players are more fit due to the season scheduling, and Arena has a number of veterans to count on. Meanwhile, substitutes become even more important, especially if the game is tight late.
Arena knows this very well because he's seen all of this before. The USMNT will have to rely on experience in these sorts of scenarios, but Tuesday's match will be a challenge for even the biggest veterans.
THE SUPERSTAR TREATMENT
Christian Pulisic is officially getting the CONCACAF superstar treatment. He's being repeatedly double-teamed and routinely fouled. It's something he'll learn to deal with over the next decade or so.
But, for now, the USMNT will need to find a way to free up their most talented attacker after a rough outing on Friday.
Pulisic was all but locked up on Friday save for a few solid moments. On Tuesday, he faces what's the first true bounce-back performance of his USMNT career. Pulisic pretty much bested each and every USMNT challenge prior to Friday's match.
There's little doubt Honduras will look to frustrate the young attacker. They'll be physical throughout, and it's up to Pulisic to deal with it and overcome it. For the next 10 years, Pulisic will be receiving this type of treatment and he'll get better at handling it, but a step in that direction on Tuesday will go a long way towards firing the USMNT back towards Russia.
PICKING A MINDSET
Honduras right back Emilio Izaguirre will miss out on Tuesday's match due to suspension. In his place? Most likely Johnny Palacios, who brings a defensive mentality, but a severe lack of pace. 
It's one weak point for the USMNT to attack. Generally, Tuesday's match is expected to be a bit slower due to the field conditions and heat, but the USMNT has proven to be at its most dangerous on quick counter attacks. All through Arena's tenure, the U.S. has proven to be very good at moving the ball quickly and decisively, and Palacios is one possible weak point given his lack of pace.
The USMNT's mindset will be an interesting one. Will they look to attack the game, maintain possession and show patience while wearing down a Honduras defense or will they look to play faster, counter-attacking soccer like they did at the Gold Cup?
There are two different mindsets and two different ways to play, but both have merits given the circumstances.