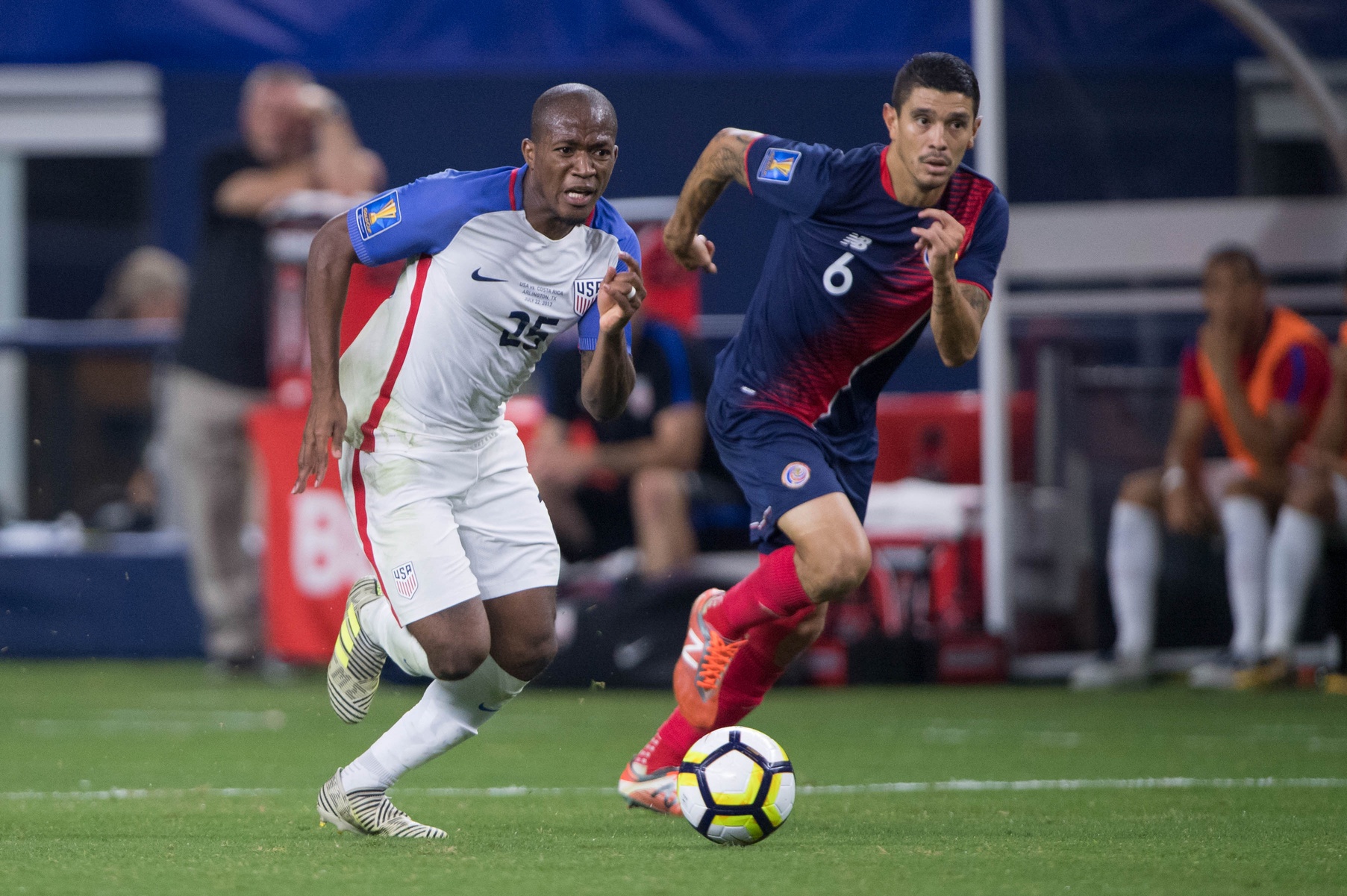 The U.S. Men's National Team has built a new level of confidence over the last few months. There's a new level of swagger, of self-belief. Winning a Gold Cup and going unbeaten through the first eight months of a calendar year will do that for you. It's hard to not feel some sort of conviction given all of the recent success.
But that confidence doesn't comfort and that success doesn't come with a World Cup berth, at least not yet. For the USMNT to get that far, they'll have to take care of business over the next month or so, beginning with Friday's match against Costa Rica. It's likely the toughest opponent left of the USMNT's World Cup qualifying schedule and, being that the match is at home, three points are expected despite the challenge that lies ahead.
The confidence helps and the chemistry built under Bruce Arena over the last several months should go a long way. There's been a level of consistency and continuity since Arena took charge, but consistency and continuity aren't the sole aspects that win a World Cup qualifier.
"Every game has been do-or-die for us, and I'm not sure there's been a whole lot of comfort," Arena said. "Every game we've played in the competition has been a must-game. I'm not sure if it's a heck of a lot easier. Just having our group together for a long period of time in 2017 makes it easier to prepare and we understand each other. The week is a lot smoother than it may have been in March when we first started with games against Honduras and Panama, but they're all difficult.
"This game is important, and we need to win."
Throughout the past several years, the U.S. and Costa Rica have developed quite a little rivalry. From the Snow Clasico to the Copa America and all the way to last year's qualifier, the two teams have played each other tough throughout the past few cycles.
Most recently, the two faced off in the Gold Cup semifinals, and it was the USMNT that emerged victorious with a 2-0 win. Clint Dempsey provided the spark as a super-sub, assisting Jozy Altidore before scoring a stunner of his own to seal the win.
In that match, though, Costa Rica was short-handed. Star forward Joel Cambell was absent. As was Bryan Oviedo, Rodney Wallace, Christian Bolanos and Cristian Gamboa. Los Ticos attack was severely limited, and it was apparent in the performance in this summer's semifinal.
"They start up top with (Marco) Urena, (Bryan) Ruiz is shaded to the right, Bolanos shaded to the left," Arena said of the Costa Rica attack. "Bolanos was missing, but we did see Ruiz and Urena. Bolanos will be the addition. He's a good one-on-one player. He serves a good ball in front of goal. He's a good player."
"It's the same challenge they always pose," added USMNT captain Michael Bradley. "They have good players, tactically they're set up in a good way. We expect a really difficult night tomorrow."
Bradley will also face some tough tests in the midfield. It will be vital to protect the ball against Costa Rica's three-at-the-back formation. Turnovers allow the wingbacks to get forward, and if the wingbacks get forward, the USMNT will be pinned back in a big way.
Celso Borges will man the midfield opposite Bradley while playing a similar role. He'll perform clean-up duty and he'll certainly be a difficult player to get past in the heart of midfield. The key, though, will be getting past and drawing out Los Ticos' patented backline.
With three centerbacks deep at all times, Costa Rica's backline is always formidable. For years, it's been a strength, one which led the team to a stunning run at the 2014 World Cup. The system and culture remains similar, and the way to beat it is no secret. It's just a matter of getting it done.
"It's finding a balance," Bradley said. "In certain moments, the ability to control the game with the ball, to drive them back, to be patient, to not let them off the hook easily by giving balls away early in possession, that's important. But then there are moments where we win balls when they've unbalanced themselves and, if we can find the right way to play forward quickly and go and use our athleticism and speed, that becomes important as well. As with any game, it's all about balance."
"I think it's just spreading the field out, mixing up your game," added Dempsey. "It always helps to get a goal early. It forces them to go at you. We'll be looking to try and take the game to them. It will be a tough game."
There are four tough games standing between the USMNT and Russia. It starts with Costa Rica, but the trip to Honduras just four days later won't be easy. Goalkeeper Tim Howard says the goal is, obviously, six points over the two games. If the U.S. follows the old adage that you must win at home and draw on the road, there are points to makeup for November's pair of blunders.
However, you can't pursue a six-point week without starting with three on Friday night. If the U.S. does take care of Costa Rica, and it won't be easy, they'll officially be right on track heading into the final three matches of the qualifying cycle.
"The best way and easiest way to put yourself on track to get to a World Cup is to win your home games," Bradley said, "so the idea for us tomorrow night is, even against a good team, to play in an aggressive way that ultimately pushes the bar in our favor in a strong way.
"It's been hard work to put ourselves in this position and turn this around," he added. "The foot can't come off the gas now. We have to have this ruthless mentality in these last four games when everything is on the line. We're going to use our good position and finish things off. "