For the first time since the disastrous day in Trinidad & Tobago, the U.S. Men's National Team is set to take the field against Portugal.
It's certainly not the USMNT of old. Familiar faces like Michael Bradley, Jozy Altidore and Clint Dempsey are absent as they continue on through the MLS playoffs. This team, now focused on 2022, is built around a young core that includes newcomers in Weston McKennie, Tyler Adams, Josh Sargent and Cameron Carter-Vickers.
Former assistant Dave Sarachan is in charge on an interim basis, beginning with Tuesday's match, and he'll have a difficult task in balancing a lineup with so many moving pieces and parts. That said, here's one possible lineup we could see on Tuesday: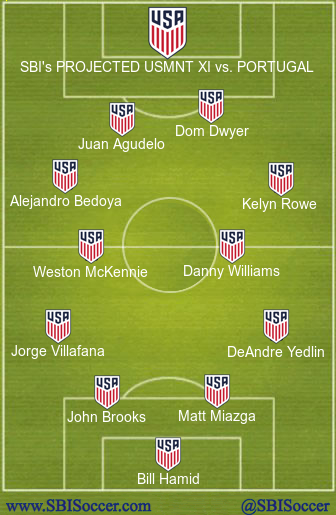 Some thoughts:
Let's get it out of the way early: we won't be seeing the full youth movement from the opening whistle. Veterans were brought in for a reason, and that reason is to keep things calm and stable while slowly integrating new faces in. The key word there? Slowly! Many of the new faces will get their moments, and a few will get them in this game, but let's keep things in perspective.
Now, Alejandro Bedoya is the logical captain while players like John Brooks, DeAndre Yedlin and Jorge Villafana are still young enough to bridge the two generations. Look for them to get into the starting XI against a Portugal team that still has a lot of talent.
Then there's that middle-of-the-road group of players that were very much on the cusp. That includes forward options like Juan Agudelo and Dom Dwyer. For those expecting Josh Sargent, a late cameo may be in the cards, but throwing him in from the start against the European champions is probably too big of an ask.
One young player that could join the XI, though, is Weston McKennie, especially given the players involved in the midfield. Pairing him with Williams may be a little bit defensive, which could make Kellyn Acosta a logical starter. However, against a talented Portugal group, it would make sense to weather the first half and then experiment a bit more in the second. Of all of the new faces, McKennie is the most proven, and he's earned his chance to play legitimate minutes in this game.
As for centerback, there are certainly options alongside Brooks. Sarachan could go with Tim Ream and just ride with a veteran pair, but he could insert one of Cameron Carter-Vickers and Matt Miazga. He could even insert both if the U.S. wants to play around with a three-at-the-back system. For now, let's assume he goes a bit more traditional, at least at the start, and maybe makes a change to see something new a bit later in the match.
Saying all of that, players like Tyler Adams and Lynden Gooch could and probably should earn time as late substitutes. It remains to be seen if Adams is viewed as a midfield option or as a right back, but the New York Red Bulls midfielder could play in either position on Tuesday afternoon.
Overall, it's a roster with balance, and that's the key. At least for the next year or two, the U.S. will not lean too far on the young or the old. There's a phase out, phase in process going on, and that truly begins on Tuesday with the first friendly of what is now the 2022 cycle.