The Chicago Fire turned a few heads last season, and now they are looking to turn a few more in 2018.
The Fire had an unpredictably strong regular season in 2017. Behind a Golden Boot-winning year from Nemanja Nikolic and the veteran presence of Bastian Schweinsteiger and Dax McCarty, the team finished third place in the Eastern Conference. Their playoff campaign fell far short of expectations, and the team is hoping they can take that experience and build upon it for 2018.
"Last year we obviously had a really good run and we got knocked out a lot earlier than we wanted to," defender Brandon Vincent told SBI. "It was a great learning experience for us and I think taking that hit on the chin going forward into this new season is a is a good foundation for us to have that motivation heading into the new year."
Head coach Veljko Paunovic isn't looking too far ahead. He knows there are 34 regular season games to play before the team can even think about returning to the postseason and avenging the 4-0 hammering they suffered at the hands of the New York Red Bulls on their home turf.
"First thing's first, we have to be consistent during the season in playing the good soccer, winning games, and improving our style," Paunovic told SBI.

He feels he has a team that can not only play as well as they did for most of last season, but play better. He wants them to focus on improving a playing style he calls entertaining, attacking, unpredictable, and technical, while showing they are capable of beating the teams that made playoff runs last year and in recent seasons.
"We want to be more successful playing against playoff teams," he continued, "and throughout the season that's going to be an emphasis, to beat the teams that were consistent and playing in the playoffs. If we are capable of doing that during the season, which last year we weren't, I think that would be a good indicator that we are on the path to be successful once we reach the playoffs."
Once that regular season goal is complete, the team wants to perform much better in the playoffs. A quick exit after not looking competitive at all is not how they want to end their season again. The Fire are aiming to see a lot more playoff success, while still being realistic about their expectations.
"The clear outcome goal is to win MLS Cup," said Vincent. "That's every team's goal. But we all know only one team's going to achieve that. So working backwards, it's making the playoffs, making it deep in the playoffs. During the season it's game to game, being the best we can be as a team, not going down. We want to stay high in the rankings and be the top team as long as possible and keep that momentum all the way through the season."
Paunovic feels confident they are ready to take on the elite of the Eastern Conference, even defending the MLS Cup Champions.
"We are all contenders," he said. "We are going to put it very difficult to Toronto. We are going to challenge them, we are going to be the contender like we did last year with more consistency."
Here's a look at the 2018 Fire:
CHICAGO FIRE SEASON PREVIEW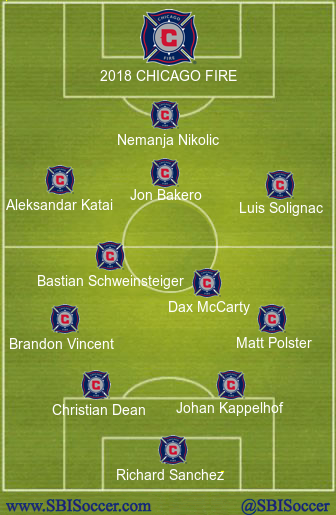 2017 Finish: 16-11-7 (3rd in the East)
Key Acquisitions: Aleksandar Katai, Jon Bakero, Mo Adams, Grant Lillard, Rafael Ramos
Key Losses: John Goossens, Michael Harrington, Juninho, Joao Meira, Arturo Alvarez, Jorge Bava, Matt Lampson, David Accam
Newcomer to Watch: Aleksandar Katai
Katai just arrived in Fire camp at the tail end of preseason, but he figures to take up the spot vacated by David Accam. He had a breakout season in 2015-16 at Red Star Belgrade in Serbia, where he scored 23 goals in 37 matches in all competitions. He then transferred to Deportivo Alaves in Spain, but failed to replicate that earlier success. He's on loan for the 2018 season, where he will look to regain the stellar form he had back in his native Serbia.
Pressure Is On: Nemanja Nikolic
Nikolic was a goal scoring machine for the Fire last year. He won the MLS Golden Boot by scoring a whopping 24 goals while starting every game in the regular season and the team's playoff loss to the New York Red Bulls. With the Fire attack looking very similar to last year, Nikolic will have to have another excellent goal scoring season if they want to make another run at the playoffs.
Outlook: 
One of the keys to success for the Fire will be how well they can get on without David Accam in the side. The team brought in Serbian winger Aleksandar Katai to fill the role, but after failing to catch on in Spain, there are questions on whether or not he is fit for full-time MLS duty.
Paunovic seems confident in their one major signing, however.
"We believe that we have the right environment for him so that he can excel again and reach his full potential which he showed in the past," said Paunovic. "We believe that he is going to give us a little more unpredictability in attack."
Katai will have some heavy shoes to fill. Accam was second on the team with 14 goals and led them with eight assists last season.
Another major question mark is goalkeeper. The Fire let both their primary keepers go in the offseason and haven't brought in anyone new to replace them, at least not yet. Richard Sanchez and Stefan Cleveland have split time during the preseason, and Paunovic was non-committal on who is set for the starting gig.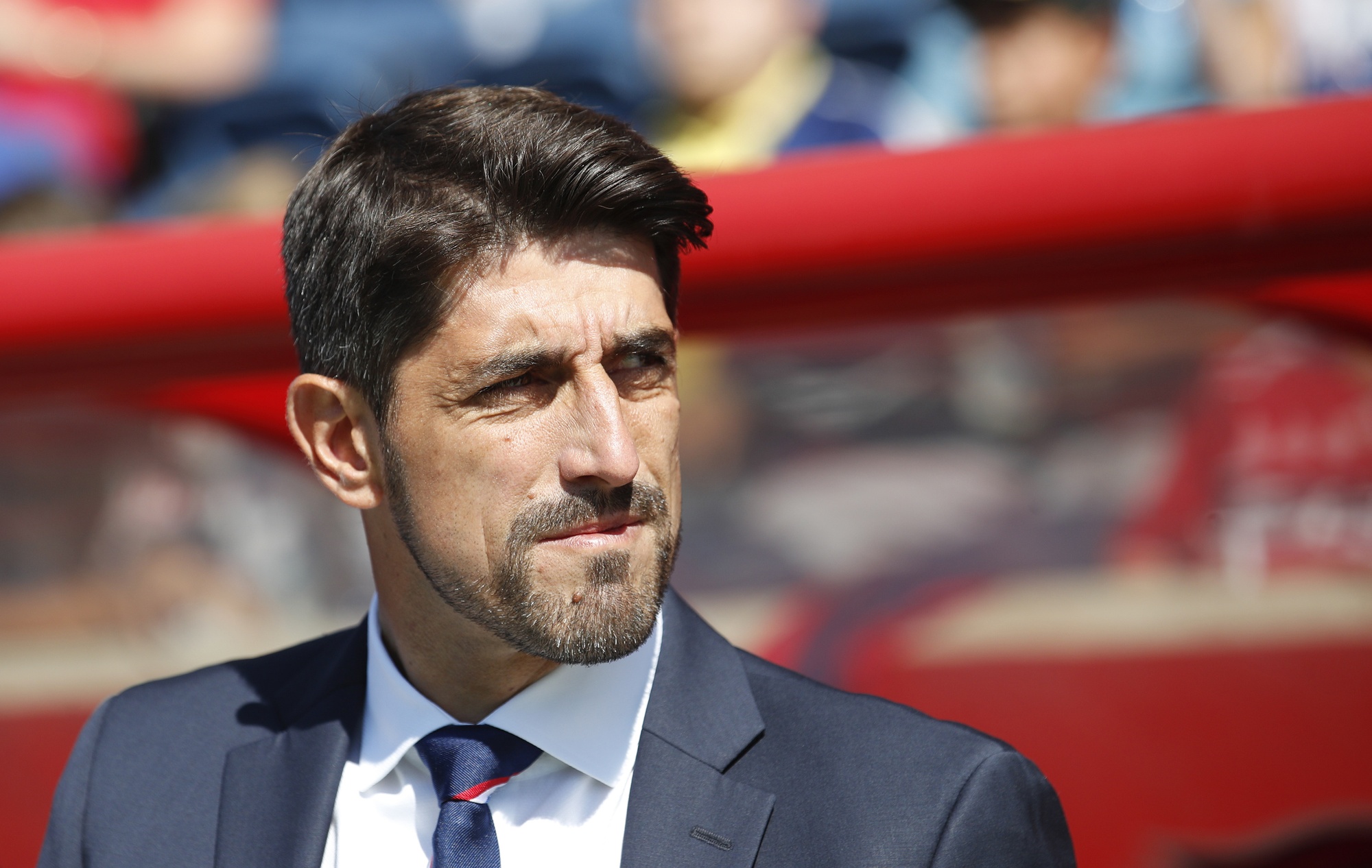 "At this point we have Richard Sanchez and Stefan Cleveland who are fighting for the starting goalkeeper position," he said. "I cannot reveal right now who earned it because it's still two weeks to go. They are both doing a good job."
The attacking midfield role is another area of concern, what with playmaker Michael De Leeuw recovering from the torn ACL he suffered last fall. With his recovery still a long way off, the Fire are in the market for an attacking midfielder, and their success in that hunt will go a long way toward determining how strong their attack will be.
Aside from those three positions, the Fire are going to look very similar to the squad that finished third in the East last season. They return Dax McCarty and Bastian Schweinsteiger in the central midfield, who both provide veteran leadership for a pretty young squad.
Nemanja Nikolic is back and hoping to carry over last season's otherworldly goal scoring record. He will have Katai joining the attacking midfield behind them along with familiar faces Luis Solignac and rookie Jon Baker, who has the versatility to play as a second striker, and could fill in as an attacking midfielder.
Defensively, three of the four main starters return. Paunovic is hoping this group can show a level of discipline and consistency that he felt was often lacking in last year's unit.
"Even though we have good defensive organization, we always have to be more consistent, more focussed, and have more urgency especially in the critical moments of defensive play that we sometimes didn't have."
They signed Grant Lillard as a Homegrown defender over the winter, but he's probably not ready to start the season as a regular member of the team. Instead, Christian Dean, who started twice last season, figures to hold down the fort until the rookie is ready.
Overall, the Fire can make another run at the playoffs this season, so long as they can replace the production from Accam, and land a playmaker to help keep Nikolic supplied with scoring chances. If Katai can come into the side and pick up double digit goals while providing a few assists, their attack shouldn't skip a beat and another match in the knockout round of the playoffs figures to be in their future.