Minnesota United's debut campaign was filled with some notable highs and some crushing lows, ultimately resulting in a ninth-place finish in the Western Conference.
Under head coach Adrian Heath, the Loons finished with 36 points, 10 points from the playoff places. A rocky month of March saw lopsided defeats to the Portland Timbers, Atlanta, United and New England Revolution before tasting some success.
Now four months after their debut season ended, the Loons are gearing up for another campaign hoping to build on last year and take the next step.
"We've had a really good preseason overall, and we've been able to put a lot of workload into the players ahead of Saturday's opener," Heath told SBI. "Our games could've been better in the form of results, but I'm really pleased with the preparation of the players' fitness."
Heath is in charge for his second season with the Western Conference club, and his fourth overall in MLS. The former Premier League player was the head coach of Orlando City between 2015-2016 and is now looking to take his current team to new heights.
"We didn't have the best starts to the season in 2017, but gradually we got better," Heath said. "We are certainly better prepared for our second season. Last season we had 26 new players trying to get to know one another, as well as settling into a new league and country. I know that we are a better team than last season, now we have to go on the field and prove it."
Leading the line for Minnesota is American striker Christian Ramirez who had a terrific campaign with Minnesota a year ago. After 51 goals across three seasons with Minnesota in the NASL, Ramirez led the team in 2017 with 14 goals in his debut MLS season. The 27-year-old was rewarded after the strong season with an international call-up for the USMNT in their January friendly vs. Bosnia-Herzegovina, and has used the offseason to get better in all phases.
"My main emphasis in the preseason was to get better at other things, whether that be holding balls up or working on possession," Ramirez said. "I've also gotten fitter and tried to be in the best physical shape that I could be coming into camp. If I can help the team in a variety of ways then we have a better chance of being successful."
Paired with Ramirez are playmaking midfielder Kevin Molino and forward Abu Danladi, both of whom had good seasons in 2017. Following his 11-goal season in Orlando in 2016, Molino moved to Minnesota and netted seven goals and led the team with nine assists last year. Danladi scored eight goals, seeing more success in the latter half of the season.
"We really try to motivate and push one another to get better," Ramirez said. "We all have different strengths and we try to get even better at those in training. I think we've done a good job so far and we know that if we're clicking on all cylinders it will lead to more goals for the team."
The 70 goals conceded by the Loons in 2017 was the most allowed in MLS, and will need to change if Minnesota wants to inch up the table. Carter Manley and Wyatt Omsberg were added via January's MLS Draft, while Tyrone Mears was acquired from Atlanta United. Costa Rican international Francisco Calvo and Swiss defender Jerome Thiesson saw the most appearances for the Loons defense a year ago and very well could again in 2018.
Goalkeeper Bobby Shuttlesworth started 33 matches last season for Minnesota, but now faces competition with Alex Kapp and Matt Lampson.
"I have every faith that we can score goals at this level," Heath said. "It's important that we take that into practice everyday as well as being better defensively. We conceded too many goals last season and that truly hurt us in the long run. Teams are going to score good goals against you that just happens. But we need to be better in all aspects if we want to improve."
Here's a closer look at Minnesota United  heading into 2018:
MINNESOTA UNITED SEASON PREVIEW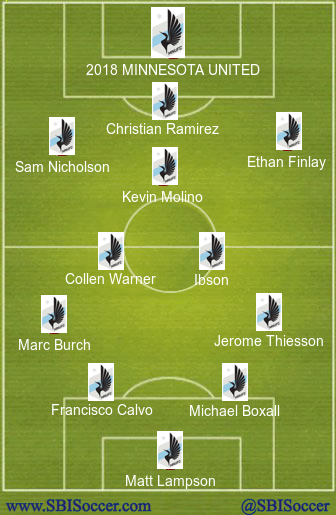 2017 FINISH: 9th place in West (10-18-6, 36 points)
KEY ACQUISITIONS: Alex Kapp, Matt Lampson, Tyrone Mears, Carter Manley, Mason Toye, Wyatt Omsberg, Luis Fernando, Bertrand Owundi Eko'o, Xavier Gomez, Harrison Heath, Franck Pangop.
KEY LOSSES: Brandon Allen, Bashkim Kadrii, Mohammed Saeid, Johan Venegas, Jermaine Taylor, Justin Davis, Kevin Venegas.
NEWCOMER TO WATCH: Frantz Pangop
Minnesota United had some talented players leading their offense a year ago with Christian Ramirez, Kevin Molino, and Abu Danladi all chipping in. Pangop, who has two caps with the Cameroon National Team is a quick midfielder that should add some more creativity to the bunch.
With players like Miguel Ibarra and Ethan Finlay as competition for minutes, look for Pangop to battle for playing time as he translates over to MLS.
PRESSURE IS ON: Kevin Molino
Brought in as an attacking centerpiece ahead of the team's debut, Molino remains the focal point of the Minnesota United attack. With players like Finlay, Ramirez, Nicholson and Danladi around, Molino has plenty of talent around him.
The T&T international put up seven goals and nine assists last season, and he'll need to put up big numbers again if the Loons are to find success.
OUTLOOK:
With a year under their belts, Minnesota United should be expected to be more prepared for the start of the 2017 season.
The goalscoring of both Ramirez and Danladi will be huge for the team's offensive strategies, while Molino is expected to improve on his numbers from a year ago. Additions like Frantz Pangop, Bertrand Owundi Eko'o, and Mason Toye are wildcards this season depending on their playing time but all have the ability to add elements to the starting line-up.
Overall, the main goal for this team is to be more consistent on the backline. Allowing the most goals in MLS is not a good recipe for any team trying to make the playoffs. Players like Marc Burch and Sam Cronin, two veterans of this league are players that will need to step up and take leadership of the team. Both were brought in last season from Colorado, and both should help this team grow on and off the field.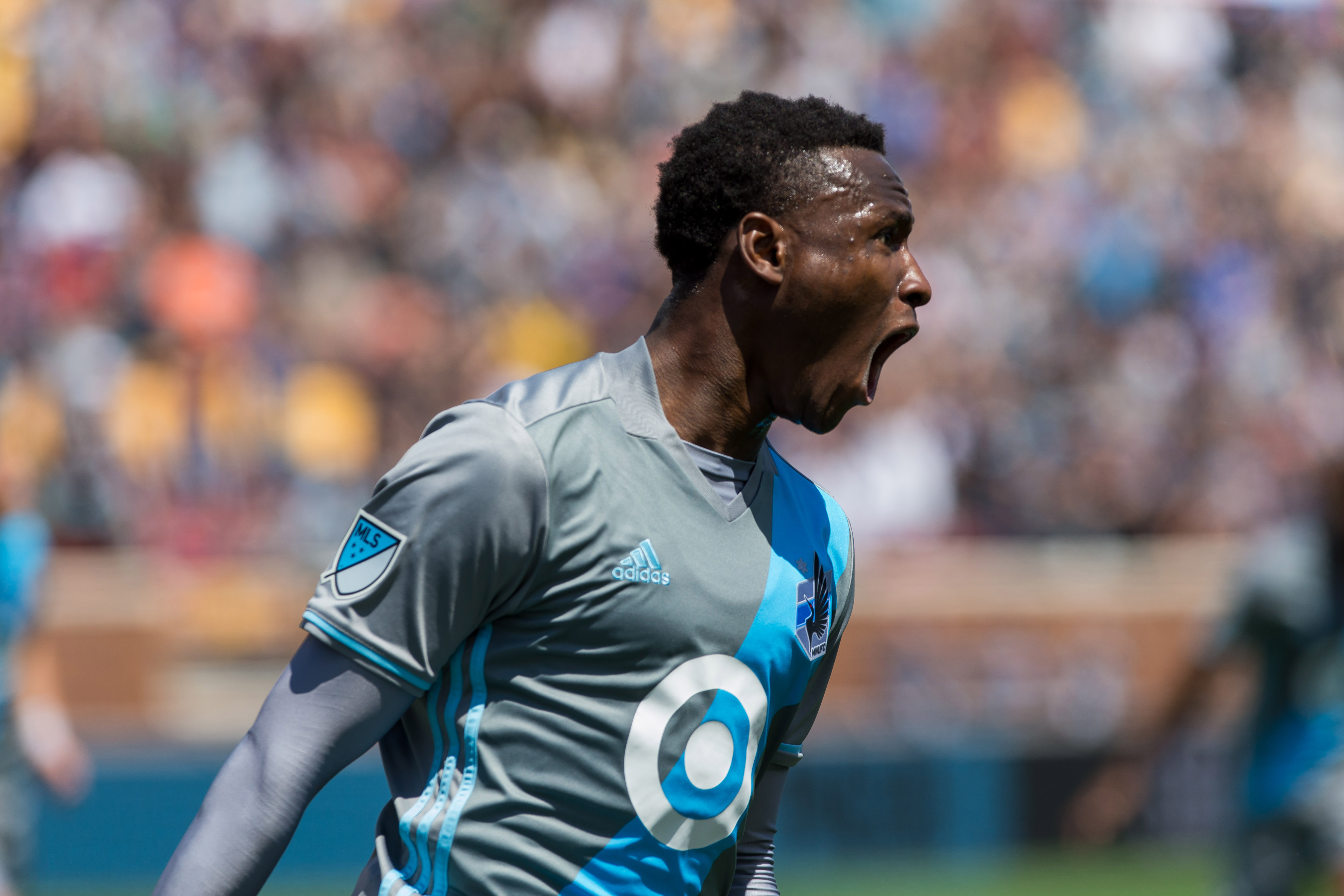 "Making the playoffs is definitely the aim for us this season," Heath said. "We haven't brought in a lot of players so it may be difficult. But if we have around 12-14 wins then I can see us making the playoffs. Not just winning games but having good performances too because having a strong performance is what will get you better for the next week and so on."
The 2018 campaign does not begin smoothly for Minnesota either with four of their opening five matches against teams who made the playoffs a year ago. A road trip to San Jose kicks off their season on March 3 as they visit Avaya Stadium, the same place they lost to conclude last season.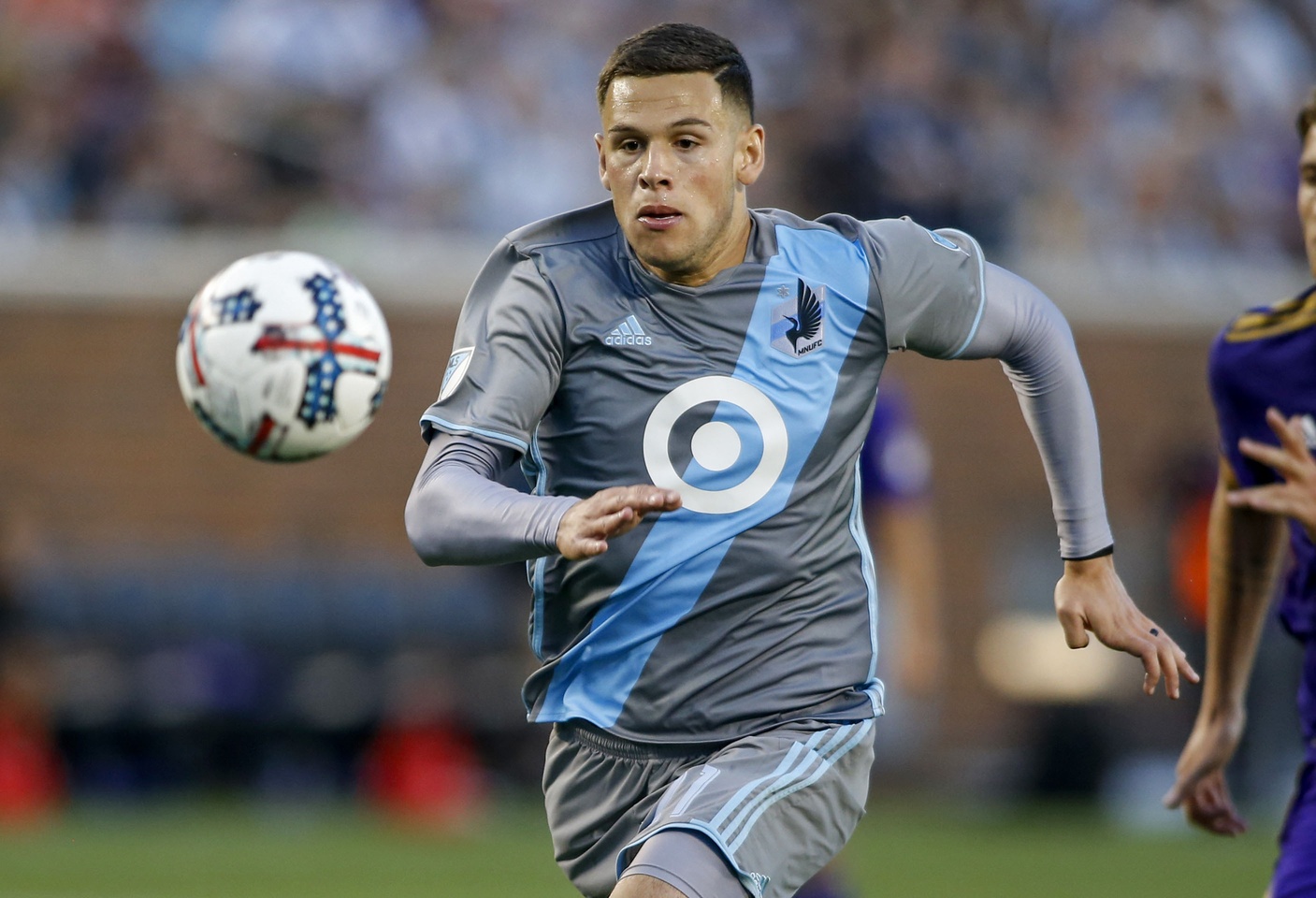 Following that, the schedule sees Minnesota travel to Orlando City, which could be tricky before a home date with the Chicago Fire. The Loons were better at TCF Bank Stadium posting a 7-6-4 mark compared to a 3-12-2 road record a year ago. Both will need to improve for a chance at the playoffs.
Heath has talent at his disposal. The question is can they take the next step towards competing for a postseason berth? In an ever-changing Western Conference anything is possible.
"We want to get off on the right foot, and we want to avoid taking a step backwards to begin 2018," Ramirez said. "Next Saturday provides the first challenge of many this season, so we have to be ready for it."