New York City FC remain in the space between dazzling entertainers and bona fide contenders as the 2018 season looms.
Capable of playing some of the most fluid, interconnected soccer this side of the Atlantic, NYCFC is also equally as capable of imploding into a confused mess. Their two-legged loss to the Columbus Crew epitomized this as a 2–0 second leg win at home was not enough to offset a 4–1 loss in the first leg. After the loss, head coach Patrick Vieira said his team need to take greater attention toward the details within each game that often determines its result. With a starting lineup that features eight current internationals, the Pigeons are expected to be far less prone to the mistakes and lapses that have held them back.
City allowed 14 fewer goals in 2017 compared with 2016, thanks to Sean Johnson and Alex Callens' immediate success in their first season with the team. Still, right back was an area the club quickly sought to address this offseason as R.J. Allen and Ethan White were replaced with Anton Tinnerholm and Saad Abdul-Salaam. Maxime Chanot is fully fit after a hernia kept him sidelined for much of the final stretch of games but new signing Cedric Houtondji will challenge Chanot for the starting right center back spot.
"It's proper football when you have to compete," Chanot said. "The best teams get good players and he's a good player that the club brought in. It's the same in Europe or USA, if you want to achieve great things with your club, you need quality players at the same spot and this is part of football."
The midfield trio of Maxi Moralez, Alex Ring and Yangel Herrera developed into one of the most dynamic and multi-faceted within MLS. Moralez and David Villa quickly formed the connection between playmaker and goalscorer that coaches dream of while Ring and Herrera showed themselves to be technically sound and industrious players in support. Although Thomas McNamara is a versatile and astute player and Ebenezer Ofori (recently acquired on-loan from Stuttgart) is comfortable as a deep-lying playmaker, City are somewhat short on depth in midfield. 2017 first-round draft pick Kwame Awuah will be expected to develop into a rotation option as is Homegrown signing James Sands.
From afar, the notion that NYCFC may have an issue with goalscoring may seem absurd but City lost its momentum when Villa suffered an injury on international duty last September. To prevent a recurrence and to replace Jack Harrison, City revamped its attack adding center forward Jo-Inge Bernat and wingers Ismael Tajouri and Jesús Medina. Jonathan Lewis will be expected to follow up on his limited but exciting rookie season, especially with Rodney Wallace set to participate in the World Cup with Costa Rica. The challenge for Wallace, Bernat, Tajouri, Medina and Lewis this season is simple: become an effective individual goalscoring threat so opposing teams can't quadruple team Villa.
Here's a closer look at NYCFC heading into 2018:
2018 NYCFC SEASON PREVIEW
2017 Finish: Second in the Eastern Conference (16-9-9, 57 points)
Key Acquisitions: Jesús Medina, Anton Tinnerholm, Cedric Hountondji, Ebenezer Ofori
Key Losses: Jack Harrison, Ethan White, R.J. Allen, Andrea Pirlo
Newcomer to Watch: Anton Tinnerholm
NYCFC's first offseason signing is an attempt to improve and revamp its options at right back.  Tinnerholm joins from Malmo as a relative bargain with City able to avoid paying a transfer fee for the reigning Defender of the Year in Sweden. Capable of scoring for himself and assisting for others, Tinnerholm also completed more than 82% of his passes, according to WhoScored, which would make him a good fit for Vieira and his emphasis on building up from the back.
"Anton has won the Swedish title three out of the last four years, so he knows what it takes to win a Championship and he's played in the UEFA Champions League," Vieira told NYCFC.com after his signing. "He's somebody who can bring something to this team on and off the field – his winning mentality from his experience of playing and lifting trophies will be important to us."
Pressure is On: Jesús Medina
Much would have been expected from Jesús Medina even if Jack Harrison had remained at NYCFC. Now that Harrison is gone, Medina will be expected to both justify the $4 million transfer fee NYCFC paid for him and match Harrison's production.
Medina was scouted and signed by the same person who signed Gabriel Jesus for Manchester City and NYCFC needed to ward off interest from FC Copenhagen and Boca Juniors for Medina's signature. Yet for Medina to one day join Jesus at Manchester City, the Paraguayan international will have to match Harrison's production and maybe help NYCFC win silverware. 
Outlook
On talent and tactics alone, there is more than enough to suggest that NYCFC will be contending for a top-two finish in the Eastern Conference.
There are no glaring weak spots on the roster but the World Cup may test the team's depth and cause it to struggle in the season's middle months. Rodney Wallace, Ronald Matarrita, Tinnerholm and even Villa could depart for the better part of a month and that disruption could hurt the team's momentum. A strong start to the season is necessary to offset any difficulties but a winless preseason in which academy players saw significant portions of playing time offers little to prognosticate from.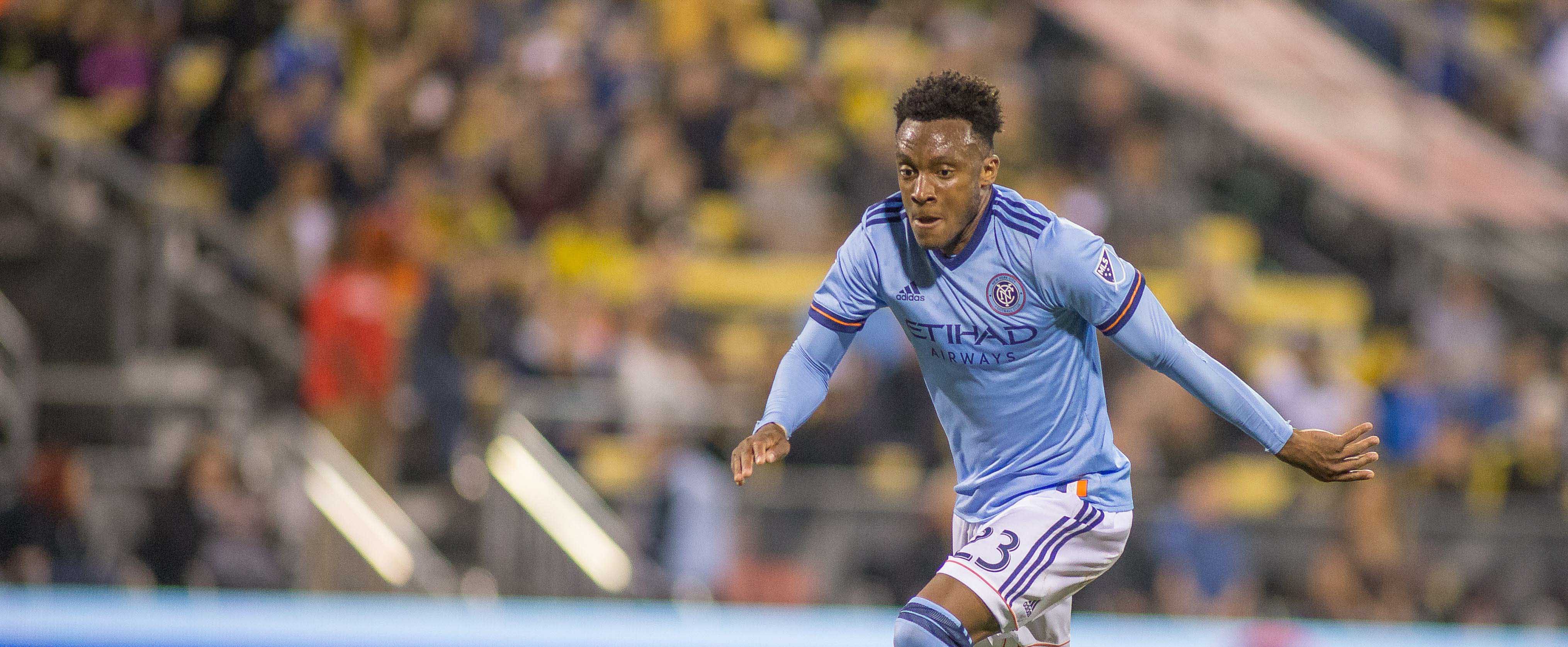 It remains to be seen whether The Pigeons will add depth at centerback as they currently have three players plus the youngster Sands on the roster. Two trialists, Sebastian Ibehega and Ryan Felix spent preseason with the team but thee has been no word on whether either will be signed for the regular season. City could also use some help in midfield if it can't rely on Kwame Awuah and Thomas McNamara off the bench.
David Villa will score at least 15 goals but Vieira has wanted a second attacker capable of scoring at least ten goals and that's why Jesús Medina is in New York City. If Medina can reach double digits and Maxi Moralez can be involved in 14 goals like he was last season, City's attack will be capable of earning them points each and every match.
Sean Johnson brought stability in goal and Alex Callens established himself as a rock at left center back playing every minute of the regular season. However, both players had extreme moments of prowess and farce. The same can be said for the rest of City's backline which has evolved from confused and porous to wise and compact.
"In soccer, everything is about details," Chanot said. "We're going to try and finish in the top-two of the league like we did last year and get ready for the playoffs. Playoffs will be tough but I don't think we have to change everything because we didn't reach the final.
"If we scored one more goal, we would have been in the Conference Final. It's all about details and we're going to focus on that to try and reach MLS Cup."