The third year of the Earnie Stewart-Jim Curtin era was supposed to spring new life into a franchise ridden by bad decisions.
But instead of reinvigorating the squad with new signings, the Union made one major move and are relying on their youth to fill the voids left by the big contracts on the roster.
Auston Trusty, Adam Najem, Anthony Fontana and Derrick Jones are at the forefront of the Union's youth movement, with all four expected to play some type of role in 2018, but the promise of the collection of Homegrown players and young prospects might not be enough to push the Union back into the postseason.
While plenty of questions from the starter at the No. 10 position to Keegan Rosenberry's bounce-back in form remain, the Union do have a reliable spine headlined by goalkeeper Andre Blake, midfielder Alejandro Bedoya and forward C.J. Sapong.
However, that might not be enough in 2018 as the Eastern Conference continues to take over the balance of power in Major League Soccer.
Here's a closer look at the 2018 Union:
Projected Union Starting Lineup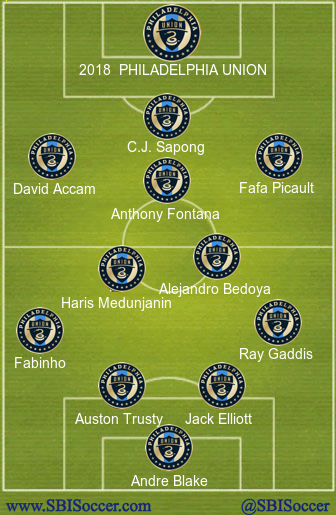 2017 Finish: 11-14-9 (42 points, 8th in Eastern Conference)
Key Acquisitions: David Accam, Anthony Fontana, Mark McKenzie, Matt Real, Cory Burke
Key Losses: Chris Pontius, Roland Alberg, Maurice Edu
Newcomer to Watch: Auston Trusty
Curtin loves consistency and stability at center back, and he may have found his answer next to Jack Elliott in Trusty.
The Homegrown player is ready to take the next step at the professional level and earn starting minutes, and he's done so in preseason earning starts next to last season's breakout star in Elliott. There could be a learning curve for the United States international, but he has plenty of experience in Elliott, Bedoya and Haris Medunjanin around him to help him feel comfortable in the middle of the field.
Pressure Is On: Fafa Picault
With C.J. Sapong coming off a career season and David Accam inserted into the attack after an offseason trade with the Chicago Fire, Fafa Picault must step up in his second season with the Union to give the club a well-rounded attack.
Picault and Accam should wreak havoc on opponents with their pace, but the 26-year-old needs to work on his finishing after missing a few key opportunities in 2017. If Picault, Accam and Sapong combine well and produce goals, it might be able to make up for the absence of a key player at the No. 10.
Outlook
It's hard to call the Union's offseason a success even if they bring in a No. 10.
While a few different names have circulated throughout the offseason, no signing has been made despite hints from the club's leadership that it will happen.
"We know this isn't our final roster yet," Curtin said. "We're not the complete group you're going to see on March 3. Whether it happens this window or the next window remains to be seen."
Curtin and Stewart have tried to sugarcoat the lack of transactions by promotion the skill of the youth in the squad that includes Trusty and new Homegrowns Mark McKenzie and Matt Real.
But the one Homegrown who could receive the biggest push into the spotlight is Fontana, who could take advantage of the absence of a No. 10 and Ilsinho's injury that will keep him out of the season opener.
"I would say the injury is fresh. Ilsinho going down is difficult, but it's something that happened in the past," Curtin said. "You can always talk about inverting the triangle. We got mixed results from it last year. Ideally, we want to stick to finding the No. 10. I thought Anthony Fontana gave us a lot more possession (in our last scrimmage). We'll be looking that and giving him an opportunity. It's an opportunity that he's earned and we'll have a look at that."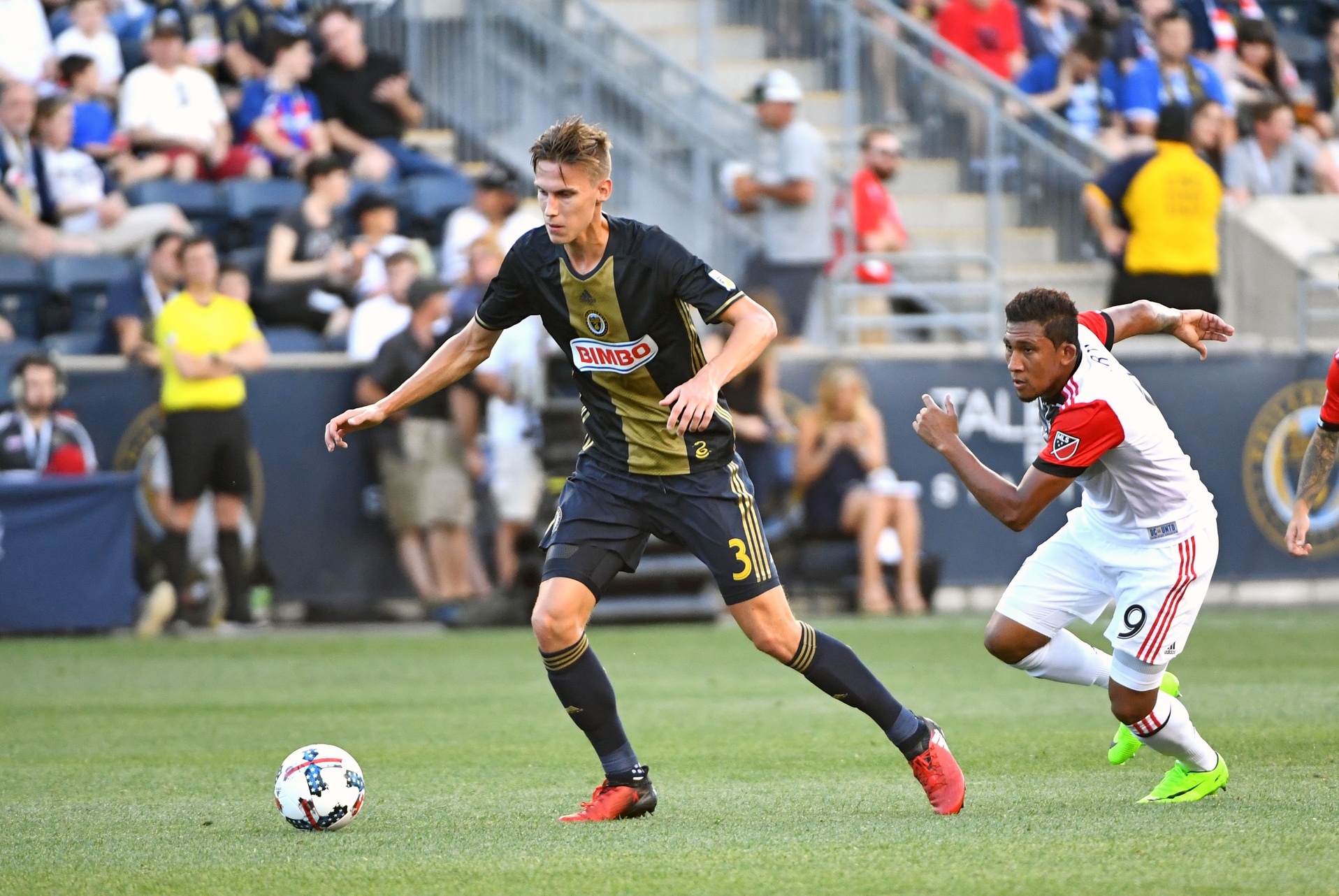 Trusty and Elliott will be one of the youngest and least experienced center-back pairings in MLS, but the trust in the duo is evident as the Union look to build a foundation for years to come with a consistent pairing at the back, which is something they haven't had for multiple years in a row for quite some time.
"Auston has stepped in and done a really good job,"Curtin said. "There's going to be instances in games with the lack of experience that there's going to be mistakes, but we have to live with those mistakes because it gives him an opportunity to grow and they've done a good job complementing each other and have put together a couple good performances side by side."
"You're seeing Auston's passing improve and Jack is a guy who can start the attack with the 50-60 yard diagonal and more importantly that 30-40 yard ball on the ground that eliminates defender's lines," Curtin said. "That's something he excels at and for our league one of the better passing center backs that there is. For a 22-year-old that's saying something."
While the holes in the squad are pointed out often, the Union aren't lacking talent at every position.
Blake, Bedoya, Medunjanin and Sapong should all improve after a year together, and they'll be the key players that keep the Union in games while the young players find their footing.
A fast start is mandatory for a team that stumbled out of the gates in 2017. With four of the first five games at home, the Union need to take advantage of the opportunity, starting with the March 3 opener against the New England Revolution.
"I still would say a lot of teams don't have their full groups together and on the field at the same time for a variety of reasons," Curtin said. "We're getting closer, but even scouting New England now and watching their games, I don't think it's too indicative of what March 3 will look like. We're not the team we're going to be on March 3 and they're not the team they're going to be on March 3."