SEATTLE — "I went on a cookie binge, which was needed. For about a week."
That — chased with a week on the beach in Mexico — was the rather wholesome way Seattle Sounders goalkeeper Stefan Frei processed perhaps the most humbling loss in club history, a 2-0 drubbing at the hands of Toronto FC in the 2017 MLS Cup. The score, thanks largely to Frei's brilliance in goal, does not begin to describe the hosts' dominance on that December afternoon in Toronto.
It was the kind of loss that might make another club rethink its roster. The Sounders, however, are just 14 months removed from hoisting the league trophy themselves, having bested that same Toronto FC side in the 2016 final.
And after a sluggish, injury-riddled start to last year's title defense, the Sounders lost only two games after the Fourth of July. They finished the season tied with the Portland Timbers atop the Western Conference, losing the top seed only on tiebreaker. They entered MLS Cup having outscored their last eight opponents by a combined score of 17-2.
So it is no surprise that the Sounders, despite losing in such ugly fashion on the league's biggest stage, are not reinventing the wheel this offseason. If anything, continuity is the name of the game in the Emerald City.
Starting left back Joevin Jones moved to the 2. Bundesliga in December after signing a pre-contract with Darmstadt 88 last summer. All other starters and major contributors from last season will return.
"We lost two games in the last six months of the season," Sounders general manager and president of soccer Garth Lagerwey said earlier this offseason. "We didn't have a great performance on that final day, but I don't think we're going back to the drawing board on that group."
In other words, it was just one game.
"I'm happy with the way I think we've digested last year's successes and failures," said Frei on Monday, "and I hope we can draw strength from all of that."
Here's a closer look at the 2018 Seattle Sounders.
SEATTLE SOUNDERS SEASON PREVIEW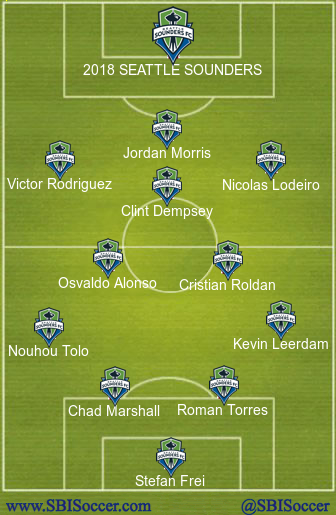 2017 RECORD: 14-9-11 (Second place in Western Conference, MLS Cup runner-up)
KEY LOSSES: Joevin Jones, Brad Evans
KEY ACQUISITIONS: Magnus Wolff Eikrem, Alex Roldan, Waylon Francis, Jordan McCrary, Handwalla Bwana
NEWCOMER TO WATCH: Waylon Francis.
There aren't many newcomers to this roster — at least not yet — and the speedy 27-year-old Costa Rican left back is the lone acquisition that figures to challenge for a starting spot. Nouhou — just 20 and returning from a promising debut season — may have a higher ceiling, but for now also has lower lows and rougher edges. Francis at times played very good soccer in four seasons with the Columbus Crew, and certainly never enjoyed the attacking options he will see before him at CenturyLink Field.
PRESSURE IS ON: Jordan Morris.
At the time the most highly-touted American prospect in years, Morris delivered 12 goals and four assists while earning the league's Rookie of the Year award in 2016. But injuries and sagging confidence marred his sophomore campaign, limiting him to three goals and a lone assist in just 22 starts last year. The 23-year-old Stanford product looks stronger, healthier, and rejuvenated thus far in 2018; he even bagged a brace against second-tier Sacramento Republic in last week's final preseason tuneup. The Sounders will need him to continue the trend: the rugged speedster stretches defenses even when he isn't finding the back of the net, but legitimate MLS Cup contenders need more than three goals from their starting forward.
Outlook:
"It came fast," Sounders head coach Brian Schmetzer said on Monday when asked about the start of the new season. "It came really fast."
Indeed, the Sounders effectively open the 2018 campaign with a CONCACAF Champions League match on Thursday, barely nine weeks after playing in MLS Cup. They visit El Salvador's Santa Tecla in a round-of-16 matchup before hosting the return leg on March 1, three days before the MLS season opener.
The season may have come fast, but the Sounders once again look the part of legitimate contender in the 2018 campaign, returning almost the entire core from the squad that earned its second straight trip to MLS Cup last year.
"I think this team finds itself in a good position in terms of its spine," Frei said on Monday. "We have lots of veterans, but we're starting to have young guys be part of that, which is important for longevity. You're talking about Cristian Roldan and his boyfriend Jordan Morris. They're young guys, but at this point they're experienced guys. So for them to already be part of that spine, which tends to be 26, 27 — 30s sometimes — that's huge."
Still, it is unlikely the roster is set in stone. Lagerwey has indicated additional signings could come in both the coming weeks and the summer transfer window. The club expects to fund the $2.8 million in discretionary Targeted Allocation Money approved by the league this winter. It also has the flexibility to buy down Osvaldo Alonso's contract to add another Designated Player.
Alonso, still recovering from leg injuries that sidelined him for much of 2017, is one of the few health concerns.
"Ozzie has been doing good," said Schmetzer. "His recovery is ramping up. He's on a very strict program. He's on a very specific program, and they're going to limit his training until he's 100 percent."
Other than Alonso, the team enters the season without any major health concerns, although Kelvin Leerdam has an ankle injury that will likely sideline him for Thursday's match.
The Sounders will once again play primarily out of the 4-2-3-1 Schmetzer has almost exclusively deployed since taking over the helm from Sigi Schmid in  August of 2016. Schmetzer has also trotted out a 4-4-2 with a diamond midfield at times in the preseason in attempt to add formational flexibility that was perhaps lacking last year.
In back, a defense that posted an MLS-record 714-minute scoreless stretch in the 2017 playoffs returns mostly intact.
Leerdam, a TAM signing last summer, begins his first full campaign with the Sounders. The 27-year-old almost immediately established himself as one of the best right backs in MLS last year, defending ably and displaying deft technical skills in attack. Nouhou, who frequently started down the stretch last season when Joevin Jones moved to midfield, will battle Waylon Francis to retain the starting job at left back.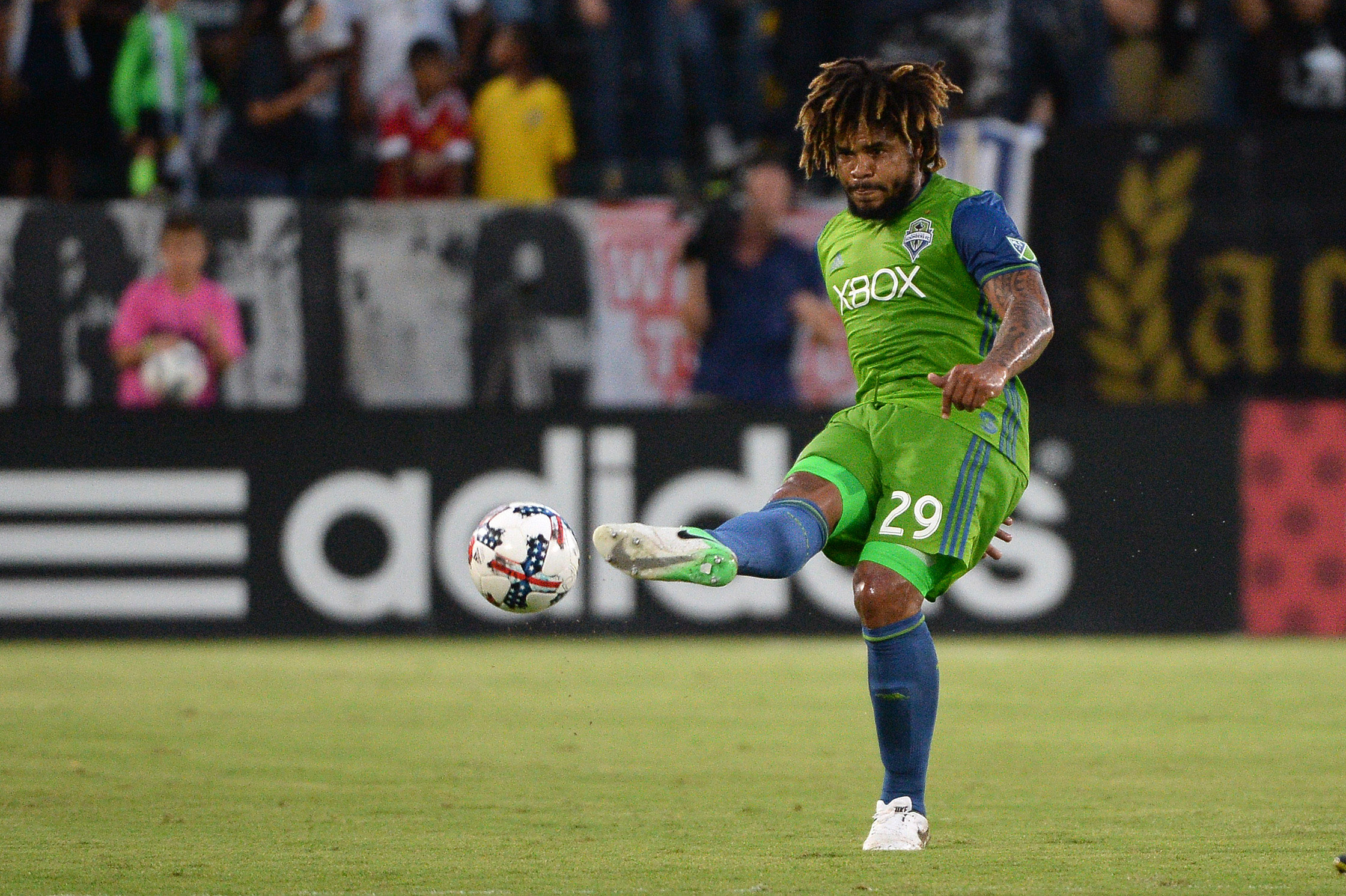 Chad Marshall, 33, and Roman Torres, 31, also return to provide the Sounders one of the sturdier (if older) center-back tandems in the league. Neither has been immune to injury over their careers, and only the relatively untested Tony Alfaro currently offers depth.
Sporting director Chris Henderson acknowledged in January that center back is an area of need, and one the club could address before the season.
"We feel good about it," Henderson said, "but we'd also like to bolster that position."
The Sounders' midfield, meanwhile, remains one of the most loaded in all of MLS.
"I would say I have a lot of different pieces to plug in, either for tactical reasons or for fixture congestion," Schmetzer said. "I have a lot of pieces."
Cristian Roldan — already one of the best central midfielders in MLS at just 22 — will start in the center of the park, ostensibly alongside Alonso or another partner, but more likely to roam forward. Clint Dempsey, Uruguayan playmaker Nicolas Lodeiro, and 28-year-old Spaniard Victor Rodriguez figure to start in attacking midfield.
Dempsey, who at 34 led the club in scoring and led the league in playoff scoring last season, signed a new, more team-friendly contract this winter.
"Clint worked with us," said Lagerwey, "and he's taken less money than he was on before. He's still well-paid, well-compensated, but certainly we hope that long term that creates a little more balance with respect to our [Designated Player] spend."
Harry Shipp, Henry Wingo, and new acquisition Magnus Wolff Eikrem figure to provide key midfield depth.
Eikrem, a 27-year-old Norwegian international signed via TAM, has featured in top-flight leagues in Norway, England, the Netherlands, and Sweden.
"I think he's goal-dangerous, which I like, especially if he's playing wide positions," said Schmetzer. "He's a good passer of the ball. His vision is good."
Third-year forward Jordan Morris returns up top, hoping to have a bounce-back season after a disappointing 2017 campaign.
"You know, with strikers sometimes confidence is huge," said Frei. "I think last year he struggled finding that confidence. Obviously it's difficult when you're not seeing the pitch due to injury or other things. That's growing pains for a young player. I think the January camp with the national team did him [good]. Going in there and essentially being the veteran on that squad. Again, at such a young age, I'm confident that the coaching staff has kind of instilled in him that, 'Hey, you have to go after it more. You can't just let things happen.' And that's what I've seen so far. In the [Sacramento Republic] game, the two goals were both well taken. That hopefully helps his confidence, and that's what we want to see."
Will Bruin also returns to provide valuable depth at forward for a team hoping to compete for multiple trophies. The longtime Houston Dynamo striker provided 11 goals in his debut season with the Sounders.