The U.S. Men's National Team's win over Bolivia was as straightforward as can be. Monday's match was a dominant one that saw a number of young stars shine against an overmatched opponent.
What happens next won't be straightforward. It won't be dominant and the opponent won't be overmatched. The U.S. faces two significant steps up in competition to effectively conclude the 2018 World Cup cycle.
First up for the U.S. is a trip to Dublin where Dave Sarachan's team will face off with a tough Ireland team. The Irish team isn't a world beater, for sure, and they aren't one of Europe's elite contenders, but Saturday's clash represents a significant step up following Monday's 3-0 win over Bolivia's B-team.
Even with a clash with France looming, the U.S. can't look too far past a match that will require a bit of shuffling. A total of 10 new faces are in camp, and Saracahan can organize those faces in a variety of ways as he looks to balance the USMNT squad in the second match of a three-match set.
Here's a closer look at one USMNT lineup Sarachan could go with: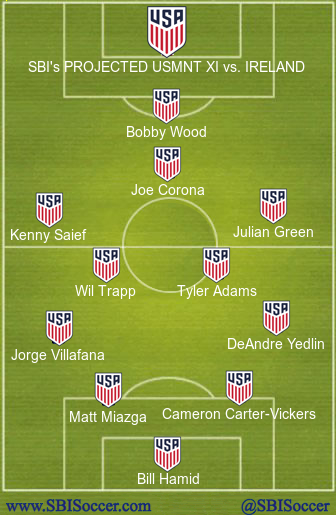 Some thoughts:
Let's start with the obvious: anyone who played extended minutes on Monday shouldn't be in the lineup on Saturday. Not even taking jet lag into account, playing another 90 minutes in the aftermath of a long European season is a recipe for something to go wrong. That rules you out, Weston McKennie, who put in a very good 90-minute shift. The same goes for Erik Palmer-Brown and Antonee Robinson.
On the flip side of that, anyone that sat on the bench throughout the Bolivia game is likely to be in the starting XI in Dublin. That means we'll probably get to see the Cameron Carter-Vickers and Matt Miazga partnership in defense, and we'll see Bill Hamid at goalkeeper. Hamid could be saved for the more intense France match, but it would also be nice to see Zack Steffen in that environment. For that reason, let's give Hamid the start in Dublin as Steffen gets brought up to speed a bit more in camp.
With part of the defense pretty much sorted, you look at the outside backs. DeAndre Yedlin should step right in at right back and provide a bit of leadership while, after coming on as a substitute last time out, Jorge Villafana can come in again on the left.
In the midfield, there are a variety of options as this roster has significantly more central midfield depth than the last. While he remains an option, a start may be a bit too much too soon for Keaton Parks. That leaves Tyler Adams and Wil Trapp as the two primary central midfield stars. The combination of Adams' energy and Trapp's soccer IQ/passing ability should make for a good combination in the center of the field.
Things get a bit more interesting from there as the team lacks fresh attacking/wide players. Rubin Rubin had an extended run out. Josh Sargent and Timothy Weah did too. The latter two, in particular, are both still very new to this, so giving them a bit of a rest is a good idea.
Kenny Saief is a welcome addition as he can serve as a creator in the midfield, while Julian Green could step in on the other wing. Green's best position is still up for debate, so that's something everyone will have to keep in mind as he reintegrates.
Up top, Bobby Wood needs this start. After a difficult season in Hamburg, Wood must find confidence and, perhaps more importantly, boost his transfer value if another club comes calling. You could see Andrija Novakovich start alongside him but, by and large, Sarachan has stuck with a 4-2-3-1, and there's no reason to think that will change just yet.
With a week off before the France game, any number of these players can be ready to go in the final summer friendly. However, this match in particular is about balance as the U.S. should look to rely on fresher legs following the win over Bolivia.