The U.S. Men's National Team may not be going to the World Cup, but one of this summer's top contenders awaits in the final friendly of the summer.
After battering Bolivia and narrowly falling to Ireland, the U.S. faces a different class of team on Saturday when they take on France in Lyon. Widely seen as a tournament favorite, France boasts stars like Paul Pogba, Antoine Griezmann and N'Golo Kante, and Les Bleus will be eager for one last win before departing for Russia.
Standing in their way is a young USMNT group that hasn't been tested quite like this. Yes, the U.S. was able to nab a draw with Portugal in November, but, without Cristiano Ronaldo, Portugal is a much different team. This France team will be completely full strength and motivated. That means the U.S. will need to play at a whole new level to even compete.
Dave Saracahan has a number of options at his disposal and there are plenty of ways to approach Saturday's match. Do you go with a veteran-filled lineup to ease the damage? Do you let the young guys take their lumps? Do you go somewhere in the middle?
Here's one look at how the USMNT may line up: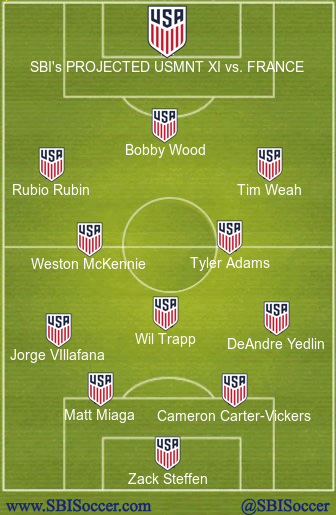 Some thoughts:
There's no joking around when it comes to Saturday's match. France isn't a team to experiment against. They aren't a team to mess around with and Saturday isn't a game to simply give experience to young stars. If this current USMNT group goes into Saturday's match with anything less than 100 percent, there is potential for a blowout.
Knowing that, expect Sarachan to unveil as close to a full-strength lineup as possible. With a week between the Ireland and France matches, everyone should be about as fit as can be at this time of year, making every player eligible for selection.
So let's start with the veterans. DeAndre Yedlin should absolutely be in the team, even after an atypical showing against Ireland. Wil Trapp, who we'll call a veteran simply because of his age, should also be in. Bobby Wood will almost certainly lead the attack, and you shouldn't be surprised to see him score a goal because he always seems to find a way in matches of this caliber.
If there was any thought of letting Bill Hamid take both matches of the doubleheader, that certainly isn't the case after his performance against Ireland. Zack Steffen is in extremely good form at the moment, so let him go out and prove why he's your No. 1 going forward. A familiar pairing of Cameron Carter-Vickers and Matt Miazga add a bit of comfort in front of him as that trio faces its biggest test yet.
Another group facing its biggest test yet is the midfield, which could include Tyler Adams and Weston McKennie. Sarachan could be tempted to include another veteran in Joe Corona but, given his habit of playing in more of a 4-2-3-1 or 4-3-3, there isn't a spot for Corona if Trapp, McKennie and Adams are all involved.
Up front, there's a real dearth of veteran options to join Wood, but Rubio Rubin's workrate makes him a solid piece. Against France, the U.S. will be defending a lot more than attacking, but you can't just be content to bunker in and limit damage. Rubin can do a bit of tracking back and get forward when the time comes, even if he hasn't shown that danger in front of goal yet in a USMNT jersey.
Now, the interesting one: Timothy Weah. This match would no doubt be a dream start for Weah, who plays for Paris Saint-Germain and is hoping for more minutes. The winger continues to show both positive moments and inexperience, and any of the latter could be damning for the U.S. on Saturday. That said, you need a bit of a wild card if you want to make something happen, and Weah is dynamic enough to be just that.
The lineup above offers plenty. It offers stability and a bit of veteran leadership alongside a young core. It offers a chance for the youngest stars to do something against a legitimate World Cup contender and it offers the flexibility to defend and counter when you need to.
Is it a lineup that can beat France? Probably not. France will be eager to put together a big effort in their final match before Russia. But, for the USMNT, Saturday isn't about the scoreline or the result. Rather, it's about stepping up to a challenge and learning which players will sink or swim.