The LA Galaxy head into the 2022 MLS season intent on returning to the playoffs, and Javier 'Chicharito' Hernandez ensured that the new campaign began with a win against the reigning MLS Cup champions.
The Mexican striker scored a 90th-minute winner to lift the Galaxy to a 1-0 victory over New York City FC on Sunday, snapping a goal-less deadlock at Dignity Health Sports Park. NYCFC's title defense began with a stumble, as Ronny Deila's men failed to generate a goal against the Galaxy's inspired defense.
Nashville SC played the role of road spoilers on Sunday night, handing the Seattle a 1-0 defeat at Lumen Field, with Anibal Godoy's 80th-minute winner earning Gary Smith's squad all three points over a Sounders side that entered the season considered a top title contender.
Atlanta United breezed by visiting Sporting Kansas City on Sunday, using first-half goals from Luiz Araujo and Dom Dwyer to set the tone in a 3-1 victory. Josef Martinez registered two assists for the Five Stripes while 17-year-old Caleb Wiley came off of the bench to ice the season-opening win.
In Saturday's MLS action, Carlos Vela flashed the form on Saturday that made him a 2020 MLS MVP, scoring a hat-trick in LAFC's 3-0 romp over the Colorado Rapids. The Crew also enjoyed some good home cooking, with four different players scoring goals in a 4-0 thrashing of the Vancouver Whitecaps.
Charlotte FC's MLS debut didn't go according to plan, with D.C. United welcoming the expansion team to the league with a comprehensive 3-0 victory at Audi Field. An early Charlotte FC goal was negated for offside before Michael Estrada scored two goals in his MLS debut to lead DCU to an impressive victory.
The New York Red Bulls enjoyed a dream start to their season after a 3-1 road win at San Jose. Earthquakes goalkeeper J.T. Marcinkowski had a day to forget while the Red Bulls enjoyed a strong debut from Lewis Morgan.
Bob Bradley and Nico Estevez coached their first MLS matches with their new teams, but had to settle for a point apiece in FC Dallas' 1-1 draw with Toronto FC. Paul Arriola impressed in his first match since being acquired by FC Dallas, while TFC's young squad did well to earn a road point.
Here is a closer look at all 14 matches from MLS Week 1:
---
Sunday
---
Orlando City 2, CF Montreal 0
(Alexandre Pato 49′, Benji Michel 59′)
Man of the Match: Antonio Carlos was a rock in central defense for Orlando City, registering nine clearances and two tackles, and for good measure he also baited Romell Quioto into a red card.
Moment of the Match: Orlando City's pressure frustrated Montreal, and the Lions grabbed the dagger with their second goal, forcing a turnover and quickly converting it into Benji Michel's goal.
Match to Forget: Romell Quioto lost his cool and left his team a man down after his 66th-minute red card.
---
Atlanta United 3, Sporting KC 1
(Luiz Araujo 20′, Dom Dwyer 45+2′, Caleb Wiley 89) – (Daniel Salloi 85′)
Man of the Match: Josef Martinez didn't score a goal of his own, but delivered a pair of beautiful assists to lead the Atlanta United romp.
Moment of the Match: Dom Dwyer's goal was an excellent finish off a perfect pass to spring him, and the added subplot of Dwyer scoring against his former team and showing he still has plenty left in the tank made for a memorable moment.
Match to Forget: Andreu Fontas was late to respond on Atlanta United's opening goal, and was beaten badly on Dwyer's goal.
---
LA Galaxy 1, NYCFC 0
(Javier Hernandez 90′)
Man of the Match: Chicharito did what he does best, score big goals and his came in the final minute off a beautiful turn and finish.
Moment of the Match: Chicharito will grab the headlines, but the entire sequence leading to his goal was worth highlighting, with Raheem Edwards forcing a turnover and quickly delivering the decisive pass for the winner.
Match to Forget: Keaton Parks could have just kicked the ball clear with a minute left rather than try to dribble out of pressure in his own defensive third, but his costly decision led to the turnover that the Galaxy converted into the winner.
---
Houston Dynamo 0, Real Salt Lake 0
Man of the Match: Steve Clark only had two saves to make for the Dynamo, but they were important ones to preserve the draw for the home team.
Moment of the Match: Darwin Quintero nearly snatched a winner for the Dynamo only to see his curling effort slam off the crossbar in the 82nd minute.
Match to Forget: Sebastian Ferreira managed zero shots and a paltry 28 touches on a night he was largely invisible.
---
Seattle Sounders 0, Nashville SC 1
(Anibal Godoy 80′)
Man of the Match: Anibal Godoy had already put in an impressive shift in the Nashville SC midfield before delivering the winner.
Moment of the Match: Godoy's winner came courtesy of an excellent pass from Randall Leal, and perfect back-post run that left Godoy wide open for the finish.
Match to Forget: Jordan Morris finished the match with zero shots, key passes and successful dribbles, and managed just seven completed passes on a night it was easy to forget he was on the field.
---
Saturday
---
Atlanta United 3, Sporting KC 1
(Luiz Araujo 20′, Dom Dwyer 45+1′, Caleb Wiley 89′) – (Daniel Salloi 85′)
Man of the Match: Josef Martinez is known for his goalscoring ability but on Sunday the Venezuelan delivered two assists in the home win for Atlanta United. Martinez connected with both Araujo and Dwyer for their goals, showing he can be just as impactful as a set-up man in the final third.
Moment of the Match: Just when Sporting KC cut the deficit to 2-1, 17-year-old Caleb Wiley ended the visitors chances for a road point. Wiley raced on a breakaway and tapped the ball past a streaking Tim Melia for his first MLS goal.
Match to Forget: While the entire Sporting KC backline were disappointing in the match, Andreu Fontas was guilty for two of the goals. Fontas failed to close down Araujo on the opening goal before watching Dwyer dance by him for the second. The 32-year-old will be disappointed with his overall defensive performance.
---
Orlando City 2, CF Montreal 0
(Alexandre Pato 49′, Benji Michel 59′)
Man of the Match: Alexandre Pato has struggled for consistency during his time with Orlando City, but kicked his 2022 season off in flying colors. Pato scored the winning goal in the second-half and overall put in a strong 76 minutes for the Lions.
Moment of the Match: Not long after Michel doubled Orlando City's advantage, CF Montreal's Romell Quioto killed his team's chances of getting anything from the match. Quioto was shown red for violent conduct in a scrum after Joaquin Torres hacked down Mauricio Pereyra. CF Montreal limped its way to the full time whistle.
Match to Forget: Quioto was sent off and even before that didn't offer much in the final third for Wilfried Nancy's squad. He missed his lone shot on goal and will now miss the next three matches due to his ejection.
---
Union 1, Minnesota United 1
(Cory Burke 35′) – (Robin Lod 23′)
Man of the Match: Robin Lod was lively from the opening whistle for Minnesota United and scored his first goal of the season. Lod's tap-in finish broke the deadlock from Subaru Park and the Finnish winger also stayed busy for the rest of the match, registering four shots.
Moment of the Match: Cory Burke came close to doubling his tally on the afternoon and score the winner if not for a diving save by Tyler Miller. Burke's curler in the second-half looked destined for the top corner, but Miller stretched wide to repel the effort.
Match to Forget: Julian Carranza made his Union debut and received a warm reception from the fans, but failed to create much in the final third. Carranza did not register a shot on goal in the draw before being replaced by Sergio Santos in the second half.
---
LAFC 3, Rapids 0
(Carlos Vela 29′, 35′, 49′)
Man of the Match: Carlos Vela kicked off his 2022 season with a bang, scoring a hat trick in a lopsided home win. Vela's day started off with a penalty kick finish in the 29th minute before the Mexican international added goals in the 35th and 49th minutes respectively.
Moment of the Match: Vela's second goal of the match truly put the Rapids in a hole before halftime. Colorado was already behind after the penalty decision and Vela added to the visitors' disappointment with a right-footed finish in the box.
Match to Forget: The entire Colorado Rapids backline failed to keep Carlos Vela in check, but Lalas Abubakar's error started the onslaught. Abubakar's handball in the penalty area allowed Vela to score his first goal from the penalty spot.
---
Crew 4, Whitecaps 0
(Miguel Berry 8′, Derrick Etienne Jr 25′, Luis Díaz 84′, Lucas Zelarayán 86′)
Man of the Match: Lucas Zelarayán was his usual busy self, contributing a goal and assist in addition to dominating the midfield.

Moment of the Match: Derrick Etienne Jr's goal in the 25th minute was a well-worked team goal that would make any coach proud and showed how much trouble Vancouver was in line-by-line.

Match to Forget: Jake Newinski's double yellow performance is obviously one to put in the rearview. His send-off was thanks to being in the wrong place at the wrong time in the 53rd minute. While carrying a yellow, Newinski fouled Columbus' Yaw Yeboah on an open run that would have set him up for a one-on-one opportunity.
---
FC Dallas 1, Toronto FC 1
(Jander Obrian 9′ – Jonathan Osorio 45′)
Man of the Match: Paul Arriola was dynamic in his FC Dallas debut, helping set up his team's only goal while creating several chances, including one that was another goal, but ruled offside by VAR review.
Moment of the Match: A 67th-minute penalty call threatened to doom FC Dallas, but the third VAR review of the match overruled an initial handball call to keep the score even.
Match to Forget: Jesus Jimenez had some promising moments in his MLS debut, including the assist on Jonathan Osorio's goal, but he will regret the 72nd-minute chance he wasted directly in front of goal that should have been the winner.
---
Austin FC 5, FC Cincinnati 0
(Cecilio Dominguez 2′, 61′, Alex Ring 14′, Sebastian Driussi 43′, Alec Kann OG 90+3′)
Man of the Match: Cecilio Dominguez opened the scoring two minutes in, then battled for Austin's fourth goal of the day.
Moment of the Match: Austin FC set the tone early on with the second-minute goal, which sent a message that it would be a long day for the visitors.
Match to Forget: Alec Kann had the most memorable blunder on the final goal, but it was Cincinnati's central defense tandem of Tyler Blackett and Geoff Cameron that was truly awful.
---
Earthquakes 1, Red Bulls 3
(Javier Lopez 69′ – Patryk Klimala 45+1, Omir Fernandez 72′, Tom Barlow 90+2)
Man of the Match: Lewis Morgan showed that he can be the kind of two-way threat that can thrive in the Red Bulls system, setting up the opening goal while also contributing four tackles
Moment of the Match: Omir Fernandez gave the Red Bulls the lead for good with a hard blast that made it through JT Marcinkowski's legs.
Match to Forget: Marcinkowski should have done better on all three Red Bulls goals.
---
D.C. United 3, Charlotte FC 0
(Michael Estrada 37′, 45+6′, Ola Kamara 65′)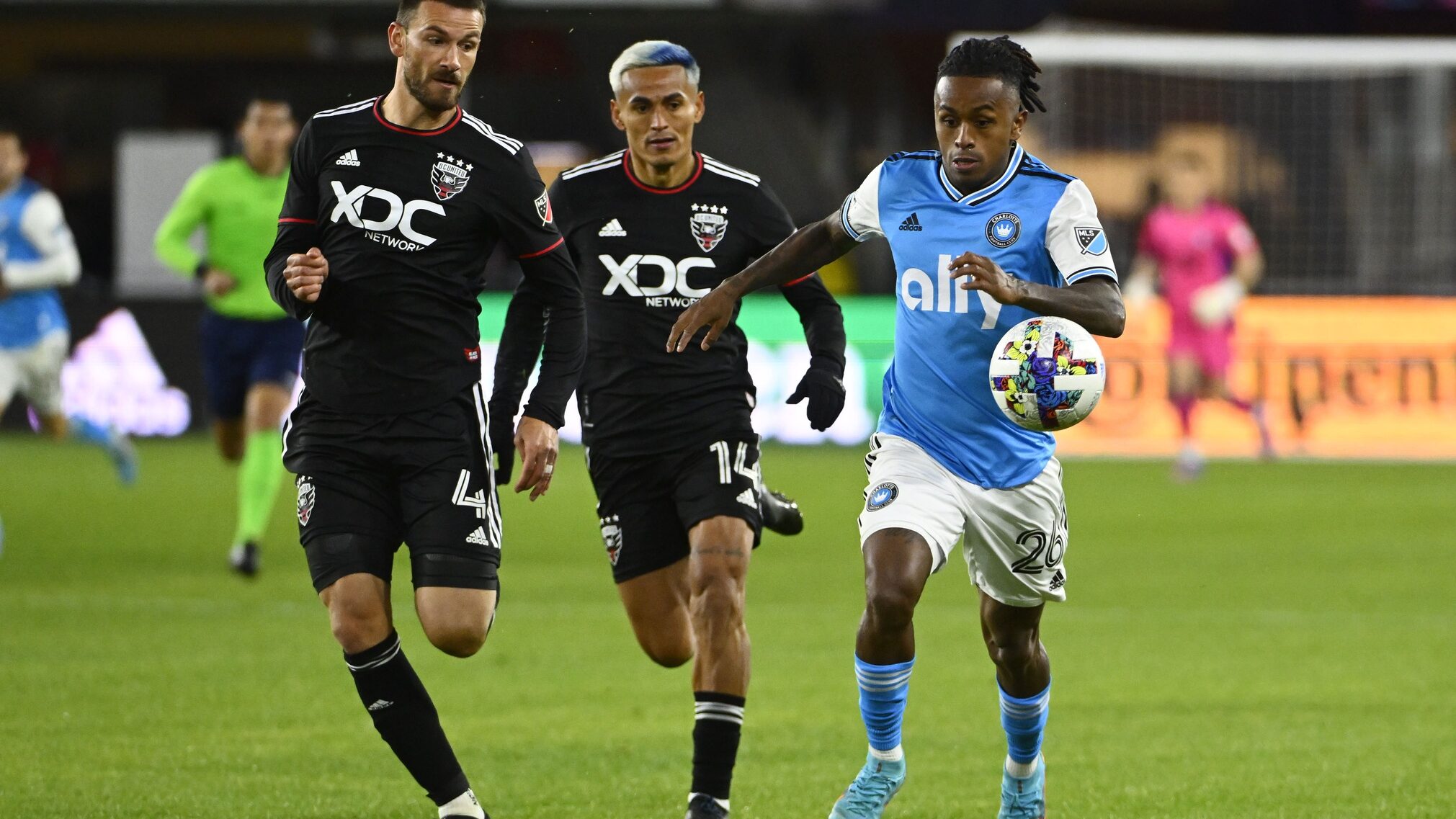 Man of the Match: Michael Estrada. Drew a penalty, converted it, and added a second goal, albeit off a deflection, to enjoy a promising MLS debut.
Moment of the Match: Christian Ortiz appeared to score the first goal in Charlotte FC history, but the potential was ruled out by a VAR review that found he was offside.
Match to Forget: Christian Makoun committed the penalty foul for D.C. United's opening goal and was in no-man's land on the third D.C. goal.
---
Inter Miami 0, Fire 0
Man of the Match: Jamaican defender Damion Lowe was signed to be the anchor of a new-look Inter Miami defense and he looked the part on Saturday, recording a game-high eight clearances and three interceptions while helping keep Kacper Przybylko under wraps.
Moment of the Match: Gabriel Slonina's late diving save to deny an Inter Miami winner from Ariel Lassiter in the 87th minute.
Match to Forget: Leonardo Campana will have nightmares about the close-range header he missed in the ninth minute, a chance that looked tougher to miss than make.
---
Timbers 2, Revolution 2
(Dairon Asprilla 60′, Yimmy Chara 78′) – Brandon Bye 41′, Sebastian Lletget 63′)
Man of the Match: Yimmy Chara shook off an earlier would-be goal ruled offside to deliver a moment of brilliance.
Moment of the Match: Chara's bicycle kick might be the best goal we see in MLS all year.