New York City FC was in a major hole through the opening 30 minutes at TQL Stadium on Wednesday night, but Nick Cushing's squad grinded their way back to claim one point in an eight-goal thriller against FC Cincinnati.
Both teams earned one point apiece in a 4-4 draw from Ohio which featured Brenner's hat trick for the hosts and Heber's two-goal performance for the visitors. NYCFC also missed one penalty kick as Roman Celentano came up clutch for Pat Noonan's side while John Nelson struck the crossbar in stoppage-time.
Despite leading 3-0 after 30 minutes, FC Cincinnati watched as NYCFC scored three goals in first-half stoppage time to claw its way back into the contest at 3-3. The thrilling showdown left NYCFC sitting in third place following CF Montreal's road win over the Seattle Sounders, while FC Cincinnati sits sixth.
LAFC earned its third win from its past four matches, downing FC Dallas 3-1 at Banc of California Stadium. Carlos Vela registered two assists while Danny Musovski, Cristian Arango, and Kwadwo Opoku all found the back of the net for Steve Cherundolo's side.
Jesus Ferreira scored his 10th league goal of the season, but FC Dallas remained in fourth place with the defeat.
The Chicago Fire claimed one of the results of the evening, downing the Philadelphia Union 1-0 at Soldier Field. Federico Navarro's second-half goal was all Ezra Hendrickson's side needed to walk away with three points against the then-East leading Union.
Jose Martinez was sent off for the Union in the second-half, capping off a disappointing night for Jim Curtin's squad. The Union only created two shots on goal, losing for the first time in Chicago since 2019.
Mason Toye played the hero for CF Montreal at Lumen Field, scoring his first two league goals of 2022 to propel the visitors past the Seattle Sounders 2-1. Toye had waited for his chance to deliver in the starting lineup and the USMNT forward did just that to help the Canadian club move top of the Eastern Conference table.
Despite Jordan Morris' early goal, the Sounders witnessed a four-match unbeaten run come to an end.
Here is a round-up of Wednesday's MLS action:
---
FC Cincinnati 4, NYCFC 4
(Luciano Acosta 15′, Brenner 24′, 30′, 70′) – (Talles Magno 45′, Heber 45+2′, 45+7′, Gabriel Pereira 52′)
---
Man of the Match: Brenner's hat trick showed FCC fans a glimpse of the long-rumored flair the $13 million man has. His second goal was a stylish bicycle that goes down as one the the most memorable strikes in club history.

Moment of the Match: Héber's stoppage time brace in the first half heroically brought his side back to level terms at a convenient time.
Match to Forget: Maxi Moralez's first half penalty attempt should have been the play that started the comeback, but it found the shin of rookie goalkeeper Roman Celentano.
---
Toronto FC 1, Crew 2
(Jesus Jimenez 54′) – (Sean Zawadzki 18′, Darlington Nagbe 30′)
---
Man of the Match: Jacen Russell-Rowe wasted little time in delivering for the Columbus Crew, recording two assists in his first MLS start. The 19-year-old laid off a pass for the opening goal scored by Sean Zawadzki before playing Darlington Nagbe in towards goal for the second first-half finish. Russell-Rowe also won three of his duels before being replaced in the 66th minute.
Moment of the Match: Nagbe's goal truly sucked the air out of BMO Field despite over 50 minutes left in the match. Toronto FC cut the deficit in half, but could not muster up an equalizer.

Match to Forget: Alex Bono failed to deal with either goal scored by the Crew and will be disappointed he could not deliver a save on either attempt.
---
Fire 1, Union 0
(Federico Navarro 68′)
---
Man of the Match: Federico Navarro was solid all-around for the Fire, scoring the winning goal and covering a lot of ground. Navarro, 22, won six of his 10 duels, made two interceptions, and did a lot of dirty work in the heart of Chicago's midfield.
Moment of the Match: Jose Martinez was sent off for a second yellow card offense the 72nd minute, truly putting the Union in trouble. The aggressive midfielder left the field frustrated before getting into an argument with a Fire fan before heading down the tunnel at Soldier Field.
Match to Forget: Martinez's ejection will add more frustration for Union head coach Jim Curtin, especially after the Venezuelan was fined for his post match actions in Sunday's 2-1 win over NYCFC.
---
Sounders 1, CF Montréal 2
(Jordan Morris 3′) – (Mason Toye 18′, 62′)
---
Man of the Match: Mason Toye has only played in two league matches this season, but the 23-year-old forward now has the same amount of goals as appearances following Wednesday's brace at Lumen Field.
Moment of the Match: Toye's second goal helped CF Montreal pull away with a 2-1 win with Kei Kamara setting up his attacking teammate.
Match to Forget: Jackson Ragen endured a tough night in the Sounders backline. Ragen lost five of seven duels, received one yellow card, and struggled to deal with CF Montreal's dynamic attacking front.
---
Los Angeles FC 3, FC Dallas 1
(Danny Musovski 23′, Christian Arango 57′, Kwadwo Opoku 86′) – (Jesus Ferreira 38′)
---
Man of the Match: Fresh off of signing a contract extension Carlos Vela was at his best for the Black and Gold Thursday night, providing two assists and looking like a former MLS MVP. In his 90 minutes on the field, Vela played his creator role to perfection, playing a direct role in five chances and easily could have added a goal in addition to his two assists.
Moment of the Match: Overshadowed by the LAFC victory, Jesus Ferreira had a free kick opportunity from what seemed like crossing range in the 38th minute but the USMNT forward hit a looping shot that beat Maxime Crepeau who cheated off his line before Ferreira struck the ball.
Match to Forget: Paul Arriola. Arriola had two key chances to get a goal for FC Dallas, but he was unable to convert and overall struggled to make an impact in the match. Arriola was not the only ineffective part of the FC Dallas attack, but it is fair to expect more from one of the team's star players.
---
Timbers 2, Dynamo 1
(Santiago Moreno 34′, 38′ pk') – (Darwin Quintero 65′)
---
Man of the Match: Santiago Moreno led the way for the 10-men Timbers, scoring twice in a four-minute span in the first half. Moreno won eight of 14 duels, registered three shots on goal, and completed three dribbles, delivering a strong outing for the hosts.
Moment of the Match: The Dynamo's best chance to tie the match up fell to the feet of Thorleif Ulfarsson late in the second-half, but the Icelandic international was denied by Aljaz Ivacic's strong save.
Match to Forget: Bill Tuiloma put his team in a tough situation after getting sent off in the 75th minute. The New Zealand defender picked up two yellow cards on the night and will now miss the Timbers July 3 trip to Nashville SC.
---
Galaxy 2, Minnesota United 3
(Mark Delgado 59′, Dejan Joveljic 90'+3′ pk')- (Emmanuel Reynoso 9′,43′, Franco Fragapane 36′)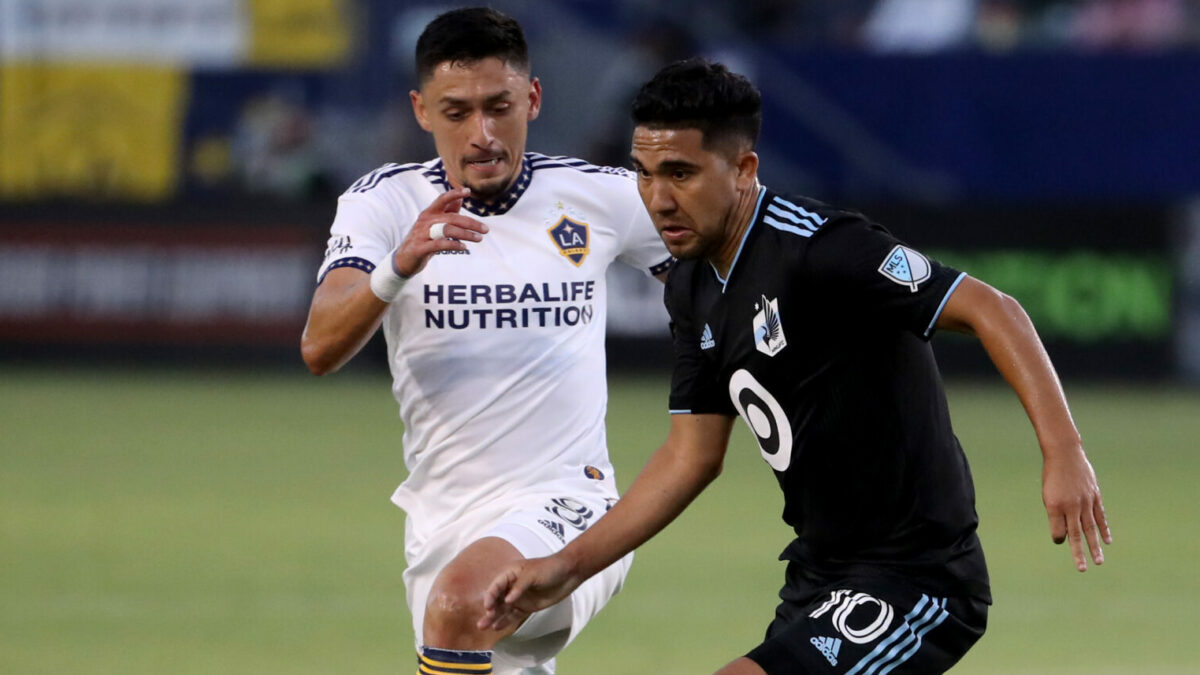 ---
Man of the Match: Emanuel Reynoso answered the call for Minnesota United on Wednesday, scoring twice in an important result over the L.A. Galaxy. Reynoso completed 95% of his passes, had 56 touches, and showed once again why he is one of the best at his position.
Moment of the Match: Kevin Cabral's ejection truly put the Galaxy in a hole on their home turf as the attacker was whistled for a foul on Dayne St. Clair. Although these was minimal contact between the two players, Cabral had to suffer the long walk to the locker room after only 25 minutes.
Match to Forget: The Galaxy defenders of Derrick Williams and Nick DePuy struggled for 90 minutes with the Loons attacker and will have to show a short memory with a quick turnaround this weekend.
---