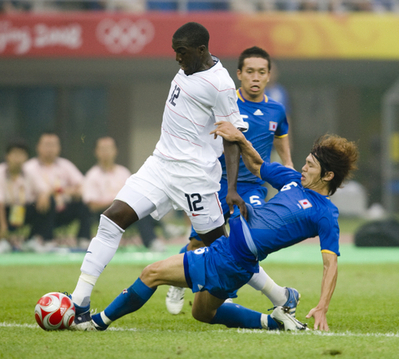 Photo by ISIphotos.com
With just two days between Thursday's 1-0 victory against Japan, and Sunday's showdown vs. the Netherlands, U.S. Olympic men's soccer coach Peter Nowak has some tough decisions to make.
With the heat and humidity in China making such a quick turnaround very difficult, Nowak figured to be making several lineup changes from the first to the second game anyway. Now, with several disappointing performances against Japan, Nowak will have even more motivation for the various changes he will likely make.
The Netherlands will be arguably the U.S. team's toughest opponent in the group and there will be a high price on maintaining composure and limiting turnovers against a Dutch squad that punishes opponents for mistakes.
With that in mind, here is the starting XI I see the U.S. team fielding against the Netherlands:
Projected USA lineup vs. the Netherlands
—————-Altidore——————
Holden———–Adu———–Feilhaber
————Bradley—-Szetela————
Orozco—–Parkhurst–Edu——Wynne
——————Guzan——————-
So why this lineup? Well, McBride can use a rest here, but can also come in during the second half. With McBride not starting there will be less emphasis on service, which will allow Holden to slide over to the left side. He is better equipped than Robbie Rogers to handle the defensive responsibilities on the left flank, particularly if the Dutch deploy either Ryan Babel or Jonathan DeGuzman on that side. You could also see Adu floating out to the left wing more often as well.
If Feilhaber is fit enough, he should get the nod, either centrally or wide right. His inclusion helps give the team a player capable of making good decisions in the final third. You also don't worry as much about his defensive contributions with Marvell Wynne camped at right back. Now, if Feilhaber can't start then you could see Kljestan back in the line-up, though his penchant for turning the ball over could prove costly against a Dutch team that feasts on turnovers.
The defense stays the same because, well, because there are no other options. The foursome did well against Japan although Orozco struggled against Japan's Uchida. He'll have a very tough assignment against the Dutch, which is why I don't see Nowak using Rogers on the left this match.
Now it's your turn. What U.S. Olympic lineup do you want to see against the Netherlands? Share your thoughts below.