The English Premier League season kicks off tomorrow and the general consensus is that only four teams have a serious chance of winning the league title. As much as Tottenham would like to disagree, that believe is grounded in reality.
Manchester United, Chelsea, Liverpool and Arsenal are some of the world's best teams, boasting the game's most talented players and most expensive rosters. They will be the power brokers in the EPL all season, with Man U leading the way and Chelsea playing the role of contender most likely to dethrone the champion.
SBI correspondent Carl Setterlund, who gave us an in-depth look at the UEFA Cup teams in the EPL on Thursday, now focuses on The Big Four, with an in-depth look at all four teams and their chances at lifting the silverware in May.
By CARL SETTERLUND
Although each club deals with in-fighting and turmoil, Manchester United, Chelsea, Arsenal and Liverpool have, over the past several years, emerged as the powerhouses of the EPL. Each club spends big to make sure they have one of the most competitive teams in Europe and the EPL's showing in last year's Champions League showed they're doing a pretty good job.
While Liverpool has been a little bit rocky and Arsenal a little bit frugal, the Big Four provide an almost impregnable group at the top of the EPL table. Good luck to any team trying to gate crash this group because they've got their work cut out for them. It will be close again between this group of four but it seems, like last year, there are really two tiers involved, with Chelsea and Man U the most legitimate title contenders and Liverpool and Arsenal struggling to keep the pace. That said, here's my take on the how the Big Four will shake out this year.
1. Chelsea
Last year: 2nd place, 85 pts
Key Additions: Deco, Jose Boswinga
Key Subtractions: Claude Makélélé, Steve Sidwell, Tal Ben Haim,
Prediction: Last season was a horror show for Chelsea. If it wasn't turmoil within the club, it was injuries and losing key players to the African Cup of Nations that did the Blues in. You have to believe Roman Abramovich will do whatever it takes to get back to the top, even if it means splashing big money on Robinho or in the winter transfer market. As is, Chelsea has one of the world's best keepers and an embarrassment of riches on defense with John Terry, Rico Carvalho, Alex, Ashley Cole, Paulo Ferreira Belletti and now the recent addition of Jose Boswinga from Porto. It remains to be seen how seamlessly Deco will blend in with the likes of Ballack, Lampard and Essien in the center of the pitch and up front Big Phil shouldn't be short of options either.
If their confidence in Andrei Shevchenko pays off and they can finally get a good year out of him, then that would really put them over the top. As always in the Abramovich era, the problem is going to be finding playing time when there are ten spots for fifteen legitimate stars. But, I think everyone would agree that that is among the best problems to have in sports. Pure talent and a little bit of bitterness over last years finish should help Chelsea edge Manchester United.
2. Manchester United
Last year: 1st place, 87 pts
Key Additions: Dimitar Berbatov(?)
Key Departures: Gerard Piqué, Chris Eagles
Prediction: It's hard to say Manchester United took a step backward because they return essentially the same squad the procured the league title and Champions League title last season, but that might just be the case. Sir Alex Ferguson was right to put his foot down keeping Cristiano Ronaldo, but he has to be afraid that it will affect the play on the field in some form. There also needs to be a changing of the guard soon as mssrs. Scholes, Giggs, Neville and Van der Sar are each near the end of their illustrious careers. This could be the awkward season when we have to watch Sir Alex ease his midfield stalwarts into smaller roles.
That said, it's not like the Red Devils are in danger of not competing for the title, but I think this year will be far harder for them than last term. Ronaldo is still most dynamic player in the world and he alone can carry this team if necessary. Along with him, Anderson and Nani should continue to mature and help offset the aging of the old guard.
It's hard to beat the pairing of Rio Ferdinand and Nemanja Vidic in the back-line and up front, when everyone is healthy, scoring shouldn't be a problem. However, the acquisition of Dimitar Berbatov, or any other top forward, especially one who is more of a target forward is important for me. Berbatov is perhaps the one missing link to pulling off a three-peat, but as of yet a deal hasn't formally been announced. If Man U do get their hands on the Bulgarian, consider it a toss-up between them and Chelsea, if it isn't already.
3. Liverpool
Last year: 4th place 76 pts
Key Additions: Robbie Keane, Andrea Dossena, Philipp Degan, David N'Gog, Diego Cavalieri
Key Departures: Peter Crouch, John Arne Riise, Harry Kewell, Scott Carson,
Prediction: One of the knocks on Rafa Benitez, I think, is that he has a tendency to load up on quantity instead of quality. However, in the past two off-seasons he finally managed opted for the other side and picked up Fernando Torres, Ryan Babel and recently Robbie Keane. The Irishman should prove to be the final piece of the puzzle for Liverpool's attack and there could be goals aplenty this season at Anfield.
As always, Steven Gerrard will be one of the biggest difference-makers in the EPL and here's to hoping Rafa keeps him in the center of the field where he belongs. Most worrisome is the defense, which isn't quite at the same level as the top two. Benitez brought in some defensive reinforcements in Andrea Dossena and Philipp Degan but the back should still be where Liverpool are undone as Pepe Reina, though a good goalie, isn't quite Cech or Van der Sar.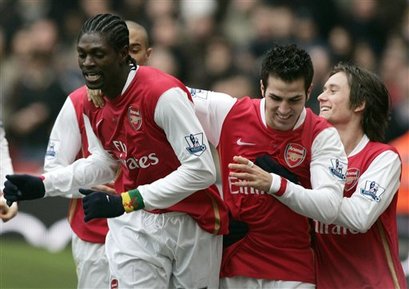 4. Arsenal
Last year: 3rd place, 83 pts
Key Additions: Samir Nasri, Aaron Ramsey
Key Departures: Mathieu Flamini, Alexander Hleb, Gilberto Silva, Jens Lehmann
Prediction: Arsenal lost two (three if you count Gilberto) vital midfield cogs in the off-season and only brought in one. Samir Nasri should be fun to watch, but the baby-faced Gunners will could struggle this season to recapture their form of last season. Arsene Wenger always seems to find a way to get it down however, so it's hard for me to relegate Arsenal to fourth place. Every year it seems a few of the young starlets comes of age and provides the needed boost. Emmanuel Adebayor and Cesc Fabregas have both become legitimate world-class players and this season, expect another couple players to take the step forward. Theo Walcott, Abou Diaby, Nicklas Bendtner and Carlos Vela are all capable of being that player.
The Gunners will still probably be playing "the beautiful game" this season and although they won't be short on creativity, it's essential that convert their chances regularly. I love Arsenal at left and right back but I think, like Liverpool, they're not nearly as good as Chelsea and Man U at center back. I'm also still not sold on Manuel Almunia as the goalie on such a good team. Depending on how many young players step up this season, Arsenal could finish better than fourth, but inexperience could see them slip up just as easily. Until Fabregas has another year or two under his belt as a team leader, I wouldn't expect much title contention, but a Champions League place is almost a given for this squad.