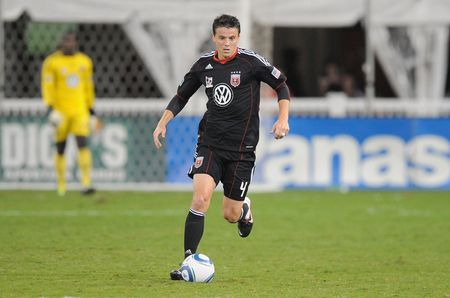 Photo by Jose L. Argueta/ISIphotos.com
By AVI CREDITOR
Although the majority of teams passed on the opportunity to add players in the second stage of the MLS Re-Entry Draft, a few used Monday's exercise to stockpile depth ahead of the 2012 preseason.
Three teams took multiple players, spearheaded by the defending champion Los Angeles Galaxy, who made four selections: defenders Andrew Boyens and Chris Leitch, veteran forward Pat Noonan and veteran goalkeeper Jon Conway.
The Galaxy also took the opportunity to hold on to a pair of their own players by claiming veteran defenders Dasan Robinson and Frankie Hejduk.
Colorado and New England also made multiple picks, with the Rapids scooping up two of the bigger names in the draft pool — former Chicago Fire midfielder Baggio Husidic and Houston Dynamo fullback Hunter Freeman — and the Revolution adding former Seattle Sounders forward Nate Jaqua and former D.C. United midfielder Clyde Simms.
The Sounders started things off by trading a third round pick in the 2014 MLS SuperDraft to the Vancouver Whitecaps in order to move up from their 14th spot to No. 1 and select former United left back Marc Burch.
Here are the results from the 2011 MLS Re-Entry Draft and a list of current MLS free agents:
2011 MLS RE-ENTRY DRAFT (in order of selection)
FIRST STAGE
New England Revolution – Danleigh Borman, D
Chivas USA – Arturo Alvarez, M
Columbus Crew – Carlos Mendes, D
SECOND STAGE
Seattle Sounders – Marc Burch, D
New England Revolution – Nata Jaqua, F
Chicago Fire – Kheli Dube, F
Colorado Rapids – Baggio Husidic, M
Los Angeles Galaxy – Andrew Boyens, D
New England Revolution – Clyde Simms, M
Colorado Rapids – Hunter Freeman, D
Los Angeles Galaxy – Chris Leitch, D
Los Angeles Galaxy – Pat Noonan, F
Los Angeles Galaxy – Jon Conway, GK
Per the MLS collective bargaining agreement, players selected in the second stage of the draft must be extended a genuine offer from that respective team within a week. 
FREE AGENTS
The following players passed through both phases of the draft untaken and are now free to sign with any team in the league:
GOALKEEPERS – Alec Dufty, Zach Thornton, Steve Cronin, Bouna Coundoul, Chase Harrison, Adin Brown, Andrew Weber.
DEFENDERS – Mike Holody, Devon McTavish, Jed Zayner, Eddie Robinson, Ryan Cochrane, Chris Albright, Rauwshan McKenzie, Shavar Thomas, Greg Janicki, Jonathan Leathers.
MIDFIELDERS – Chukwudi Chijindu, Simon Elliott, Mariano Trujillo, Kevin Burns, Brandon Barklage, Maicon Santos, Ryan Pore, Pat Phelan, Stefani Miglioranzi, Rodrigo Lopez, Peter Lowry, Nelson Gonzalez, Blake Wagner, Andre Luiz, Jacob Peterson, Peter Vagenas.
FORWARDS – Jeff Cunningham, Joseph Ngwenya, Maykel Galindo, Jason Garey, Scott Sealy.
—————–
What do you think about the latest player movement? Which team do you think made out the best in the Re-Entry Draft process this year? Do you like how active the Galaxy were? Which free agents appear most appealing to you?
Share your thoughts below.