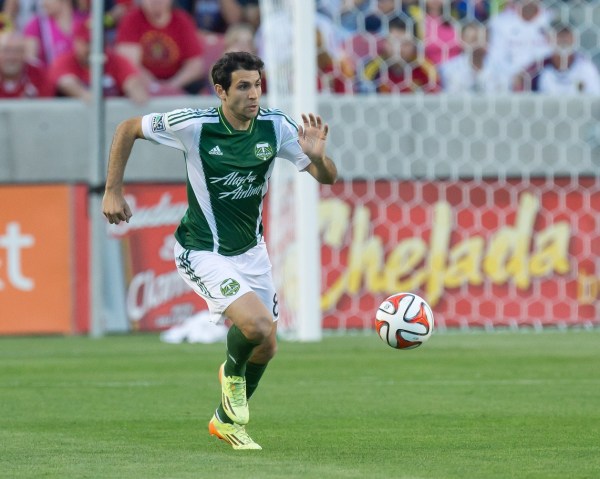 Photo by 
Russ Isabella/USA TODAY Sports
By RYAN TOLMICH
The Portland Timbers' worst fears have been realized, as Diego Valeri is officially set for surgery.
One day after reports surfaced regarding Valeri's injury status, the Timbers confirmed Tuesday that the midfielder suffered a torn anterior cruciate ligament in his left knee in Saturday's 2-0 win over FC Dallas. Valeri, who was substituted from the game at halftime, went down injured in the 26th minute but played on after being inspected by trainers.
As a result, Valeri is set to undergo surgery once the injury stabilizes that will keep the Argentine out of action for the next five months.
The 28-year-old midfielder scored 11 goals and provided 14 assists in the 2014 regular season, his second with the club. Valeri will now head into his second straight offseason nursing an injury, as the Argentine spent last winter recovering from a sports hernia.
Despite the victory over FC Dallas, Timbers were eliminated from the playoffs Saturday as the Vancouver Whitecaps claimed the Western Conference's fifth and final spot with a victory over the Colorado Rapids.
—-
How do you think the injury will affect Valeri's future? How will the Timbers' cope if Valeri misses the start of the 2015 season?
Share your thoughts below.