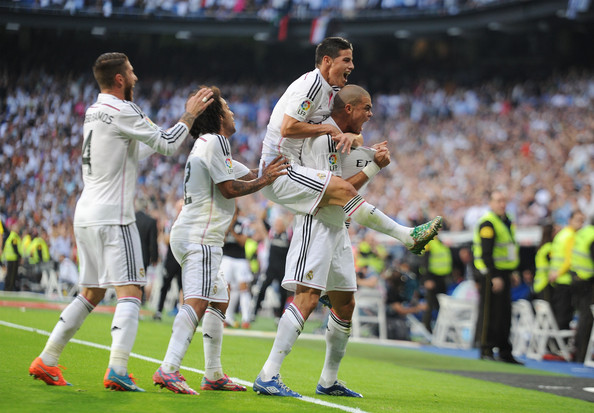 By RYAN TOLMICH
Despite conceding minutes into the first El Classico of the 2014-15 season, Real Madrid proved to be the dominant side.
The reigning Champions League winners bounced back from a fourth minute Neymar goal with finishes from Cristiano Ronaldo, Pepe and Karim Benzema to pick up a 3-1 victory over rivals Barcelona Saturday at the Bernebau.
Back in England, Manchester City were shocked by the surprising West Ham, who topped the reigning champions, 2-1, to climb up the Premier League table to fourth.
In addition, Borussia Dortmund's struggles continued against Hannover, Paris Saint-Germain trounced Bordeaux and Liverpool slumped to a scoreless draw against Hull City.
Here is a closer look at all of Sunday's action from across Europe's top leagues:
SPAIN
After conceding an early goal to Barcelona forward Neymar, it would have been easy for Real Madrid to deviate from the game plan and head towards panic.
The hosts did no such thing, as goals from Ronaldo, Pepe and Benzema paired with strong defensive performances from the likes of Marcelo and Dani Carvajal led the way to a 3-1 Real Madrid victory.
Led by an ever-threatening counter attack, Real Madrid kept Barcelona, and Lionel Messi, at bay, as the Catalans never got back into the game after the hosts took charge. The victory propels Real Madrid to within a point of their rivals, who concded for the first time this season in Saturday's loss.
Meanwhile, in other La Liga action Athletic Bilbao rebounded from what has been a tough start with a 1-0 victory over Almeria.
ENGLAND
Despite a hot start to the 2014-15 season, West Ham entered Saturday's clash with Manchester City as heavy underdogs.
The Hammers, however, took it to the reigning champions to the tune of a 2-1 victory Saturday at Upton Park behind goals from Morgan Amalfitano and Diafra Sakho in the 21st and 75th minutes, respectively. David Silva pulled Man City within one in the 77th, but the hosts held on to grab three points and leap up to fourth in the Premier League.
At Anfield, Liverpool's struggles in front of goal continued, as the Reds slumped to a scoreless draw against Hull City. Liverpool remained dominant, especially after the second half additions of Rickie Lambert and Philippe Coutinho, but failed to find the back of the net despite a plethora of chances.
In other action, Southampton continued their hot start with a 1-0 victory over Stoke City and Arsenal toppled Sunderland, 2-0, at the Stadium of Light.
Here is a closer look at Saturday's Premier League action:
West Ham 2 – 1 Manchester City
Liverpool 0 – 0 Hull City
Southampton 1 – 0 Stoke City
Sunderland 0 – 2 Arsenal
West Brom 2 – 2 Crystal Palace
Swansea City 2 – 0 Leicester City
GERMANY
For the sixth time this season, Borussia Dortmund found themselves on the losing end of a Bundesliga contest.
This time, it was at the hands of midtable Hannover, who topped the BVB, 1-0, via a goal from Hiroshi Kiyotak. The loss sends the usual powerhouses all the way down to 15th in the league, just one point out of the relegation zone.
In other Bundesliga action, a Hakan Calhanoglu led Bayer Leverkusen over Schalke, Stuttgart won a 5-4 shootout with Frankfurt and John Brooks and Julian Green both featured as substitutes in Hertha Berlin's 3-0 victory over Hamburg.
Here is a closer look at Saturday's Bundesliga action:
Borussia Dortmund 0 – 1 Hannover
Frankfurt 4 – 5 Stuttgart
Augsburg 2 – 0 Freiburg
Hertha Berlin 3 – 0 Hamburg
Hoffenheim 1 – 0 Paderborn
Bayer Leverkusen 1 – 0 Schalke
FRANCE
Paris-Saint Germain have now picked up back-to-back league wins.
Although undefeated, PSG have sputtered through the start to the 2014-15 season with a string of draws. However, the French giants settled for no such thing Saturday in a 3-0 thrashing of Bordeaux.
Led by a pair of penalty kicks from Lucas Moura, PSG picked up just their fifth win in 11 games and now sit second behind Marseille who hold a four point lead heading into Sunday's meeting with Lyon.
—-
Which of Saturday's results stand out to you? Which team was most impressive?
Share your thoughts below.