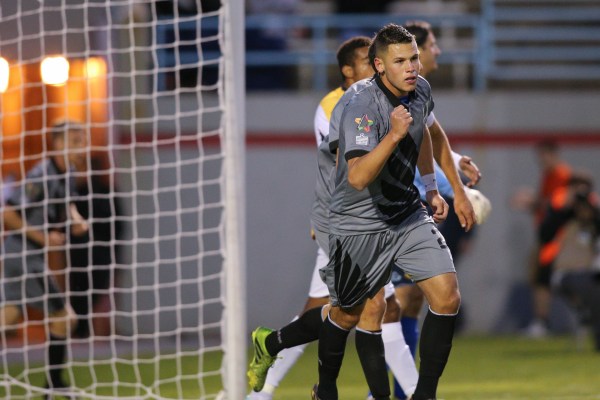 Photo courtesy of Minnesota United
By EVAN REAM
Chances are, you haven't heard of the top American-born goal scorer in American club soccer in 2014.
It is not MLS MVP candidate Lee Nguyen. Nor is it breakout Los Angeles Galaxy striker Gyasi Zardes. U.S. Men's National Team captain Clint Dempsey doesn't have the title either.
In this calendar year, no American has more goals than Christian Ramirez, who is going on a tear for the NASL's Minnesota United.
Teammate Miguel Ibarra may be garnering all the headlines after his recent USMNT call-up, but Ramirez's club-record 19 goals have propelled the Loons to the No. 1 seed in the NASL playoffs, while rendering the MLS expansion candidate heavy favorites to win their first Soccer Bowl since 2011.
The accolades, praise and success have arrived as often as the mail for Ramirez this season, but four years ago, the hulking, 6-foot-2 forward considered stepping away from the game for good.
Ramirez always had the talent – 17 appearances in two seasons for national collegiate powerhouse Santa Barbara showed that.
The then 19-year-old had always wanted to be a professional soccer player, but amid the frustration of collegiate soccer, as well as family issues, the skillful forward contemplated quitting the game that he had always loved.
He decided to give his dream one last shot, enrolling in little-known Concordia University, an NAIA school based in Irvine.
"My family was going through some hard times. Santa Barbara was a couple of hours away. At the same time, I wasn't really fitting into the coach's system or plan at Santa Barbara. That took part in the decision to transfer," Ramirez told SBI. "I wasn't truly happy with soccer. I was contemplating quitting numerous times. I knew that I wanted to go somewhere closer to home. When I talked to the coaches at Concordia, they told me to give it a shot.
"They saw something in me that I'd fit in there. I just needed to get my confidence back and my joy for the game back. And it happened."
With 44 goals and 18 assists in just two seasons in Irvine, Ramirez was an instant hit, earning NAIA First Team All-American honors in 2012 as well as invitations to training camps for two professional teams: the Charlotte Eagles of USL Pro and Minnesota United.
Lacking an agent or funds, Ramirez was forced to scrap together the cash for a cross-country flight to North Carolina without the guarantee of a contract.
Somehow, he managed to get there, but never made it to the Minnesota camp after being offered a contract by Charlotte the day after arriving on the East Coast.
Ramirez's first professional season was a success as he lead the Eagles to the 2013 USL Pro Championship game against Orlando City Soccer Club. That game is remembered more for being the coming-out party for Sporting Kansas City striker Dom Dwyer. On loan to Orlando City from Sporting KC, Dwyer scored four times in a 7-4 goal-fest played in a packed Citrus Bowl in Orlando.
What is easily forgotten about that championship game is that, if not for Dwyer, it might have been Ramirez's own breakout performance that people remembered. He scored a quick pair of goals after Orlando City held a 2-1 lead, but the 3-2 Charlotte lead was the last the Eagles held, and Dwyer went on to steal the show, and spotlight, away from Ramirez that day.
"The funny thing about that USL final is that I told Dom during the final that if he wasn't there, we would have beaten them. We were up 3-2 and I had scored two goals and then he came back and scored a penalty," Ramirez said. "I shook his hand when he gave me the ball at midfield. I said, okay my turn. I got a goal called offside. Then he came back and scored another two. There was a friendly competition going back and forth in that final."
Dwyer went on to lead Sporting Kansas City to an MLS Cup championship that same year, and is now enjoying a dream season in 2014, notching 22 goals this year, second-most in MLS.
Ramirez headed back home to Southern California after that memorable final to meet up with an old friend to play offseason soccer with regional powerhouse PSA Elite. That friend happened to be Ibarra. The two met while playing for Orange County Blue Star, an Irvine-based PDL team, during their college days.
Ibarra immediately began recruiting Ramirez to return to the spot that he never made it to: Minnesota.
"I just knew, just by the type of player he was, that me and him would connect right away and understand each other's games. We got along really fast," Ibarra said. "The first thing I told him was, I think if you come, I think we can win a championship."
Ramirez eventually signed with United as a backup coming into the season until 2012 NASL MVP and fan-favorite Pablo Campos went down with an anterior cruciate ligament tear in the preseason, forcing the newly-signed player into the starting lineup.
"They threw me into the pool without me knowing how to swim," Ramirez said. "They taught me how to swim."
It took Ramirez just 17 minutes to make his mark on the league, taking a pass off his chest in Minnesota's opening game at San Antonio, turning, and rifling the ball into the top corner of the net for a goal that quickly became a viral sensation.
"I love looking at Christian's first goal. If you go back and you look at it, it just showed some unbelievable quality and creativeness. I think it personally set the tone for the team to say, 'Hey, we're going to find different ways to score goals and kind of become a team,'" said Minnesota United head coach Manny Lagos. "I think that moment kind of released him and released the belief in him that he was not only a good soccer player, but a good finisher. He's obviously continued from that moment to show such great quality and have scored goals along with it."
That wonder goal was the  first of five goals Ramirez scored in the in the nine-game fall season, where Minnesota clinched a playoff spot by virtue of winning the spring championship. Along the way, Ramirez formed a partnership on and off the field with the man most responsible for bringing him to the Midwest.
As roommates, Ramirez and Ibarra do everything together, including participating in a fan-driven oddity where Ramirez wears a Superman undershirt while Ibarra wears a Batman one to form a 'crime-fighting duo on the pitch.'
"We do everything together," Ibarra told SBI. "We coach a (youth) team together. He cooks, I clean. We both play video games. It's fun.
"Sometimes he gets annoying, but it's not a big deal," Ibarra joked.
Someone else who has noticed the partnership is U.S. head coach Jurgen Klinsmann, who not only handed Ibarra a surprising national team call-up, but mentioned Ramirez by name when discussing players he is watching in his search for potential national team talent.
From unknown to on the national team radar in four years, Ramirez might be someone many American soccer fans haven't heard of yet, but he is well on his way to changing that.