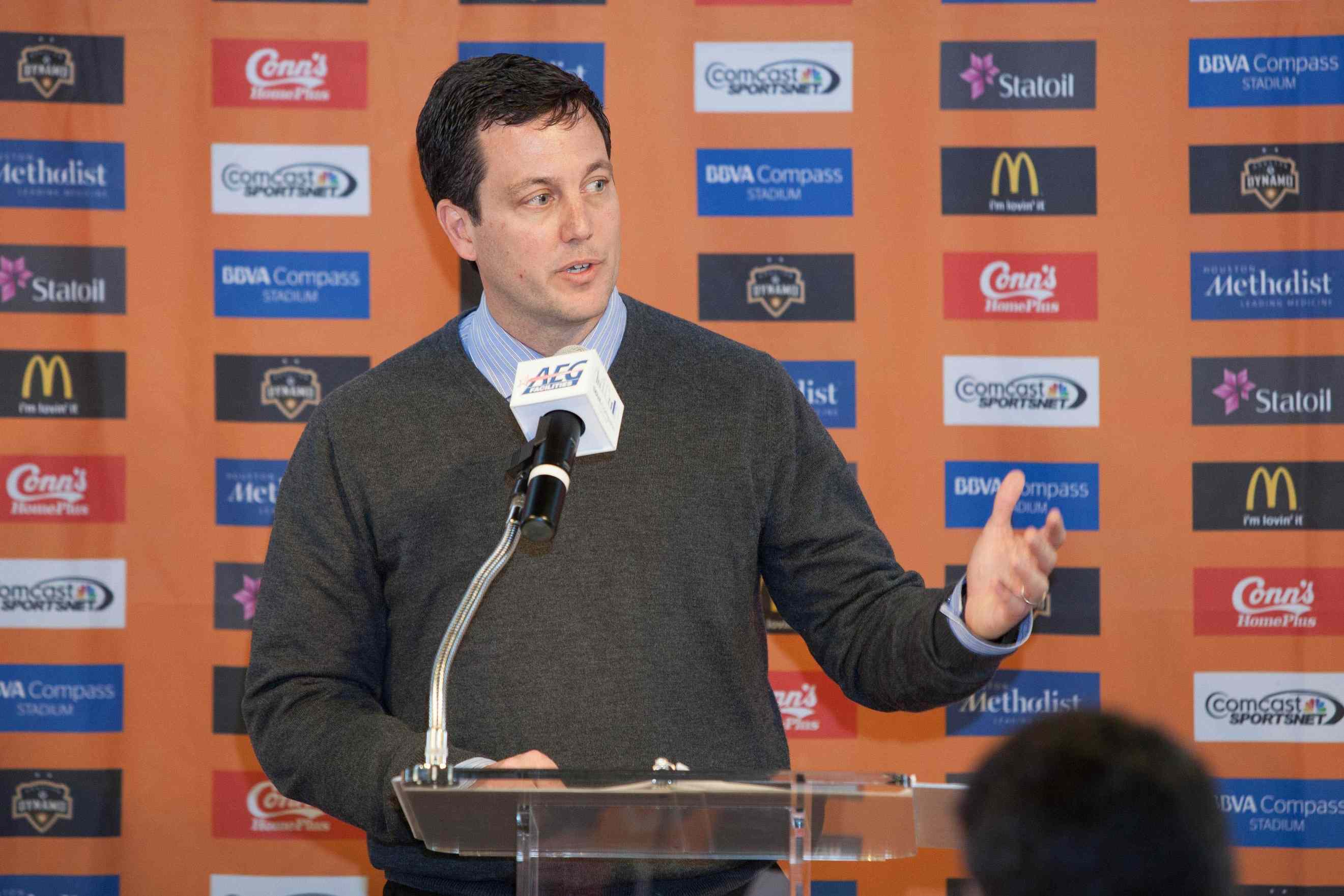 Photo by Andrew Richardson/USA TODAY Sports
By DAN KARELL
The Houston Dynamo aren't wasting any time putting their new front office together.
The Dynamo plucked Matt Jordan from the Montreal Impact to be the Dynamo's new general manager and vice president, the team announced on Tuesday. Jordan spent the last four years with the Impact, serving most recently as technical director.
"I am pleased to be adding one of the brightest young technical minds in Major League Soccer to our staff," Dynamo president Chris Canetti said in a statement. "Matt is hard working, experienced, intelligent, passionate, and committed to winning. I am confident that he is going to elevate our club's technical operations to a higher level."
According to the Dynamo's press release, Jordan will "oversee all aspects of the soccer operations, including the establishment of a club vision, the creation of a worldwide scouting network, the development of a sports science program, the integration of data analytics, management of the team's salary cap and contract negotiations, and the addition of a USL Pro franchise."
In Montreal, Jordan was partially responsible for acquiring Marco Di Vaio, Alessandro Nesta, and Ignacio Piatti, among others. Jordan takes over for outgoing manager Dom Kinnear, who served as both the GM and head coach during his eight-year stay with the Dynamo.
"I'd like to thank the Houston Dynamo for the opportunity to join one of Major League Soccer's most successful clubs," Jordan said in a statement. "The Dynamo have a strong history of success, a dedicated and knowledgeable fan base, a beautiful, state-of-the art downtown stadium, an excellent training facility and a strong commitment to youth development, all key elements as we look to implement our vision into the future. I look forward to working with Chris Canetti and his dedicated staff, whose passion is evident throughout the club.
"We look forward to the challenge of putting a team on the field and in the community that the city of Houston can not only be proud of, but that is also a reflection of our dedicated supporters."
———
What do you think of this news? Do you see the Dynamo making any big offseason acquisitions? In which areas do you think they need to improve the most?
Share your thoughts below.