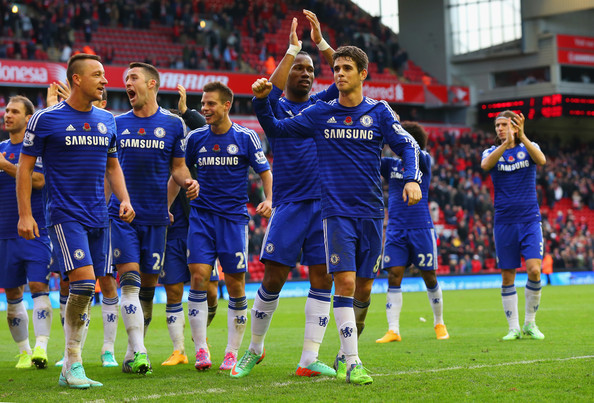 By DAN KARELL
Chelsea's title credentials in the current season have never looked stronger.
Jose Mourinho's side entered a passionate Anfield Stadium on Saturday morning and were able to handily defeat Liverpool, 2-1, even after going down a goal inside ten minutes. The victory moved Chelsea four points clear of Southampton in second place and eight points clear of Manchester City in third place as we enter the middle third of the season.
Emre Can brought the Liverpool fans to their feet in the ninth minute but a close-range scuffed goal by Gary Cahill and a classic Diego Costa finish gave Chelsea all three points.
In Italy, Juventus put in the kind of performance one would expect when the best team in the country took on the last place squad. On the back of braces from Fernando Llorente, Carlos Tevez, and Alvaro Morata, Juventus pummeled Parma, 7-0. The win included a mazy run from Tevez that took him past three Parma defenders before firing home to the delight of the home crowd.
In Spain, Germany, and France, the big boys all won, as Barcelona and Real Madrid recorded wins, Bayern Munich throttled Eintracht Frankfurt, and Paris Saint-Germain took down Marseille in a top of the table clash at the Parc des Princes in Paris.
Here is a closer look at all the weekend's action from the top leagues in Europe:
ENGLAND
Chelsea kept pace at the top of the English Premier League with their 2-1 road victory at Liverpool.
Even at age 33, John Terry is playing some of the best soccer of his career, and has formed a tremendous partnership with Gary Cahill. The duo kept the attacking likes of Mario Balotelli, Philippe Coutinho, and Raheem Sterling from scoring, and allowed Diego Costa to convert on one of his few chances in the match.
Elsewhere in the EPL, Southampton jumped to second place in the league with a 2-0 victory over Leicester City, leap-frogging Manchester City, who drew, 2-2, with Queens Park Rangers at Loftus Road. Newcastle United won their fourth consecutive match with a 2-0 result over West Bromwich Albion, while Arsenal snapped a two-game winning streak with their second loss of the season in a 2-1 defeat at Swansea City.
Here are the results from this weekend's English Premier League action:
Liverpool 1, Chelsea 2
Burnley 1, Hull City 0
Manchester United 1, Crystal Palace 0
Southampton 2, Leicester City 0
West Ham United 0, Aston Villa
Queens Park Rangers 2, Manchester City 2
Sunderland 1, Everton 1
Tottenham 1, Stoke City 2
West Bromwich Albion 0, Newcastle United 2
Swansea City 2, Arsenal 1
———————–
SPAIN
The Real Madrid machine is firing on all cylinders so far this season and proved it again against inferior opposition on Saturday.
Los Blancos routed Rayo Vallecano, 5-1, with a pair of assists and a goal from Cristiano Ronaldo, a goal and an assist from Toni Kroos, and goals from Gareth Bale, Sergio Ramos, and Karim Benzema. Alberto Bueno scored the only goal of the match for Rayo in the 44th minute.
Second place Barcelona returned to the win column in La Liga action with a comeback 2-1 victory at Almeria. Barca trailed deep into the second half from Almeria forward Thievy Bifouma's first half strike, but successive goals from Neymar and Jordi Alba gave the Catalan club all three points. Atletico Madrid meanwhile fell for the second time this season, 2-1, on the road to Real Sociedad. Carlos Vela and Agirretxe scored the goals for Sociedad.
Here are the results from this weekend's La Liga action:
Cordoba 0, Deportivo La Coruña 0
Almeria 1, Barcelona 2
Getafe 0, Elche 0
Real Madrid 5, Rayo Vallecano 1
Celta de Vigo 0, Granada 0
Malaga 2, Eibar 1
Sevilla 1, Levante 1
Espanyol 1, Villarreal 1
Valencia 0, Athletic Bilbao
Real Sociedad 2, Atletico Madrid 1
GERMANY
Through 11 weeks, Bayern Munich are well on their way to winning a third-straight Bundesliga title.
The Bavarian giants remained undefeated on the season with a 4-0 rout at Eintracht Frankfurt. Thomas Müller scored a hat-trick and substitute Xherdan Shaqiri added the team's fourth as Bayern moved four points clear of second place Wolfsburg. Wolfsburg won their sixth straight match in a 2-0 victory over Hamburg.
Schalke 04 have continued to struggle mightily this season, losing for the third time in their last five games with a 2-0 defeat to Freiburg. However, Borussia Dortmund returned to the win column with a 1-0 victory at home over Borussia Mönchengladbach. A wild Christoph Kramer own-goal from more than 50 yards away proved to be the difference for Dortmund.
Here are the results from this weekend's Bundesliga action:
Hertha Berlin 0, Hannover 2
Bayer Leverkusen 0, Mainz 05 0
Augsburg 3, Paderborn 0
Hoffenheim 3, FC Koln 4
Eintracht Frankfurt 0, Bayern Munich 4
Freiburg 2, Schalke 04 0
Werder Bremen 2, Stuttgart 0
Wolfsburg 2, Hamburg 0
Borussia Dortmund 1, Borussia Mönchengladbach
ITALY
All three teams teams at the top of Serie A won over the weekend, with Juventus' 7-0 rout over Parma highlighting the group.
Fans who attended the match in the rain at Juventus Stadium certainly got their monies worth as Fernando Llorente, Carlos Tevez, and Alvaro Morata each scored a pair of goals in the victory. Second-placed AS Roma cruised to a 3-0 victory against Torino. The highlight of that match was Kevin Strootman making his return from a torn anterior cruciate ligament suffered last March. Strootman played six minutes off the bench.
Napoli's Gonzalo Higuain proved to be the difference as the Neapolitans defeated struggling Fiorentina, 1-0.
Here are the results from this weekend's Serie A action:
Sassuolo 0, Atalanta 0
Sampdoria 2, AC Milan 2
Cagliari 1, Genoa 1
Chievo 2, Cesena 1
Empoli 2, Lazio 1
Juventus 7, Parma 0
Palermo 1, Udinese 1
Fiorentina 0, Napoli 1
Inter Milan 2, Hellas Verona 2
AS Roma 3, Torino
FRANCE
Paris Saint-Germain closed the gap at the top of Ligue 1 with a massive morale-boosting 2-0 victory at home against league leading Marseille.
A goal from Lucas Moura in the first half was followed by an Edinson Cavani finish in the second half, and the home fans' delight was lifted even more when Marseille's Gilbert Imbula was shown a straight red card in the 78th minute for a late challenge.
Olympique Lyon won their fifth match in a row and extended their unbeaten run to nine games with a 3-1 victory over Guingamp. Nabil Fekir scored twice in the Lyon win. Toulouse snapped a three-game losing streak with a 3-0 win over Metz and Saint-Etienne tied AS Monaco, 1-1.
Here are the results from this weekend's Ligue 1 action:
Rennes 1, Lorient 0
Lens 1, Bordeaux 2
Bastia 2, Montpellier 0
Caen 1, Nantes 2
Evian TG 1, Nice 0
Toulouse 3, Metz 0
Olympique Lyon 3, Guingamp 1
Reims 2, Lille 0
Saint-Etienne 1, AS Monaco 1
PSG 2, Marseille 0
————
What did you think of this weekend's European action? Impressed with Chelsea's win at Liverpool? Do you think Juventus is still the odds-on favorite to win the Scudetto? Do you see PSG climbing back into first place by December?
Share your thoughts below.