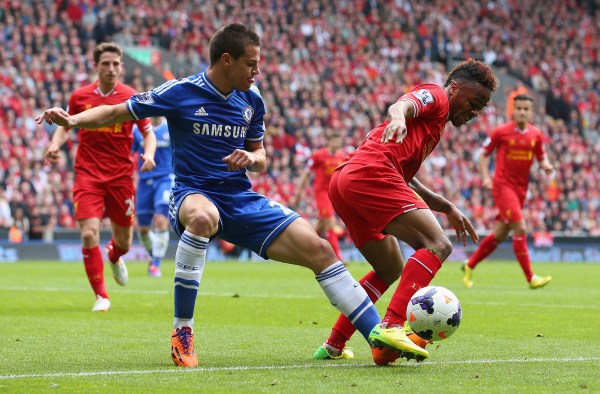 By IVES GALARCEP
Chelsea is running away with the English Premier League, and anyone is going to have a realistic chance of catching the Blues, then Liverpool is going to need to step up today.
The Reds are at home at Anfield and will look to shake off the recent offensive struggles that have Mario Balotelli looking like a scapegoat, and Brendan Rogers suddenly looking like he doesn't have answers. Liverpool needs a win to avoid falling any further away from the Top Four, while Chelsea will look to extend its lead atop the EPL.
In Spain, Barcelona will look to snap out of its recent funk with a win at Almeria. A mid-week UEFA Champions League win against Ajax should help restore some confidence, but Barca's two-match losing streak in the league has Luis Enrique's men in fourth place in the league.
The MLS playoffs resume at RFK Stadium, with D.C. United taking on the New York Red Bulls in the second leg of their Eastern Conference semifinal series. The Red Bulls hold a 2-0 first-leg lead, and also can grab the away-goals edge with a goal today, which would make things extremely difficult for D.C. United.
If you will be watching today's action, please feel free to share your thoughts, opinions and some play-by-play in the comments section below.
Enjoy the action (Today's soccer TV schedule is after the jump):
TODAY'S SOCCER ON TV

7:15 a.m. – beIN Sports USA – Derby County vs. Wolverhampton
7:45 a.m. – NBCSN – Liverpool vs. Chelsea
9:30 a.m. – GolTV USA – Eintracht Frankfurt vs. Bayern Munich
10 a.m. – NBCSN – Southampton vs. Leicester City
10 a.m. – beIN Sports USA/en Español – Almeria vs. Barcelona
10 a.m. – Premier League Extra Time – Manchester United vs. Crystal Palace
10 a.m. – Premier League Extra Time – Burnley vs. Hull City
10 a.m. – Premier League Extra Time – West Ham United vs. Aston Villa
12 p.m. – beIN Sports USA – Sassuolo vs. Atalanta
12 p.m. – beIN Sports en Español – Getafe vs. Elche
12:30 p.m. – NBC – Queens Park Rangers vs. Manchester City
12:30 p.m. – GolTV USA – Werder Bremen vs. Stuttgart
2 p.m. – beIN Sports USA – Real Madrid vs. Rayo Vallecano
2:30 p.m. – NBC – D.C. United vs. New York Red Bulls
4 p.m. – beIN Sports en Español – Malaga vs. Eibar
4:30 p.m. – GolTV USA – Atletico Mineiro vs. Palmeiras
6 p.m. – Univision – Cruz Azul vs. Pumas UNAM
6 p.m. – Univision Deportes – Veracruz vs. Universidad de Guadalajara
8 p.m. – Univision Deportes – Monterrey vs. Chiapas
9 p.m. – Telemundo – Club Leon vs. Puebla
10 p.m. – Univision Deportes – Atlas vs. Club Tijuana