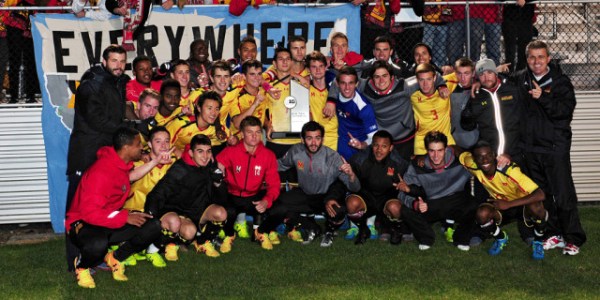 Photo by Maryland Athletics
By AARON CRANFORD
Rutgers gave the Terrapins all they could handle, but SBI No. 20 Maryland won the Big Ten regular-season title with a 3-2 result Wednesday night.
The Terps first season in their new conference ended on a high note. Mael Corboz opened the scoring in the 5th minute, but Rayon Gibbs equalized in the 23rd minute for the Scarlet Knights.
George Campbell and David Kabelik added two more for Maryland, so a late goal from Scarlet Knights defender Mitchell Taintor was not enough to ruin the celebration.
No. 14 Michigan State, who were winless in their last four matches, surprised No. 1 Indiana 3-2 in Bloomington. Spartans midfielder Ken Krolicki lead the team by scoring a brace. He tallied his first in the 30th and his second in the 55th.
Hoosiers forward Andrew Oliver scored the first for Indiana in the 48th, and the team also benefited from a Spartans own goal. But Adam Montague scored the game-winning goal in the 83rd minute to give them the upset win.
Meanwhile, the ACC tourney's first round began Wednesday. Duke topped North Carolina St. 3-2, while Virginia edged Virginia Tech 1-0. Duke will play Syracuse, and Virginia will visit Notre Dame in the ACC quarterfinals Sunday.
Check out the rest of Wednesday's results below:
WEDNESDAY COLLEGE SCOREBOARD
(1) Indiana 2, (14) Michigan State 3. (Recap)
(11) UC Irvine 0, UC Riverside 2. (Recap)

(12) Penn State 1, Akron 0. (Recap)

(13) Coastal Carolina 1, High Point 1. (Recap)

(19) American 0, Princeton 2. (Recap)
Rutgers 2, (20) Maryland 3. (Recap)
Radford 0, Winthrop 1. (Recap)
Northwestern 2, Wisconsin 0. (Recap)
Virginia 1, Virginia Tech 0. (Recap)
North Carolina St. 2, Duke 3. (Recap)