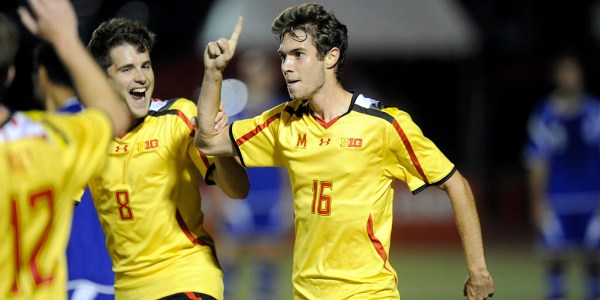 Photo by Maryland Athletics
By AARON CRANFORD
The Big Ten regular-season title will be decided Wednesday night, and even after struggling for several weeks into the season, No. 20 Maryland can clinch it with a win over Rutgers.
The Terrapins are riding a seven-match winning streak, in which they have outscored their opponents 18 to four. They will visit the Scarlet Knights, a team who has only defeated one conference opponent this season and are on a two-match losing streak.
Two of SBI's Top 25 did not look like their usual self during this past weekend's action, but No. 1 Indiana and No. 14 Michigan State will try to rediscover their winning ways Wednesday. Indiana drew 2-2 with Wisconsin while the Spartans handed over the Big Bear Trophy to rival Michigan after their 2-3 defeat Sunday.
Meanwhile, current leaders Penn State have no control over their on destiny with regards to the regular-season title, so they must turn their focus toward Akron, who lead the MAC.
The Zips have already knocked down two Big Ten opponents, Ohio State and Michigan, this season, and the Nittany Lions have experienced a run of bad form recently, losing four out of their last five matches.
Take a look at the rest of Wednesday's action below:
WEDNESDAY COLLEGE LINEUP
2 p.m. — (19) American vs. Princeton
6 p.m. — (1) Indiana vs. (14) Michigan State
6 p.m. — Radford vs. Winthrop
7 p.m. — Rutgers vs. (20) Maryland
7 p.m. — (12) Penn State vs. Akron
7 p.m. — (13) Coastal Carolina vs. High Point
8 p.m. — Northwestern vs. Wisconsin
10 p.m. — (11) UC Irvine vs. UC Riverside