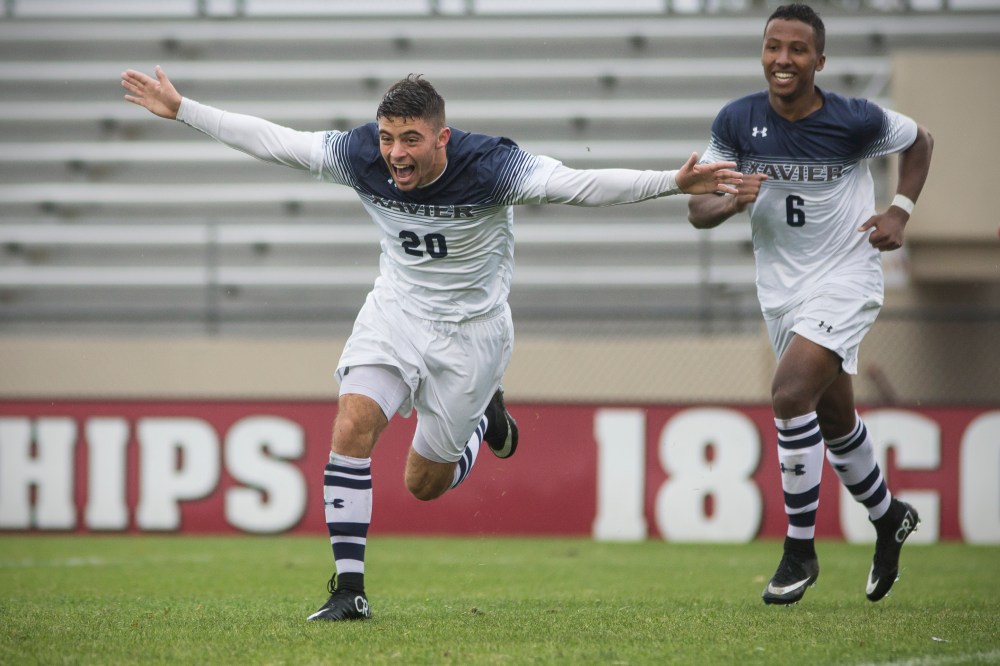 Xavier had never won a NCAA Tournament home match until defeating Monmouth, and now, they are heading to the third round of the tournament for the first time ever after shocking No. 5 Indiana, 2-1, in Bloomington.
The Musketeers took the lead in the 29th minute after Matt Vasquenza beat the keeper for his 7th goal of the year. Hoosiers defender Grant Lillard quickly equalized in the 34th. But Musketeers senior Will Walker converted the game-winning penalty kick in the 74th minute to give the team its 15th win, a program record.
UMBC produced one of the best results in university history after knocking out No. 4 Maryland, 1-0. Retrievers midfielder Malcolm Harris netted the game-winner in the 70th minute to send his side into the third round, which is the farthest any UMBC athletic program has advanced in NCAA Tournament history.
No. 2 UCLA star midfielder Leo Stolz scored a golden goal in overtime to lift the Bruins over San Diego, 2-1. Toreros defender Parker Price put the away side up in the 20th, but Stolz netted his first of two in the 55th with a spectacular free kick.
While UC Irvine midfielder Michael Sperber eliminated Pac-12 powerhouse No. 6 Stanford, 1-0, in overtime, all five ACC teams, including No. 1 Notre Dame, and all four Big East teams won Sunday to advance into the round of 16; No. 7 Clemson could make it six for the ACC Monday.
Meanwhile, in one of the intriguing intrastate battles, North Carolina forward Tyler Engel scored in the 89th minute to give the Tar Heels a 2-1 upset victory over No. 10 Charlotte. Engel scored his first of the afternoon in the 27th, but the Tar Heels conceded an own goal in the 52nd minute.
Here is a rundown of Sunday's results:
NCAA TOURNAMENT SECOND ROUND RESULTS
(1) Notre Dame 2, Ohio State 1. (RECAP)
(2) UCLA 2, San Diego 1. (RECAP)
(3) Michigan State 1, Oakland 0. (RECAP)
(4) Maryland 0, UMBC 1. (RECAP)
(5) Indiana 1, Xavier 2. (RECAP)
(6) Stanford 0, UC Irvine 1. (RECAP)
(7) Clemson vs. Coastal Carolina (Postponed; Will play Monday, 6 p.m.)
(8) Georgetown 2, Old Dominion 1. (2OT) (RECAP)
(9) Syracuse 2, Penn State 1. (RECAP)
(10) Charlotte 1, North Carolina 2. (RECAP)
(11) Providence 3, Dartmouth 0. (RECAP)
(12) Creighton 1, Oregon State 0. (RECAP)
(13) Louisville 2, Saint Louis 1. (RECAP)
(14) Washington 0, Furman 0. (Washington won, 6-5, in PKs) (RECAP)
(15) California 1, SIUE 0. (RECAP)
(16) Virginia 3, UNC Wilmington 1. (RECAP)
———–
NCAA TOURNAMENT THIRD ROUND SCHEDULE (All matches set for next Sunday)

1 p.m. — (8) Georgetown vs. (9) Syracuse
2 p.m. — (12) Creighton vs. Xavier
6 p.m. — (13) Louisville vs. UMBC
7 p.m. — (1) Notre Dame vs. (16) Virginia
TBA — (3) Michigan State vs. (14) Washington
TBA — (11) Providence vs. UC Irvine
TBA — (2) UCLA vs. (15) California
TBA — Winner of No. 7 Clemson/Coastal Carolina vs. North Carolina