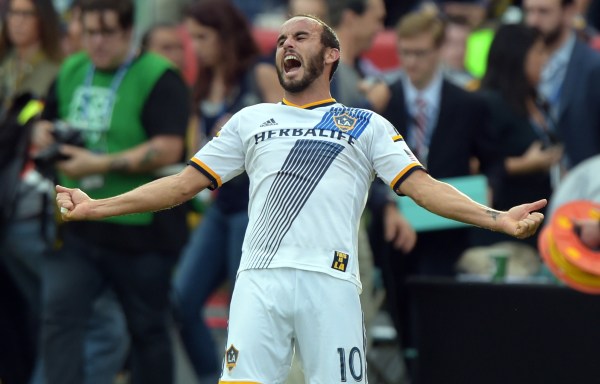 Photo by Kirby Lee
/USA Today Sports  
By FRANCO PANIZO
CARSON, Calif. — Like his team, Landon Donovan didn't enjoy his best game Sunday. He still celebrated, and went out, like a champion.
Donovan officially finished writing the last chapter of his storied career on Sunday afternoon, helping his LA Galaxy squeeze by the New England Revolution in a 2-1 extra-time affair in the MLS Cup final. Donovan did not score and was not very involved in the match's key moments, but that still did not stop him from celebrating his impressive sixth MLS Cup victory while the 27,000 fans in attendance and more across the world watched on.
The 32-year-old Donovan was euphoric when the final whistle blew, stretching out his arms as the realization of being crowned a champ again sunk in. He had won another title, at home, in front of his friends and family, and in the last match that he will ever play.
"I'm in a little bit of a daze, to be honest," said Donovan during his postgame press conference, sitting shirtless and with a champagne-soaked towel around his back and shoulders. "I don't know. There's a lot going on. There's a lot of obvious excitement, some sadness, there's uncertainty, and just pure joy for this team and for what we did.
"It just feels a bit strange, I guess is the best way to put it, but all in all, I'm really proud of what this team accomplished this year and it's so nice to be in that locker room and see so many happy faces. For me, that's as enjoyable as anything as you get older."
Donovan helped that happen, albeit with a performance that was lower than his standard. The veteran played multiple positions, up top to lead the attack and out wide to help the midfield, throughout the game. He was not overly active, but combined well with teammates — especially with Robbie Rogers on a second-minute chance that nearly led to a goal — and served as an option to play through.
It wasn't an emphatic exclamation point from an individual standpoint, but the job was done nonetheless after 120 hard-fought minutes.
Donovan now leaves an incredible legacy behind him, one that towers over most others in American soccer history and is comparable to legends in their respective sports. Think Michael Jordan, Derek Jeter.
Like them, Donovan has proven to be a champion over and over again. Sunday only served to reemphasize that point.
"Don't we all wish to be able to leave what we do like the way Landon did today as a winner," said Galaxy head coach Bruce Arena. "He ends his career as arguably the greatest player in the history of U.S. Soccer, the national team program; in the league, the all-time leading scorer and assists, championships.
"What more can you say? Can you write that any better, that script? I'm happy for him. He's spent, he's done, and my hat is off to him. It's been remarkable."
While Donovan expressed enjoyment in helping the club that is now arguably a dynasty win another MLS Cup, he also talked about being excited about what lies ahead. He no longer has to go through the tedious aspects of being a professional soccer player, aspects that grew mundane for him in recent years and led to his August decision to retire at the end of the MLS season.
He might not be driving to the StubHub Center as a member of the LA Galaxy anymore or walking through the tunnel with his teammates or hearing the loud cheers from an adoring crowd. But he will be able to spend more time doing other things that he's wanted to do, including being with friends and family on a more frequent basis.
"When I was 2 years old my older brother — who I regretfully don't talk about a lot — Josh played with me," said Donovan. "He was five years older and he couldn't wait until I could walk so that he could start playing soccer with me. I firmly believe that practice makes perfect, and so I've had a head start on probably almost everyone I've played against.
"We played all the time, and when I mean all the time, I mean all the time, in every way, ever facet. Him and I, playing on the street, playing in the house, breaking things, playing in the backyard, all of that. It's always been a source of connection for us. … The beauty now is I'll get to play with him and we can play like when we were young."
Donovan may have lost a step in the latter years of his career, but still looks plenty capable to play at this level. Even so, he does not want to continue on. The decision to leave the game at this point has felt right for some time now.
Winning a championship is just the cherry on top.
"As much excitement as there is about the game, there's excitement that tomorrow I don't have to train anymore, I don't have to do a lot of the things or the not fun parts of the job now," said Donovan. "Along with that I don't get experiences like today anymore, so there's a lot of good, there's going to be some bad, but it feels good to go out this way."