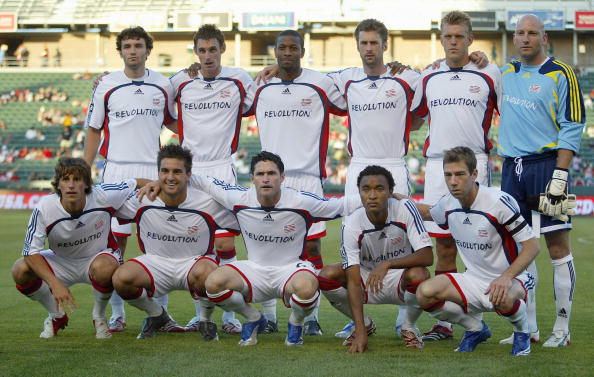 By RYAN TOLMICH
CARSON, Calif. — When head coach Jay Heaps and the New England Revolution take on the LA Galaxy in Sunday's MLS Cup Final, a simple glance toward the hosts' bench will yield the sight of a pair of familiar faces.
Heaps, who featured for the Revs from 2001-09 before taking the role of head coach in 2011, is all too familiar with two members of the LA Galaxy coaching staff: assistant coach Pat Noonan and goalkeeping coach Matt Reis.
Noonan and Reis were Revolution mainstays throughout the past decade, as the duo combined for 373 appearances for the club throughout their playing careers. Heaps, who advanced to three MLS Cup finals as a player with his two coaching counterparts, is excited at the prospect at facing two men that he became so close with throughout his MLS career.
"I look across their team and you've got a guy like Matt Reis and Pat Noonan, two guys that I look at as teammates for life, guys that I played 10 years with, that I respect to heck," Heaps said. "You've got two teams that really respective each other, not only the players, but also the coaches and I think that plays into a great game for Sunday."
Both Reis and Noonan were quick to talk up the qualities that they saw in Heaps the player that have led to such success from Heaps the coach. Labeled as a hard-working, calculated leader by his former teammates, Heaps' accomplishments as a coach haven't come as much of a surprise to Noonan.
"I expected success with whatever he did because he's a very hard worker," Noonan said. "He's committed to his craft, and I think he has a passion for the game and you can see that in the way that he has acquired the players that he's acquired and the way he's turned that team around over the course of the last three years, so it's not a surprise to me.
"I'm very happy for him and the success he's having. I had the privilege of doing the B and A (coaching) license with him, so that's when he started his coaching career and I could see the work and detail that went into his preparation. It's no surprise to me that within three years, they're sitting here competing for an MLS title. I'm very happy for him on a personal level, for both him and his family, because I know how much this means for him."
The trio's road following their respective playing careers have seen each take a different path into the coaching world. Heaps, who retired in 2009, entered the world of finance with Morgan Stanley before making his return to the game. Noonan bounced around MLS before calling it a career and accepting the gig with the Galaxy in January 2013, while Reis joined up with his former teammate in LA nearly a year later, just two months after playing his final game for the Revolution.
While each of the three have taken a different path, Reis believes any one of them could have transitioned into a head-coaching position. Reis, however, credited Heaps for his work to build the Revolution while also pointing to the right-place, right-time situation that led to Heaps' current success.
"It worked out for Jay timing-wise and I know a lot of guys would have loved that job," said Reis. "You see it now with a lot of young coaches that it just takes an opportunity and there's been a lot of opportunities lately for some of the younger crew to come through. It's kind of the evolution of our game."
That evolution will now see teammates go up against one another from the sidelines on Sunday, but regardless of how the game has changed or what colors they will adorn over the weekend, the trio of teammates will be forever linked for their successes with the Revolution.
"I wouldn't say (it's) weird. I'm happy for the organization, for Jay and for the turnaround that they've had the past three or four years," said Noonan. "That was a big part of me, those first five or six years of my career, so there are still some close ties there.
"I'm happy to see them back, but I'm on the other end this week. Obviously, I'm hoping for a Galaxy victory," added Noonan. "…But after it's all said and done, it'll be nice to talk about the game and the season and the turnaround they've had."