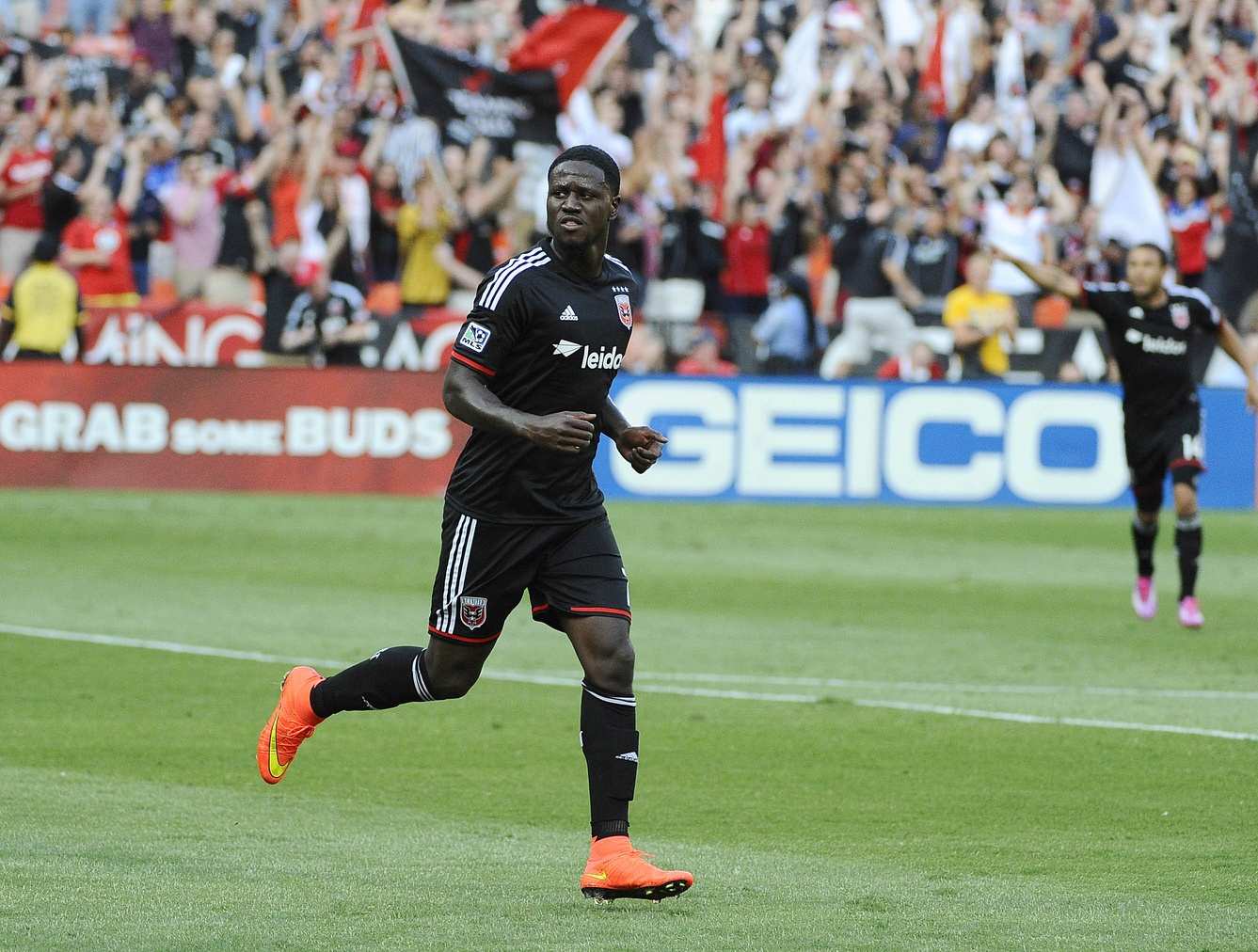 By DAN KARELL
A number of MLS veterans and bright young stars are available for selection in Wednesday's MLS Expansion Draft.
The league released the list of players that each of the 18 MLS teams (excluding Chivas USA) from last season will be protecting and leaving unprotected, and there are a number of surprises. Four Designated Players were left unprotected; Tim Cahill, Eddie Johnson, Claudio Bieler, and Rais Mbolhi, as well as other veterans such as Peguy Luyindula, Adam Moffat, George John, Raul Fernandez, Alan Gordon, Mauro Rosales, and Kenny Cooper. 
Some youngsters available include New England Revolution rookies Patrick Mullins and Steve Neumann, Columbus Crew Homegrown player Ben Speas, FC Dallas youngster Brian "Cobi" Span, and Real Salt Lake Homegrown signing Carlos Salcedo.
Both Diego Fagundez and A.J. Soares were left unprotected by the Revolution, but Revolution president Brian Bilello confirmed on Twitter that Fagundez would remain with the Revs next season and recent reports state that Soares is exploring options abroad.
Thierry Henry is also listed as unprotected, though it's very unlikely he'll remain in MLS for next season.
Both NYC FC and Orlando City have ten selections each in the Expansion Draft. No more than two players can be drafted from one MLS club and teams who lose players in the draft will be compensated with allocation money. Here's a look at the rules for the 2014 edition.
Here's a full look at the protected and unprotected players on MLS teams ahead of the expansion draft:
CHICAGO FIRE
Available Players
Ianni, Patrick
Joya, Benji
Kinney, Steven
Nyassi, Sanna
Pongolle, Florent
Reynish, Kyle
Segares, Gonzalo
Soumare, Bakary
Cochrane, Greg
Fondy, Matthew
Franco, Marco
Jumper, Hunter
Kann, Alec
Ward, Grant
Protected Players
Amarikwa, Quincy
Anangono, Juan
Cocis, Razvan
Earnshaw, Robert
Johnson, Sean
Larentowicz, Jeff
Magee, Mike
Monteiro de Lima, Alex
Nyarko, Patrick
Palmer, Lovel
Watson, Matt
Homegrown Players exempt from selection
Pineda, Victor
Ritter, Chris
Shipp, Harry
Generation adidas Players exempt from selection
None
COLORADO RAPIDS
Available Players
Agbossoumonde, Gale
Buddle, Edson
Burch, Marc
Cascio, Tony
Castrillon, Geoffrey
Hill, Kamani
Imbongo, Dimitry
Martin, Jose Maria
Mullan, Brian
Mwanga, Danny
Piermayr, Thomas
Wynne, Marvell
Alvarez, Carlos
Berner, John
Eloundou, Charles
Neeskens, John
van de Casteele, Grant
Protected Players
Brown, Deshorn
Harrington, Michael
Irwin, Clint
Klute, Chris
Knight, Zat
LaBrocca, Nick
Moor, Drew
Powers, Dillon
Sanchez, Vicente
Torres, Gabriel
Watts, Jared
Homegrown Players exempt from selection
Armstrong, Davy
Calvert, Caleb
O'Neill, Shane
Serna, Dillon
Generation adidas Players exempt from selection
Hairston, Marlon
COLUMBUS CREW SC
Available Players
Arrieta, Jairo
Gehrig, Eric
Paladini, Daniel
Speas, Ben
Sweat, Ben
Viana, Agustin
Wahl, Tyson
Baiden, Kingsley
Bedell, Adam
George, Kevan
Schoenfeld, Aaron
Stuver, Brad
Protected Players
Clark, Steven
Finlay, Ethan
Francis, Waylon
Gall, Romain
Higuain, Federico
Jimenez, Hector
Kamara, Kei
Meram, Justin
Parkhurst, Michael
Pogatetz, Emmanuel
Tchani, Tony
Homegrown Players exempt from selection
Barson, Chad
Friedman, Ross
Lampson, Matt
Trapp, Wil
Walker, Matt
Wiet, Mattew
Generation adidas Players exempt from selection
None
D.C. UNITED
Available Players
Arnaud, Davy
Attakora, Nana
Caskey, Alex
Doyle, Conor
Driver, Andrew
Dykstra, Andrew (GK)
Estrada, David
Jeffrey, Jared
Johnson, Eddie
Korb, Chris
McNamara, Thomas
Neal, Lewis
Opare, Kofi
Parke, Jeff
Porter, Kyle
Protected Players
Boswell, Bobby
DeLeon, Nick
Espindola, Fabian
Franklin, Sean
Hamid, Bill
Kitchen, Perry
Pontius, Chris
Rolfe, Chris
Silva, Luis
Birnbaum, Steven
Kemp, Taylor
Homegrown Players exempt from selection
Martin, Collin
Robinson, Jalen
Seaton, Michael
Shanosky, Conner
Generation adidas Players exempt from selection
None
FC DALLAS
Available Players
Benitez, Jair
Cabrera, Walter
Escobar, Andres
Fernandez, Raul
John, George
Keel, Stephen
Luccin, Peter
Moffat, Adam
Texeira, David
Thomas, Hendry
Span, Brian
Walker, Nicholas
Protected Players
Akindele, Tesho
Castillo, Fabian
Diaz, Mauro
Hedges, Matt
Hollingshead, Ryan
Kennedy, Dan
Loyd, Zach
Pereira, Michel
Perez, Blas
Seitz, Chris
Watson, JeVaughn
Homegrown Players exempt from selection
Acosta, Kellyn
Craft, Coy
Garcia, Danny
Gonzalez, Jesse
Hernandez, Moises
Top, Jonathan
Ulloa, Victor
Generation adidas Players exempt from selection
Zimmerman, Walker
HOUSTON DYNAMO
Available Players
Ashe, Corey
Carrasco, Servando
Cummings, Omar
Horst, David
Inkoom, Samuel
Ownby, Brian
Arena, Anthony
Lisch, Michael
Sherrod, Mark
Willis, Joe
Protected Players
Barnes, Giles
Beasley, DaMarcus
Boniek Garcia, Oscar
Bruin, Will
Clark, Ricardo
Davis, Brad
Deric, Tyler
Garrido, Luis
Lopez, Alexander
Sarkodie, Kofi
Taylor, Jermaine
Homegrown Players exempt from selection
Salazar, Bryan
Generation adidas Players exempt from selection
Cochran, AJ
Johnson, Jason
SPORTING KANSAS CITY
Available Players
Bieler, Claudio
Claros, Jorge
Gruenebaum, Andy
Kronberg, Eric
Olum, Lawrence
Peterson, Jacob
Rodriguez Dovale, Antonio
Steuble, Martin
Zizzo, Sal
Duke, Christian
Kafari, Michael
Munoz, Victor
Saad, Soony
Protected Players
Anor, Bernardo
Besler, Matthew
Dwyer, Dom
Feilhaber, Benny
Juliao, Igor
Myers, Chance
Nagamura, Paulo
Opara, Ike
Sinovic, Seth
Zusi, Graham
Medranda, Jimmy
Homegrown Players exempt from selection
Ellis, Kevin
Kempin, Jon
Palmer-Brown, Erik
Generation adidas Players exempt from selection
Lopez, Mikey
LA GALAXY
Available Players
Dunivant, Todd
Gargan, Dan
Gordon, Alan
Perk Brian
Riley, James
Walker, Kenney
Garcia, Rafael
Rowe, Brian
Rugg, Charlie
Venter, Kyle
Protected Players
Da Silva, Leonardo
DeLaGarza, AJ
Gonzalez, Omar
Husidic, Baggio
Ishizaki, Stefan
Keane, Robbie
Meyer, Tommy
Pereira, Vitor (Juninho)
Penedo, Jaime
Rogers, Robbie
Sarvas, Marcelo
Homegrown Players exempt from selection
Jamieson, Bradford
McBean, Jack
Mendiola, Raul
Sorto, Oscar
Villarreal, Jose
Zardes, Gyasi
Generation adidas Players exempt from selection
Hoffman, Chandler
MONTREAL IMPACT
Available Players
Bissue, James
Danso, Mamadou
Ferrari, Matteo
Gonzalez, Santiago
Krol, Krzysztof
Lopez Rodriguez, Adrian
Nakajima-Ferran, Issey
Pearce, Heath
Perkins, Troy
Soriola, Gege
Larrea, Gorka
Toia, Donny
Protected Players
Bernier, Patrice
Bush, Evan
Camara, Hassoun
Camponholi Martins, Felipe
Duka, Dilly
Mallace, Calum
Mapp, Justin
McInerney, Jack
Piatti, Ignacio
Romero, Andres
Smith, Blake
Homegrown Players exempt from selection
Beland-Goyette, Louis
Crepeau, Maxime
Gagnon-Lapare, Jeremy
Jackson-Hamel, Anthony
Lefevre, Wandrille
Messoudi, Zakaria
Ouimette, Karl
Tissot, Maxim
Generation adidas Players exempt from selection
Miller, Eric
NEW ENGLAND REVOLUTION
Available Players
Barnes, Darrius
Bengston, Jerry
Dorman, Andy
Fagundez, Diego
Knighton, Brad
McCarthy, Stephen
Nasco, Joe
Soares, AJ
Taylor, Tony
Akpan, Andre
Jackson, Larry
Joseph, Shalrie
Mullins, Patrick
Neumann, Steven
Sanchez, Jossimar
Smith, Donne
Soffner, Luis
Sundly, Alec
Protected Players
Alston, Kevin
Bunbury, Teal
Davies, Charlie
Farrell, Andrew
Goncalves, Jose Julio
Jones, Jermaine
Kobayashi, Daigo
Nguyen, Lee
Rowe, Kelyn
Shuttleworth, Robert
Tierney, Chris
Homegrown Players exempt from selection
Caldwell, Scott
Generation adidas Players exempt from selection
None
NEW YORK RED BULLS
Available Players
Cahill, Tim
Convey, Bobby
Eckersley, Richard
Henry, Thierry
Kimura, Kosuke
Lozano, Armando
Luyindula, Peguy
Perrinelle, Damien
Sekagya, Ibrahim
Sene, Saer
Bover-Izquerdo, Ruben
Bustamante, Michael
Obekop, Marius
Stevenson, Eric
Protected Players
Alexander, Eric
Bitolo, Oyongo
Christianson, Ian
Duvall, Chris
McCarty, Dax
Meara, Ryan
Miller, Roy
Olave, Jamison
Robles, Luis
Sam, Lloyd
Wright-Phillips, Bradley
Homegrown Players exempt from selection
Castano, Santiago
Lade, Connor
Miazga, Matt
Generation adidas Players exempt from selection
None
PHILADELPHIA UNION
Available Players
Berry, Austin
Brown, Brian
Bone, Corben
Carreiro, Fred
Carroll, Brian
Casey, Conor
Cruz, Danny
Hoppenot, Antoine
Lahoud, Michael
M'Bohli, Rais
MacMath, Zac
Fernandes, Leo
Marquez, Richard
Ribeiro, Pedro
Wheeler, Aaron
Protected Players
Edu, Maurice
Fabinho
Gaddis, Raymon
LeToux, Sebastian
Maidana, Cristian
Nogueira, Vincent
Sapong, CJ
Valdes, Carlos
Wenger, Andrew
Williams, Sheanon
White, Ethan
Homegrown Players exempt from selection
Hernandez, Cristhian
McLaughlin, Jimmy
Pfeffer, Zachary
Generation adidas Players exempt from selection
Blake, Andre
PORTLAND TIMBERS
Available Players
Alhassan, Kalif
Fernandez, Gaston
Jewsbury, Jack
Kah, Pa Modou
McKenzie, Rauwshan
O'Rourke, Danny
Paparatto, Norberto
Ricketts, Donovan
Villafana, Jorge
Fochive, George
Gallego, Bryan
Gleeson, Jake
Nanchoff, Michael
Peay, Taylor
Weber, Andrew
Protected Players
Adi, Fanendo
Borchers, Nat
Chara, Diego
Johnson, Will
Nagbe, Darlington
Powell, Alvas
Ridgewell, Liam
Urruti, Maximiliano
Valeri, Diego
Wallace, Rodney
Zemanski, Ben
Homegrown Players exempt from selection
Evans, Steven
Generation adidas Players exempt from selection
Tshuma, Ntokozo (Schillo)
REAL SALT LAKE
Available Players
Attinella, Jeff
Balchan, Rich
Findley, Robbie
Grabavoy, Ned
Grossman, Cole
Mansally, Abdoulie
Wingert, Chris
Maund, Aaron
Salcedo, Carlos
Sandoval, Devon
Stertzer, John
Velasquez, Sebastian
Protected Players
Beckerman, Kyle
Beltran, Tony
Garcia, Olmes
Gil, Luis
Jaime, Sebastian
Morales, Javier
Mulholland, Luke
Plata, Joao
Rimando, Nick
Saborio, Alvaro
Schuler, Chris
Homegrown Players exempt from selection
Allen, Jordan
Fernandez, Eduardo (GK)
Glad, Justen
Lopez, Benjamin
Generation adidas Players exempt from selection
None
SAN JOSE EARTHQUAKES
Available Players
Barklage, Brandon
Busch, Jon
Djalo, Yannick
Fucito, Mike
Gorlitz, Andreas
Harris, Atiba
Harden, Ty
Hernandez, Jason
Pierazzi, Jean Baptiste
Pintos, Pablo
Stephenson, Khari
Cato, Cordell
Jahn, Adam
Knutsen, Billy
Meredith, Bryan
Muller, Thomas
Schuler, Billy
Tyrpak, Kristopher
Protected Players
Bernardez, Victor
Bingham, David
Cronin, Sam
Francis, Shaun
Goodson, Clarence
Koval, JJ
Lenhart, Steven
Perez Garcia, Matias
Salinas, Shea
Stewart, Jordan
Wondolowski, Chris
Homegrown Players exempt from selection
Thompson, Tommy
Generation adidas Players exempt from selection
None
SEATTLE SOUNDERS FC
Available Players
Anibaba, Jalil
Azira, Michael
Bowen, Tristan
Cooper, Kenny
Ford, Josh
Gonzalez, Leonardo
Long, Aaron
Ockford, Jimmy
Parsemain, Kevin
Remick, Dylan
Scott, Zacharias
Weaver, Cam
Protected Players
Alonso, Osvaldo
Barrett, Chad
Dempsey, Clint
Evans, Brad
Frei, Stefan
Marshall, Chad
Martins, Obafemi
Neagle, Lamar
Pappa, Marco
Pineda, Gonzalo
Rose, Andy
Homegrown Players exempt from selection
Kovar, Aaron
Okoli, Sean
Yedlin, DeAndre
Generation adidas Players exempt from selection
Lowe, Damion
TORONTO FC
Available Players
Bloom, Mark
Caldwell, Steven
DeRosario, Dwayne
Dike, Bright
Goncalves, Jackson
Hall, Jeremy
Konopka, Chris
Oduro, Dominic
Orr, Bradley
Wiedeman, Andrew
Lovitz, Daniel
Richter, Ryan
Protected Players
Bekker, Kyle
Bendik, Joe
Bradley, Michael
Creavalle, Warren
Defoe, Jermaine
Hagglund, Nick
Moore, Luke
Morrow, Justin
Oliveira Souza, Gilberto
Osorio, Jonathan
Warner, Collen
Homegrown Players exempt from selection
Aparicio, Manuel
Delgado, Marco
Hamilton, Jordan
Henry, Doneil
Manella, Chris
Morgan, Ashtone
Roberts, Quillan
Generation adidas Players exempt from selection
None
VANCOUVER WHITECAPS FC
Available Players
Ballouchy, Mehdi
Diouf, Mamadou
Fernandez, Sebastian
Mezquida, Gabriel
Mitchell, Carlyle
O'Brien, Andy
Rosales, Mauro
Tornaghi, Paolo
Lewis, Andre
Protected Players
Beitashour, Steven
Harvey, Jordan
Hurtado, Erik
Koffie, Gershon
Laba, Matias
Leveron, Johnny
Manneh, Kekuta
Mattocks, Darren
Morales, Pedro
Ousted, David
Waston, Kendall
Homegrown Players (exempt from selection)
Adekugbe, Samuel
Alderson, Bryce
Carducci, Marco
Clarke, Caleb
Froese, Kianz
Sampson, Ethen
Teibert, Russell
Generation adidas Players (exempt from selection)
Dean, Christian