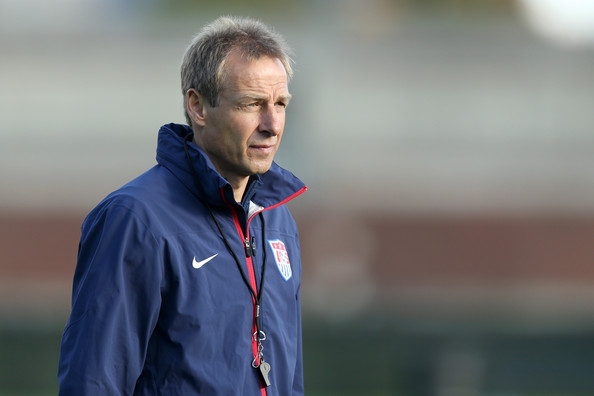 By DAN KARELL
Players trying to break into the U.S. Men's National Team will have plenty of chances to impress over the first half of 2015.
U.S. Soccer confirmed the USMNT's schedule from January through June, with seven friendlies lined up — including two road trips to Europe, a trip to Chile, and a match against archrival Mexico.
"We want to consistently benchmark ourselves against the top teams in the world, and to give new and different challenges to our players," said U.S. head coach Jurgen Klinsmann. "Competition gives your team an opportunity to grow, and this schedule allows us to do that. At the same time, our most important goal for the senior National Team in 2015 is to win the Gold Cup and qualify for the FIFA Confederations Cup in 2017, and these games will be excellent preparation."
As part of MLS' and the USMNT's new TV rights deal with ESPN, FOX Sports, and Univision, every one of the seven matches will be televised by either ESPN or FOX Sports, while UniMas and Univision Deportes will cover each of the matches for Spanish-language viewing.
The U.S. will kick off 2015 with a match at Chile on Jan. 28 before returning home to take on Panama on Feb. 8 at the StubHub Center. The USMNT will then travel to Europe for the next official FIFA dates, where they'll visit Denmark on March 25 and face Switzerland at the Stadion Letzigrund in Zurich on March 31.
A little more than two weeks later, the USMNT will return to action in a midweek friendly match against Mexico before a June trip to take on the Netherlands at the Amsterdam Arena on June 5 and finally traveling to Klinsmann's native Germany to face Die Mannschaft on June 10 at the Rhein Energie Stadion in Cologne.
According to a report, the Alamodome in San Antonio, Texas, is being considered as a venue for the USA-Mexico friendly match. A venue has not been chosen for either the Chile or Denmark games.
Here's a look at the USMNT's first seven matches of 2017:
Jan. 28 – Chile – Away (TBD) – FOX Sports 2, UniMas, UDN
Feb. 8 – Panama – StubHub Center; Carson, California – ESPN Network, UniMas, UDN
March 25 – Denmark – Away (TBD) -ESPN Network, UniMas, UDN
March 31 – Switzerland – Stadion Letzigrund; Zurich, Switzerland – FOX Sports 1, UniMas, UDN
April 15 – Mexico – Home (TBD) – FOX Sports 1, UniMas, UDN
June 5 – Netherlands – Away (TBD) – ESPN Network, UniMas, UDN
June 10 – Germany – Rhein Energie Stadion; Cologne, Germany – FOX Sports 1, UniMas, UDN
———-
What do you think of this schedule? Who do you see taking advantage of this schedule? What do you expect Klinsmann to learn about his roster?
Share your thoughts below.