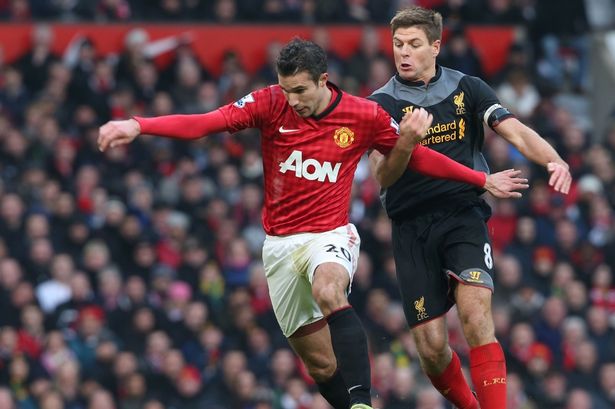 Getty Images
By ADAM TROXTELL
One of the oldest and most storied rivalries in English soccer takes place this Sunday when Liverpool meets Manchester United.
The Red Devils enter the game on a five-game winning streak, while Liverpool has also turned its form around to go without loss for three games. A win might be necessary for Man United to stay in third place. Three points would take Liverpool back within sight of the top four as they currently sit in ninth place.
History suggests another even contest, although it also slightly favors the home team. In the 12 league meetings since 2008, Liverpool won six, Man United won five and there was a solitary 1-1 draw. Man United have lost twice to Liverpool at Old Trafford since 2009.
Second faces third in Serie A later on Sunday as Roma travels to Genoa. Roma is looking to recover from their midweek UEFA Champions League loss to Manchester City that saw them dumped out of the competition. Both teams might be looking to gain ground on first-placed Juventus who take on fourth-placed Sampdoria earlier in the day.
In the afternoon, the winner of University of Maryland-Baltimore County and Virginia will face either Providence or UCLA to become the champions of NCAA Division I soccer. Another champion will be crowned that evening when the second leg of the Liga MX Apertura final is contested by Club America and Tigres UANL.
Here's a full list of this weekend's soccer on TV (list after the jump):
FRIDAY
2:30 p.m. – GolTV USA – Hoffenheim vs. Eintract Frankfurt
2:45 p.m. – beIN Sports USA – Almerica vs. Real Madrid
2:45 p.m. – Fox Soccer Plus – Queen of the South vs. Rangers
5 p.m. – ESPNU – UMBC vs. (16) Virginia
7:30 p.m. – ESPNU – (11) Providence vs.  (2) UCLA
11 p.m. – Fox Sports 2 – Wellington Phoenix vs. Central Coast Mariners
SATURDAY
3:30 a.m. – Fox Soccer Plus – Melbourne vs. Sydney FC
9:30 a.m. – GolTV USA – Augsburg vs. Bayern Munich
10 a.m. – NBCSN – Chelsea vs. Hull City
10 a.m. – Premier League Extra Time – Burnley vs. Southampton
10 a.m. – Premier League Extra Time – Crystal Palace vs. Stoke City
10 a.m. – Premier League Extra Time – Leicester City vs. Manchester City
10 a.m. – Premier League Extra Time – Sunderland vs. West Ham
10 a.m. – Premier League Extra Time – West Brom vs. Aston Villa
10 a.m. – beIN Sports USA – Getafe vs. Barcelona
11 a.m. – Fox Sports 2 – ES Setif vs. Auckland City
Noon – beIN Sports USA – Palermo vs. Sassuolo
Noon – beIN Sports en Espanol – Valencia vs. Rayo Vallecano
12:30 p.m. – NBCSN – Arsenal vs. Newcastle
12:30 p.m. – GolTV USA – Mainz vs. Stuttgart
2:30 p.m. – Fox Sports 2 – Cruz Azul vs. Western Sydney Wanderers
2:45 p.m. – beIN Sports USA – Lazio vs. Atalanta
4 p.m. – beIN Sports en Espanol – Malaga vs. Celta de Vigo
SUNDAY
6:30 a.m. – beIN Sports USA – Sampdoria vs. Juventus
8:30 a.m. – NBCSN – Manchester United vs. Liverpool
9 a.m. – beIN Sports USA – Genoa vs. Roma
9 a.m. – beIN Sports en Espanol – Udinese vs. Hellas Verona
9:30 a.m. – GolTV USA – Bayer Leverkusen vs. Borussia Monchengladbach
11 a.m. – NBCSN – Swansea vs. Tottenham
11 a.m. – beIN Sports USA – Guingamp vs. PSG
11 a.m. – beIN Sports en Espanol – Sevilla vs. Eibar
11:30 a.m. – GolTV USA – Wolfsburg vs. Paderborn
Noon – ESPNU – NCAA Men's College Cup Final
1 p.m. – beIN Sports USA – Atletico Madrid vs. Villareal
2:45 p.m. – beIN Sports USA – Milan vs. Napoli
3 p.m. – beIN Sports en Espanol – Real Sociedad vs. Athletic Bilbao
7 p.m. – Univision – America vs. Tigres