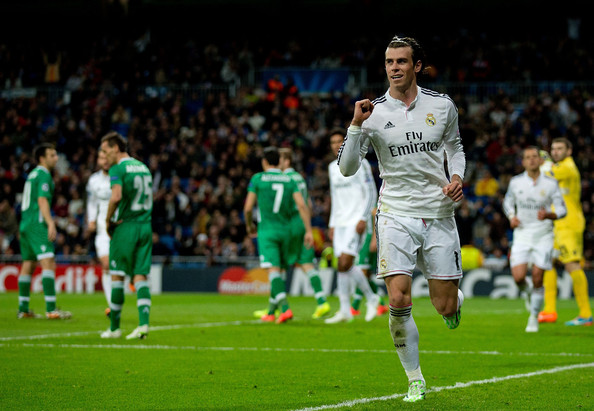 By DAN KARELL
Manchester United are ready to break the bank in order to bring more world-class stars to the Theater of Dreams.
According to a report in Spain's Diario AS, Man United are willing to spend £120 million to sign Real Madrid winger Gareth Bale. The transfer price would smash all world transfer records, but Real Madrid have no intention of selling Bale.
The 25-year-old Welshman has settled in Madrid very well, speaks Spanish, and has nine goals in 17 games for Los Blancos. He also reportedly has a release clause of  €1 billion, a number that no club is likely to ever reach in the near future.
The report adds that Man United will have to do more than just flex their financial muscle if they want to lure Bale back to the English Premier League.
Here are some more stories to kick off your day:
CONTE LIVID WITH SERIE A SCHEDULE
Antonio Conte's mission to lead Italy to glory at Euro 2016 just became even harder thanks to a decision made by the Italian league authorities.
The Italian National Team boss is reportedly furious after Serie A announced their dates for the 2015-2016 season, which would see the year end on May 22, according to the Gazzetta Della Sport in Italy. It would leave Conte with just 19 days to prepare for Euro 2016, which begins on June 10 and is hosted in France.
The report adds that most other European leagues would finish earlier to allow the national team managers to have closer to a month to shape their team ahead of the tournament. For what it's worth, there were 25 days between the end of the Serie A season and the 2014 World Cup and 26 days before Euro 2012.
ARSENAL ARE EPL'S MOST INJURED TEAM
Arsenal's predictable struggles year-to-year due to injuries to key players is no fluke, according to a report in the Daily Telegraph.
Data compiled by Premier Injuries Ltd. for the Telegraph shows that Arsenal have suffered not just the most injuries this season, but also the second-most total days lost due to injury in the last 10 years and the most significant injuries to first-team players.
The report comes as Arsenal captain Mikel Arteta has sustained an ankle injury as he was returning to full fitness from a calf injury suffered on Nov. 26 in a match against Borussia Dortmund. Arteta is not expected to play until January.
QUICK KICKS
Cagliari confirmed in a press release on Tuesday morning that they've parted company with manager Zdenek Zeman after just six months at the club. (REPORT)
Borussia Dortmund announced the signing of Slovenian international midfielder Kevin Kampl on a contract through 2019. (REPORT)
Arsenal are keeping a close eye on West Bromwich Albion forward Saido Berahino, who could be available for £16 million. (REPORT)
German World Cup squad member Christoph Kramer has signed a new five-year contract with Bayer Leverkusen and will return to the club after his loan at Borussia Mönchengladbach ends. (REPORT)
England National Team manager Roy Hodgson has called the 2014 calendar year a "mixed year" due to plenty of wins but a failure at the 2014 World Cup. (REPORT)
Forty-year-old Brazilian midfielder Ze Roberto is continuing his career with Palmeiras. (REPORT)
———–
What do you think of these reports? Do you see Man United lodging a bid for Bale? Agree with Conte's issues about the Serie A calendar? What do you think of Arsenal's injury problems?
Share your thoughts below.