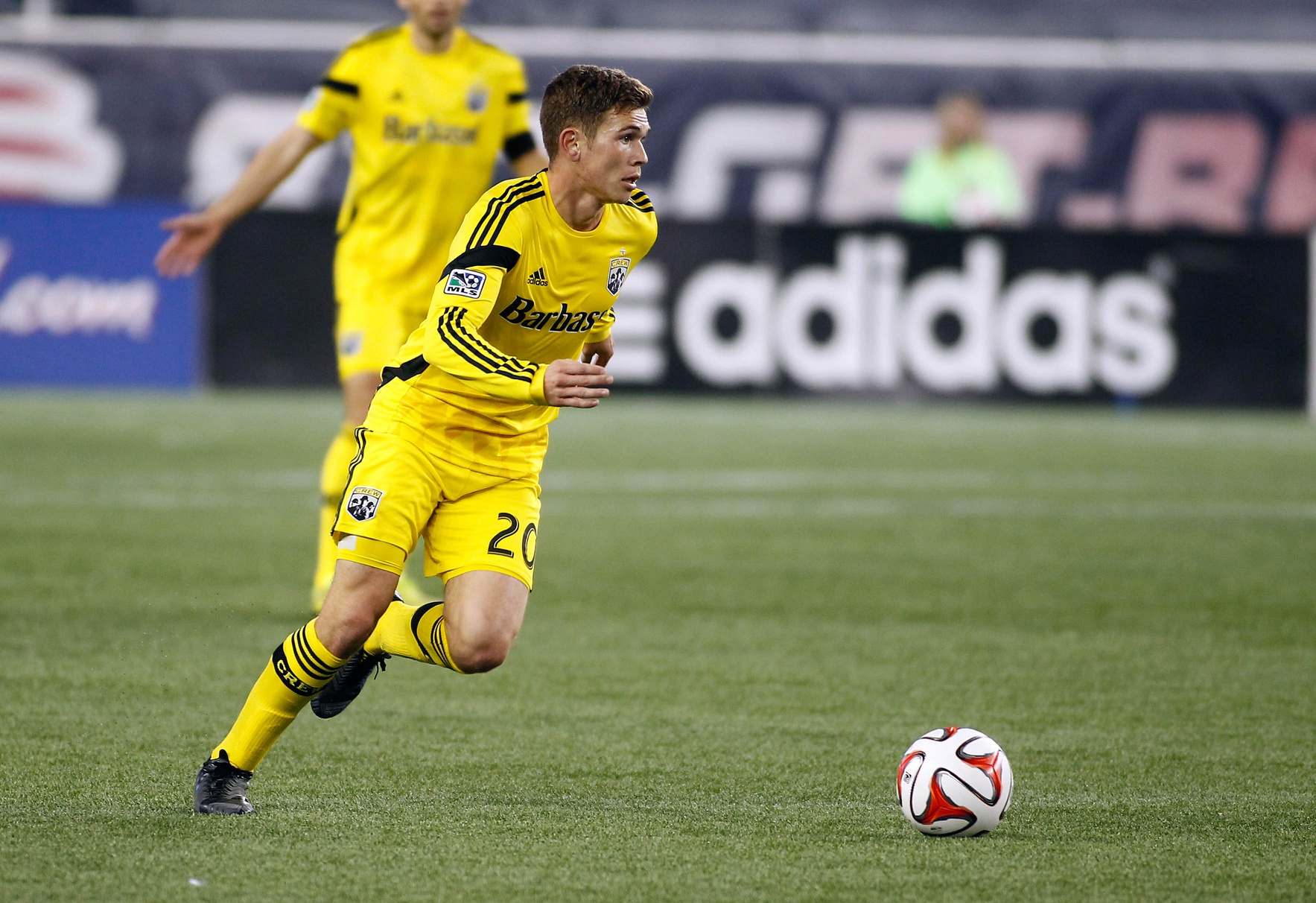 Photo by Stew Milne/USA Today Sports
By DAN KARELL
Based on his past season, it should come as no surprise that Wil Trapp earned his first call-up to the U.S. Men's National Team.
The up-and-coming Columbus Crew SC star was included in Jurgen Klinsmann's 28-man squad for the USMNT's annual January camp, which will see the side head to Chile for a friendly with their national team on Jan. 28 before heading home to take on fellow CONCACAF nation Panama on Feb. 8 in Carson, Calif.
In his first full season with the Crew, Trapp fit in seamlessly to head coach Gregg Berhalter's attacking-minded system. The 21-year-old became the connector between the defensive line and the attack, with Trapp regularly dropping back to start the build up in attack, as well as providing the first line of defense when opponents break forward.
It's a role that Trapp hopes to fill with the USMNT over the course of the next month.
"If you look at the way the national team's been playing, you look at a guy like Kyle Beckerman, playing that defensive midfield role, sometimes (dropping) between the centerbacks, and (being) the metronome for the team," Trapp told reporters in a conference call. "That's a similar role to what I've been playing with Columbus Crew SC and I think hopefully if I do well, that's where I'd find myself playing."
Trapp's successful season came to an end with not only a goal and four assists in 28 games, all starts, but he also drew praise from opponents around the league. Following his stellar performance in a 3-1 road win for the Crew at the New York Red Bulls, Thierry Henry heaped praise on the Gahanna, Ohio native.
As he looks to improve on last season, Trapp said that he can use this coming camp as a "measuring stick" to see how far he's come so far in his career, and how far he has to go. Each day in training, he'll be going up against the likes of Jermaine Jones and Michael Bradley, established players who have played in Europe and were on the U.S. squad at the 2014 World Cup.
"I think it's a good measuring stick for where I'm at in my career," Trapp said. "Seeing guys like Michael Bradley, Jermaine Jones, Chris Wondolowski, Matt Besler, guys that played in the World Cup, those are guys that I look up to and I think you have to strive to be like them. Being able to be there every day in training and learn from them as well as compete against them will hopefully do wonders for me."
In spite of his age, Trapp has always shown a propensity to lead. A former captain for the U.S. Under-20 National Team and the current vice-captain for the Crew, Trapp has embraced his leadership qualities.
It's just another role that he expects to slide into when he joins the USMNT.
"I think I play my best when I'm trying to lead and help guys around me," Trapp said, noting that he's played with a number of the players in the current USMNT squad either at Akron University or with the U.S. U-20s. "I'm going to just keep doing what I'm doing, trying to lead to my best way and tailor it to the guys around me, read their needs, and hopefully it works out."
Last January, Klinsmann commented on how impressed he was with the national team's fitness when they arrived in Carson, Calif. Luckily for Trapp, a number of Crew players have remained in Columbus through the winter, allowing there to be a large group training regularly with the club's fitness coaches so that they can hit the ground running for the 2015 MLS season.
"We've been very fortunate this offseason to have almost 12-15 guys working here in Columbus with our strength and conditioning coaches for the past six weeks," Trapp said. "I've been hard at work for a while now and I've been feeling pretty good and fit, and ready to go."
Prior to leaving for camp, Trapp spoke with both USMNT defender Michael Parkhurst and former USMNT player Berhalter on what to anticipate and how best to prepare for life under Klinsmann.
In addition, Berhalter assured Trapp not to worry about Crew preseason while he's with the USMNT. The camp will overlap with the start of the Crew's 20th season in MLS, as they open preseason around Jan. 24.
"Greg wants me to be fully focused on the national team for this training camp," said Trapp, who expects to play in both upcoming USMNT friendlies. "I think he knows once I get in with the Crew back in for preseason, we can go from there. Right now I'm fully focused on this call-up and working with the national team."