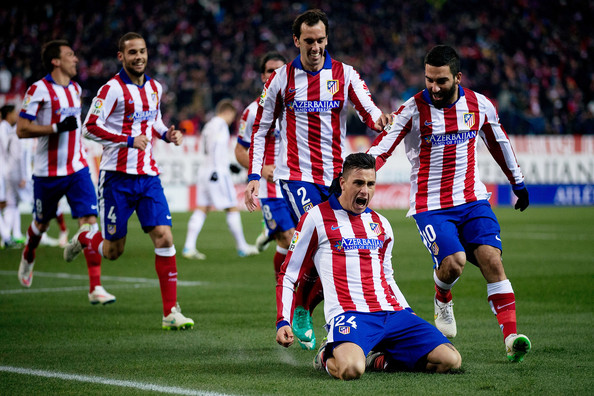 By RYAN TOLMICH
For the second time in four days, Real Madrid found themselves on the losing end.
The reigning Champions League winners were knocked off by crosstown rivals Atletico Madrid, 2-0, Wednesday in Copa del Rey action. The loss comes just days after Real, who were without Cristiano Ronaldo, dropped a contest to Valencia that snapped the club's history 22-game win streak.
Atletico Madrid, who saw Fernando Torres make his return, opened the scoring in the 58th minute through Raul Garcia, who converted a penalty kick following a Sergio Ramos foul on the box. Defender Jose Gimenez added an insurance header in the 76th minute to earn Atletico the victory.
The two La Liga powerhouses will collide once again in the second leg on Jan. 15 at the Bernabeu.
Here are some more of Wednesday evening's news and notes:
MAN UNITED CLOSE TO SIGNING FORMER BARCA GOALKEEPER VALDES
Manchester United already have a stud Spanish goalkeeper in David de Gea, but the club appears to be on the verge of adding another.
Former Barcelona goalkeeper Victor Valdes is reportedly close to signing an 18-month deal to join Man United following a 10-week training stint.
Valdes, who made 387 appearances for Barcelona, has been sidelined for nine months after suffering a torn ACL.
BONY COULD JOIN CITY IN "A FEW DAYS"
Wilfried Bony's prolific form with Swansea might earn the forward a move to one of the league's big contenders.
Bony is reportedly nearing a move to Manchester City after the Swansea striker agreed to take a pay cut to join the reigning Premier League champions.
"Talks are going on and I really hope soon things will happen,"said Bony's agent Francis Kacou. "There were rumors about other clubs, but at the moment it is City. There are some small details about money but I think it will go all right in a few days."
Bony, who is set to join Ivory Coast for the African Cup of Nations, admitted Wednesday that he is enamored with the idea of featuring for a Champions League side.
"We don't know what's happened or what will be later, so now I'm just focused on the national team," Bony said. "(But) every player wants to play Champions League and World Cups. Thats the wish of every player.

"I don't know anything (about the deal being completed). I'm waiting like you."
—
What do you make of Wednesday's clash between Atletico Madrid and Real Madrid? How often will Valdes play at Man United? How will Bony fare at City?
Share your thoughts below.