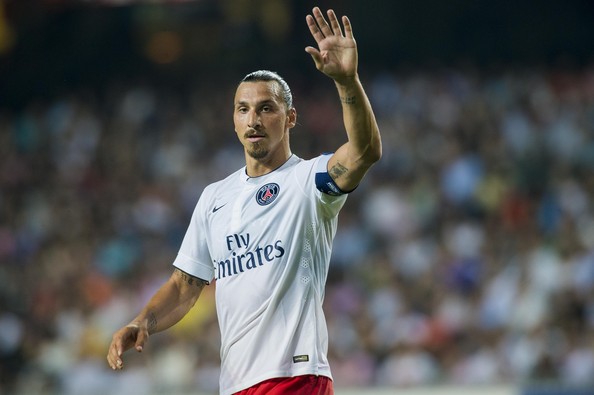 By RYAN TOLMICH
Zlatan Ibrahimovic won't be heading for an Italian return any time soon.
The Paris Saint-Germain striker spoke out against rumors linking the 33-year-old with a move to Roma, as Ibrahimovic insisted that he is happy to finish out the final year-and-a-half on his contract with the Ligue 1 club.
"There are no negotiations," Ibrahimovic said. "I know that somebody has been talking about it, but there's no truth to it. I'm not coming back to Italy.
"I'm happy in Paris and I still have a year on my contract with PSG. We'll see what happens after that but, at the moment, I'm happy in Paris. Roma's fans will just have to come to terms with it."
Ibrahimovic six Serie A titles, three with Inter Milan, one with AC Milan and two with Juventus, although the latter two were revoked in 2006 as part of the club's Calciopoli scandal.
Here are some more news and notes to kickoff your Friday morning:
MOURINHO SPEAKS OUT AGAINST PERSISTENT FOULING OF HAZARD
Eden Hazard is viewed as one of the Premier League's most exciting players, but manager Jose Mourinho fears that may not be the case for long if the status quo is maintained.
In the wake of a 5-2 loss to Tottenham, the Chelsea manager says that the persistent fouling
of Hazard, who Mourinho says could look to move to a league where he is better protected by officials.
"People in love with football in this country, people must be in love with Eden Hazard," Mourinho said."The way, match after match, he's being punished by opponents and he's not being protected by referees, maybe one day we won't have Eden Hazard.
"It's one, two, three, four, five, 10 aggressive fouls against him. They kick and kick and kick, and the kid resists. He's a very honest guy in the way he plays, but that's another problem."
WENGER REVEALS CONTACT WITH INTER OF PODOLSKI
Lukas Podolski's days propped to the Arsenal bench may be coming to a close.
Arsenal manager Arsene Wenger admitted Thursday that Inter Milan have made an offer for the German winger, who has made just seven substitute appearances in the Premier League this season.
"Look, the first proposal was farcical. Of course [we are open to discussion]," Wenger said. "After they come back a bit more serious then we will see what happens. Inevitable in a transfer is very difficult to say, but we'll see what happens."
QUICK KICKS
Manchester City forward Sergio Aguero is expected to return for the club's Jan. 18 matchup with Arsenal. (REPORT)
Juventus manager Max Allegri says that a move for Galatasaray's Wesley Sneijder would be a "feasible luxury". (REPORT)
A fan has been charged after confronting Arsene Wenger near the bench in Thursday's meeting between Arsenal and Southampton. (REPORT)
Stoke City have reportedly made an offer for Tottenham winger Aaron Lennon. (REPORT)
—-
What do you expect from Ibrahimovic in the coming years? What do you make of Mourinho's latest comments? How would Podolski fit in at Inter?
Share your thoughts below.