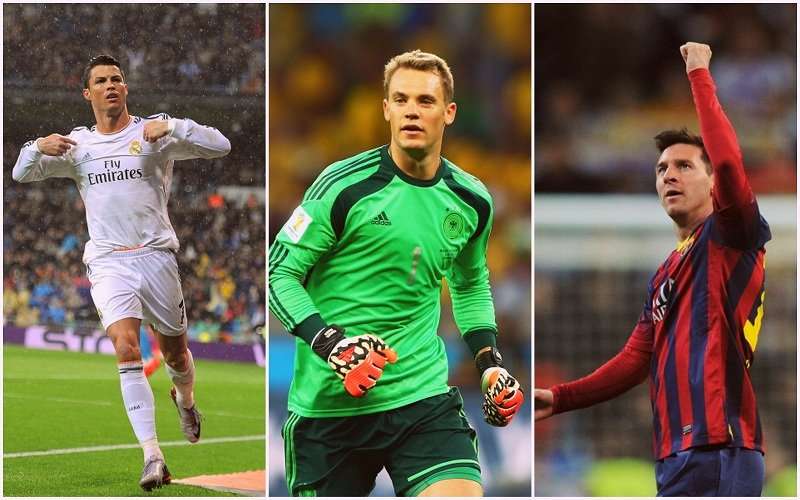 By RYAN TOLMICH
The calendars may have turned to 2015, but FIFA is set to recognize the prior year's best player with the awarding of the Ballon d'Or.
Lionel Messi, Manuel Neuer and Cristiano Ronaldo are the candidates for this year's award, which is to be presented Monday at the Ballon d'Or Gala.
Ronaldo and Messi are the only two players to have won the award in it's current form, which began when France Football's Ballon d'Or and the men's FIFA World Player of the Year were merged in 2010.
To date, Messi has captured a record four titles, while Ronaldo enters having won last year's award. Manuel Neuer, meanwhile, is the first goalkeeper to be nominated.
Have a look at a breakdown of each players achievements below and vote on who you think should be awarded the 2014 FIFA Ballon d'Or:
LIONEL MESSI
Four-time winner Lionel Messi has managed to put together a strong campaign for his fifth award.
Winner of the World Cup's Golden Ball, Messi was, as always, a key contributor in Argentina's advancement to the World Cup final. Messi's achievements were not limited to the international stage, as the Barcelona forward broke the record for most career goals scored in La Liga and the Champions League.
MANUEL NEUER
The biggest feather in the cap of Manuel Neuer is that that German goalkeeper can be regarded as a World Cup winner.
Neuer's marauding play in and around the box were a highlight of Germany's World Cup triumph, for which he was awarded the Golden Glove. Meanwhile, Neuer's steady hands remained on the club level, were Bayern Munich captured the Bundesliga and DFB Pokal crown.
CRISTIANO RONALDO
Real Madrid finally captured La Decima in 2014, and most of the credit should certainly go to Cristiano Ronaldo.
Scorer of 17 goals in the triumphant UEFA Champions League campaign, Ronaldo led his side to that historic trophy. Ronaldo shined on the club level with 51 goals in the 2013-14 season and 33 so far in the 2014-15 campaign, including a stretch of 15 goals in just seven games.
—-
Now it's your turn to vote. Let us know who you think should win the Ballon d'Or:
Who did you vote for? Who do you think should have been on the ballot that wasn't included?
Share your thoughts below.