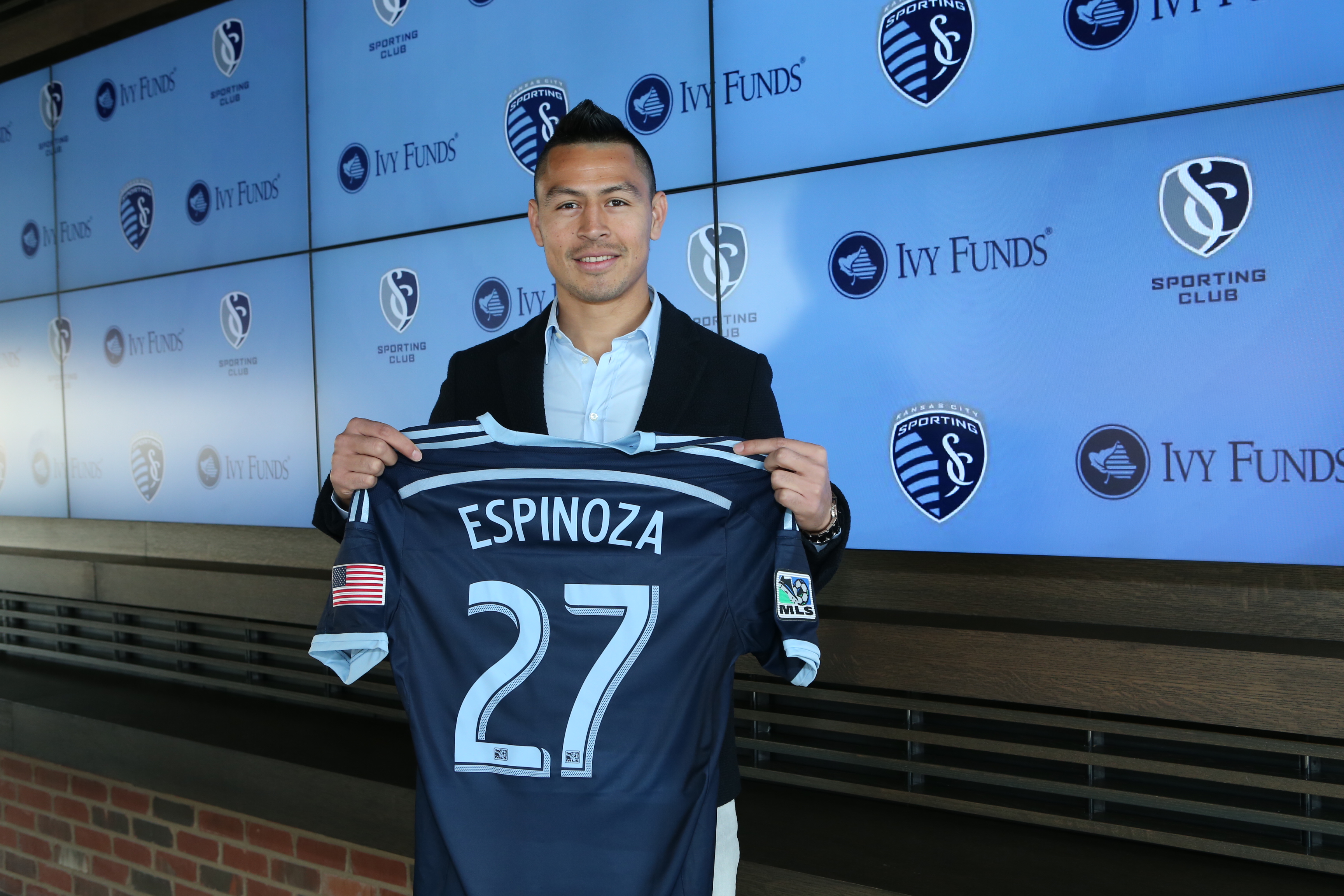 Photo courtesy of Gary Rohman/
Sporting Kansas City
By TATE STEINLAGE 
KANSAS CITY, Mo. — Roger Espinoza left Major League Soccer in November 2012. However, Major League Soccer did not leave him.
While at Wigan Athletic, playing in both the English Premier League and Championship over the past two seasons, Espinoza was regularly probed about MLS. He spoke about the high interest from English players Tuesday as he was reintroduced as a member of Sporting Kansas City.
"Every week, every week," Espinoza emphasized, "they'd ask me, 'How's it there? How's this club, how's this place?' I'd just explain how it is and how good it is."
But after the interest, according to Espinoza, came hesitation. Hesitation because of the league's current $3.1 million salary cap per team, a limitation to many who want to make the jump.
"A lot of players want to come to MLS," Espinoza said. "The salary cap makes it very difficult. Everyone wants a good lifestyle, everyone wants to take care of their families. Having too many of them here would destroy the salary cap. I think that's stopping them from coming here. If it wasn't (for) that, I guarantee a lot more would be here."
The current MLS collective bargaining agreement expires on Jan. 31. The league and its Players Union recently wrapped up initial talks that included player salaries and the overlapping salary cap.
Espinoza hopes that a new CBA can begin to pave the way for more players to enter the league from England and beyond.
"Hopefully the league can work something out with the Players Union," Espinoza said. "I think it's very possible. You can see how the league has grown. It's time for the players to gain some ground, especially the players who've needed it the most over the years — young players."
The average salary in MLS this past season was $207,831. The median salary was $91,827. Sporting KC manager Peter Vermes recently told SBI that he has an "idea" of what he wants for the new salary cap, but would not offer specifics.
Here are more Sporting KC notes:
BRADLEY EMBODIES TYPE OF STAR PLAYER VERMES WANTS
Almost one year to the day, AS Roma announced that Michael Bradley was leaving Serie A for MLS. Though he eventually joined Toronto FC, a number of other MLS clubs pursued the U.S. Men's National Team star, including Sporting KC.
In an interview with SBI, Peter Vermes discussed the talks with Bradley and where his club was positioned in possibly landing the talented midfielder.
"I spoke with his agent, and I spoke with Michael personally," Vermes said. "We came in at a time when negotiating was still going on, but it seemed that their compass was already pointing at Toronto.
"I thought that we made a very serious run at the opportunity, but obviously the outcome, as we know, he's in Toronto. He was definitely a player that we were extremely interested in. Sometimes not every deal goes your way.
"As an organization, though we're a small market, our club and our ownership group were up for the opportunity. That piece was a great message."
Sporting KC lifted their bid for Bradley as high as $40 million before Toronto FC's roughly $50-million offer was officially accepted.
Though the club missed out on the opportunity for a big-name player, Vermes says Bradley is the type of star that Sporting KC will go after in the future.
Both he and Sporting KC CEO Robb Heineman have said in the past that they will not bid for a major player just for the sake of adding a big name, but will spend for players embodying the qualities the club attempts to instill in its players.
"The quality that he has a player, the character that he has a person, I think it fits exactly in with the people we've looked for (and brought into) this club," Vermes indicated. "That part's not going to change. As a matter of a fact, the standard continues to get higher and higher. That's not because of myself or anybody on the staff, but because of the players in the organization. They keep raising the standard themselves. That will always be the kind of qualities that we will go after, for sure."
OTHER TIDBITS: 
Sporting KC forward Jacob Peterson officially inked a new deal Wednesday. That makes homegrown defender Kevin Ellis the only member from last year's squad to have yet sign a new deal or move on.
On Tuesday, Vermes said the club has made a bona fide offer to Ellis. Vermes hopes to reach an agreement shortly.
In not-so typical news, an octopus at a local Kansas City aquarium was named after defender Matt Besler.
Kansas City, Missouri, is one of 24 cities vying for a shot at the Centennial Cup America 2016 tournament. Venues must be larger than 50,000, so Arrowhead Stadium — home of the NFL's Kansas City Chiefs — would be the site for next year's tournament.
Sporting KC will feature three times next season on ESPN, and four times on FOX Sports 1.
—
What do you think of Espinoza's comments? Do you see a star player coming to Kansas City in the near future?
Share your thoughts below.