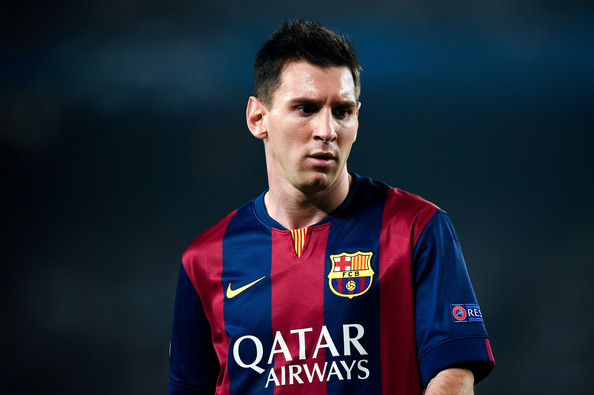 By RYAN TOLMICH
There appears to be some inner turmoil behind the scenes at the Camp Nou.
Reports out of Spain say that there is a major "rupture" between manager Luis Enrique and forward Lionel Messi, who missed out on Monday's open training session due to a "tummy bug". The two are reported to not be on speaking terms, with some rumors going so far as to state that Messi has issued the club an ultimatum regarding his future with the club.
Messi's frustration with the manager reportedly stems from Enrique's policy of not getting too close to players, although Barcelona president Joan Gaspart insists that the two are not as at-odds as suggested.
"I do not believe that the relationship between Messi and the coach is bad," Gaspart said. "I will believe it when Messi or Luis Enrique tell me personally. I am going to sleep very relaxed that my great superstar, the man I signed myself, Leo Messi, and Luis Enrique are good companions and the only differences are the typical ones which I experienced in 25 years as a Barcelona director
"I do not believe they are unhappy, or fighting. If they are it would be for a small matter, which I do not even believe."
Here are some more news and notes to kickoff your Wednesday morning:
STOKE EYE SHAQIRI AS BIG CLUBS REMAIN IN CONVERSATION
Bayern Munich midfielder Xherdan Shaqiri has drawn interest from clubs such as Liverpool and Inter Milan, but Stoke City believe they have as good a chance as any to land the Swiss star.
Stoke assistant Mark Bowen says that, after the addition of former Barcelona playmaker Bojan Krkic, Stoke have the ability to grab big players, even if other clubs are in the running.
"To get a good player like him onboard would be fantastic," Bowen said. "There are other clubs interested, but it doesn't mean we rule ourselves out. He's definitely on the list, but there is competition for a player of his ability.
"It's bound to help and it does help," he added. "There's many boxes to tick, not least the financial side of it, and with Shaqiri coming from one of the best clubs in the world, there's a lot of persuasion to get it done."
FORMER HEAD OF ENGLISH REFEREEING CRITICIZES CURRENT OFFICIALS
As former head of England's referees, Keith Hackett has seen his fair share of games, and he is none too pleased with what he has seen in some of the more recent ones.
Hackett has called for his successor and a number of the country's referees to step down while calling current refereeing standards the "worst we have seen".
"One thing is certain: Professional Game Match Officials Limited cannot continue without a fundamental review of its operations," Hackett said. "The PGMOL is failing in its aim to deliver excellence on the field.
"This season we have all witnessed many disastrous performances and big game-changing errors," Hackett added. "I share the view of one former top referee that the current group of professional referees is the worst that we have seen… It is my view that the board of the PGMOL should return to its original constitution with the chief executives of the FA, The Football League and Premier League reviewing the current PGMOL operation."
QUICK KICKS
Fernando Torres will make his Atletico Madrid return Wednesday with a start against Real Madrid in the Copa del Rey. (REPORT)
Senegal have called in Saido Mane despite Southampton's claims that the midfielder is injured. (REPORT)
Ivan Perisic's agent insists that the Wolfsburg midfielder will not leave the club in January. (REPORT)
Manchester City have opened talks for Swansea City forward Wilfried Bony. (REPORT)
Chelsea have confirmed that the club has sold goalkeeper Mark Schwarzer to Leicester City. (REPORT)
—
What do you make of the Barcelona drama? Where do you expect Shaqiri to end up? What do you think of the current state of refereeing?
Share your thoughts below.