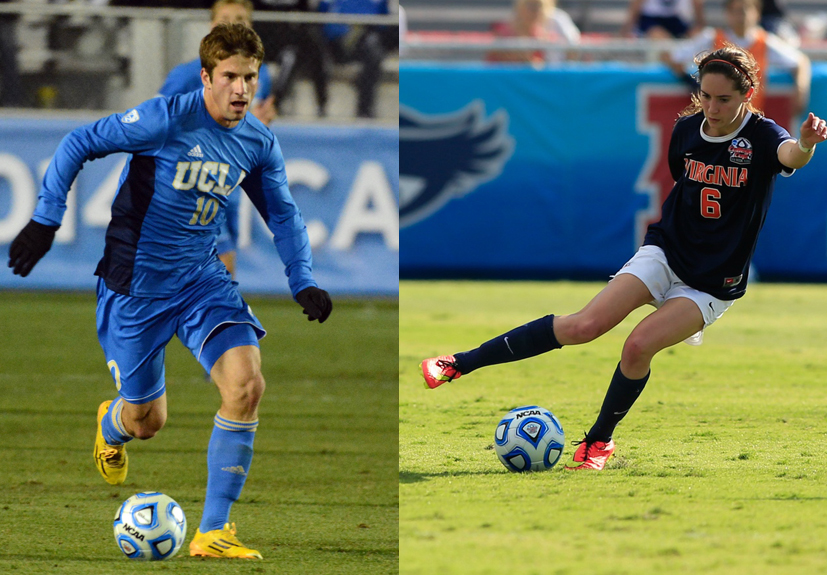 Photos by USA TODAY Sports
By CAITLIN MURRAY
Just a week from likely taking their careers pro, UCLA's Leo Stolz and Virginia's Morgan Brian were named the top college soccer players country.
Stolz and Brian were named the 2014 MAC Hermann trophy winners Friday night, beating out Alex Bono (Syracuse) and Andy Craven (North Carolina), and Dagny Brynjarsdottir (Florida State) and Sam Mewis (UCLA) respectively.
Both Stolz and Brian are top prospects for the Major League Soccer and National Women's Soccer League drafts set for next week at the National Soccer Coaches Association of America in Philadelphia.
Having won the award after a breakout 2013 season, Brian is the eighth player overall to win back-to-back Herman trophies. Other females to have accomplished that feat include legends such as USA's Mia Hamm and Canada's Christine Sinclair.
Stolz was a finalist for the award in 2013 and this past season led the Bruins to the NCAA Men's Division I College Cup final and led the team with nine goals six assists on the season.
Brian led the Cavaliers to the NCAA Division I Women's College Cup final for the first time, and she was the leading scoring in the tournament with four goals and nine assists. She had 10 goals and 14 assists on the season.
Brian has also become a fixture for the senior U.S. Women's National Team in her last two years in college and is likely a lock for Women's World Cup this summer in Canada.
The 2015 MLS SuperDraft is set for Jan. 15 and the 2015 NWSL College Draft is set for Jan. 16.
Stolz may opt not to sign with the MLS team that drafts him, having offers on the table in Germany, but Brian is expected to join the NWSL, where most of her USWNT teammates ply their trade.
The winners and finalists for the MAC Hermann Trophy are determined by a vote of Division I coaches who are members of the National Soccer Coaches Association of America.
——
What do you think of the winners? Are Stolz and Brian who you would have chosen? How do you see them doing in the drafts next week?
Share your thoughts below.