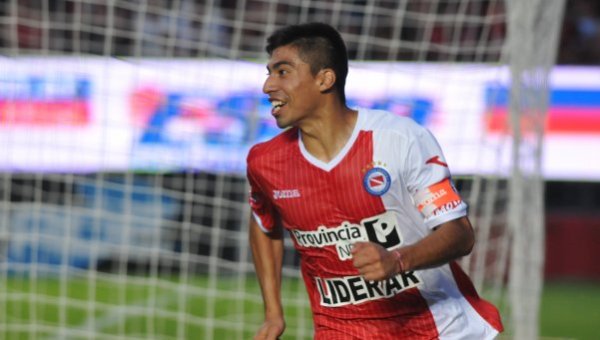 By RYAN TOLMICH
After freeing up an international roster spot with the exit of defender Zat Knight, the Colorado Rapids have reportedly turned around to quickly sign a young Designated Player.
The Denver Post reported Tuesday that the Rapids have signed 21-year-old attacking midfielder Juan Ramirez as the club's second Designated Player, joining forward Gabriel Torres.
Ramirez, who arrives for a reported fee in excess of $2 million, joins from Argentinos Juniors, for whom he scored five goals in 81 games.
In addition, the Rapids are reportedly in pursuit of another goalscoring option, although it is not clear if the club is prepared to use its third DP slot.
Here are some more of Tuesday's MLS news and notes:
RICHARDS, ALHASSAN AMONG TRIALISTS WITH WHITECAPS
The Vancouver Whitecaps are hosting a few MLS veterans as trialists as the club kicks off the 2015 preseason.
Midfielders Dane Richards and Khalif Alhassan, forward Robert Earnshaw and midfielder Cristian Cavallini are the four trialists currently with the club, who begin training Tuesday in Tucson, Arizona.
Richards, formerly of the New York Red Bulls and Whitecaps, featured in 159 career matches during an MLS career that spanned 2007-12. Most recently, the Jamaican international featured for Norwegian club FK Bodø/Glimt.
Alhassan spent the past five seasons as a member of the Portland Timbers, for whom he recorded five goals and 12 assists, while Earnshaw most recently featured for the Chicago Fire. Cavallini, meanwhile, enters with no MLS experience, as the 20-year-old had trials in Uruguay and Italy before playing for a semi-professional team in Ontario.
CREW REACH DEAL TO SIGN DRAFT PICK CAMPBELL
It was far from straight-forward, but first round pick Sergio Campbell is set to join the Columbus Crew with the blessing of his former youth club.
Campbell, who played collegiately at UConn, played for Jamaica's Portmore from age 16-19, prompting the club to claim training compensation from MLS upon Campbell's selection. The two sides have reportedly come to an agreement to allow Campbell to join the league, although the exact fee was not disclosed.
"I can tell you that an amicable resolution has been reached," said Romel Wallen, the director of Jamaican sports agency who represents Portmore, according to the Columbus Dispatch. "As of yesterday or recently, the MLS and by extension Columbus, is free to sign Sergio Campbell as we speak."
RED BULLS HIRE HAMLETT AS ASSISTANT 
New York Red Bulls head coach Jesse Marsch has bolstered his staff with the hiring of a familiar face.
The Red Bulls announced Tuesday that the club has hired Denis Hamlett as Marsch's first assistant coach. Hamlett, who was head coach of the Chicago Fire from 2008-09, previously worked under Marsch with the Montreal Impact in 2012.
"Denis is a great coach and a good man," said head coach Jesse Marsch. "We're excited to have him on board. His knowledge of the game and philosophy fit well with what we're trying to do here. I'm confident that he'll be a great asset to us moving forward.​"
—
What do you think of the Rapids' latest signing? What do you expect from the Whitecaps trialists? What does Hamlett bring to the Red Bulls?
Share your thoughts below.