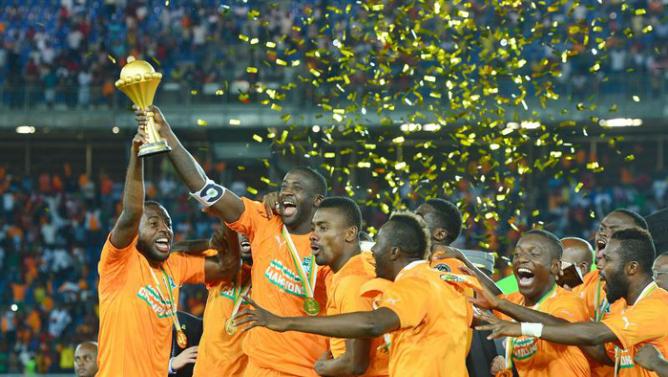 By DAN KARELL
The Ivory Coast ended a 23-year wait for a title in thrilling fashion on Sunday evening.
In the final of the African Cup of Nations in Equatorial Guinea, Ivory Coast goalkeeper Boubacar "Copa" Barry played the hero, saving a penalty kick from Ghana goalkeeper Brimah Razak in the 11th round of penalty kicks, and then scoring past Razak in the next frame to win the title. The Ivory Coast and Ghana were tied, 0-0, after extra time.
It's only the second-ever AFCON title for the Ivory Coast, who did it with a mixture of veterans, such as Barry, Gervinho, and the Toure brothers, Kolo and Yaya, as well as younger players such as Serge Aurier and Wilfried Bony.
"I cannot express my happiness," Yaya Toure said in the post-game press conference. "When you win a title with your club, it is amazing but with the country, it is unbelievable. I have been dreaming of this moment throughout my eight years in the national team. I have been waiting for this moment. We failed twice in 2006 and 2012.
"I'm very delighted and I want to thank all who has inspired and motivated us."
Here are some more stories from around the world of soccer:
LEICESTER CITY DENY RUMORS THAT THEY'VE SACKED PEARSON
Nigel Pearson's job apparently now isn't in jeopardy.
Leicester City released a statement on Sunday evening stating that Pearson is still the team's manager, despite speculation and rumors that he had been handed his pink slip on Sunday.
Leicester City Football Club would like to clarify its position relative to its manager, Nigel Pearson," the statement read. "Contrary to media speculation on Sunday evening, Nigel remains the Club's First Team Manager. Reports to the contrary are inaccurate and without foundation."
Pearson was involved in a sideline scuffle with Crystal Palace midfielder James McArthur on Saturday, in a 1-0 defeat at home. Leicester City are currently in last place in the English Premier League with 17 points from 24 games, four points from safety.
DEATH TOLL RISING FROM FIGHTS BETWEEN EGYPTIAN SOCCER FANS, POLICE
More than two dozen people have been confirmed dead after riots at a soccer match in Egypt, according to the Associated Press.
Fans of the club Zamalek clashed with police outside the Air Defense Stadium in Southern Cairo, with plenty of contrasting reports of what started the riots. One report claims that Zamalek fans without tickets were trying to force their way into the stadium, while other reports state that stadium security only opened a narrow gate for Zamalek fans to enter, and soon pushing and shoving ensued, leading to fights.
The AP reports that at least 25 people have died, and the death toll continues to rise. The report states that Egypt's prosecutor has ordered an investigation and that the Egyptian league has been suspended "until further notice."
This is the worst case of violence in Egyptian soccer since 74 Al-Ahly fans were killed in Feb. 2012.
————-
What do you think of this news? Impressed with the Ivory Coast's victory? Do you see Pearson remaining manager for much longer? Horrified with the news out of Egypt?
Share your thoughts below.