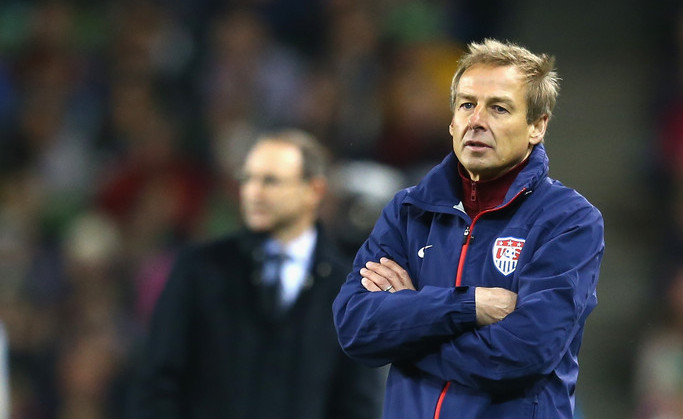 By DAN KARELL
Plenty of blame has been flying around from coast to coast, trying to find a reason for the U.S. Men's National Team's recent second-half struggles.
Even with a nearly full-strength starting eleven last Wednesday in Chile, the U.S. wilted in the summer heat of Rancagua, giving up two second-half goals to fall, 3-2, to Chile. The defeat left the Americans with just one win in their last nine games.
On Monday, U.S. head coach Jurgen Klinsmann said he believed that a lack of player education and fitness during the MLS offseason were the main culprits to the low run of form.
"It's an educational topic we try to talk them through," Klinsmann told MLSSoccer.com "You've got to understand again to take these things in your own hands, and whatever you lack in that moment, when these phases happen, that you have to work yourself back: 'OK, I understand that I'm not where I should be now … for sure I'm behind now, so I've got to get myself back into pole position,' and that's what they're going through right now.
"They've lost their pole position because [the World Cup] was a lot for them. [And] our players are not yet in an environment where they actually get put into line right away."
It could be argued that the talent drop in the Chile game was more immense than in the past, as Klinsmann gave second-half looks to national team newcomers Gyasi Zardes and Wil Trapp. But with those players in preseason and out of rhythm, it would have been hard even for the highest-level of players to have a standout performance in their first game in three months.
"It's difficult for me now to get them out of vacation. Some of them played their last game in October. In October!" Klinsmann said. "I want to help them get back into shape, get back into rhythm, but, oh, by the way, we're going to play [two friendlies]. So some learned over time and prepared themselves really well, and some don't have that knowledge yet.
"They don't have that 'oh, OK, at the beginning of December, go to Athletes' Performance in Phoenix and get myself fit.' That culture we don't have yet. What the other sports are doing really well, they use their preparation for preseason, four to six weeks prior to going into preseason with their NBA team, NFL team of whatever, they go to these fitness institutes and they get themselves fit."
The U.S. returns to action on Sunday at Stub Hub Center with a friendly against Panama.
—————-
What do you think of  Klinsmann's comments? Think he makes valid points? See the team's struggles being more his fault than the fault of his players?
Share your thoughts below.