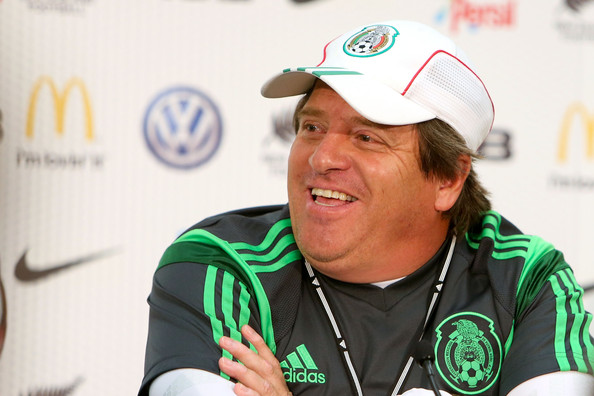 By RYAN TOLMICH
Mexico manager Miguel Herrera sees no issue with members of El Tri following in the footsteps of forward Erick 'Cubo' Torres.
Torres, who will join the Houston Dynamo in the summer, made his name with a breakout campaign in 2014 that saw the 22-year-old forward net 15 goals for Chivas USA. Buoyed by good form in MLS, Torres earned his first call-up to the Mexican national team under Herrara.
While El Tri's brightest stars have generally plied their trade either domestically or in Europe, Herrera said Wednesday that he is fine with his players following in the footsteps of Torres with a move to MLS.
"That's a decision made only and exclusively by the player and his representatives," Herrera told FutbolMLS.com's Tiro Libre Radio. "They should be looking for the best option possible, so long as the player is seeing the field. I've always said that MLS is growing, and every day it's much more solid, much stronger and more competitive, so it's an option [for players], but it is they who have to decide in the end."
Herrara's comments are in contrast to those from U.S. Men's National Team coach Jurgen Klinsmann, who has said he has been involved in decisions about where American players compete on the club level.
Torres, meanwhile, remains in Herrera's plans heading into the Copa America this summer, despite the forward's struggles. Herrera insists that Torres still has plenty of time to play his way onto the team for looks in both tournament and friendly contests in the near future.
"We'll see. The other day he came in during a Copa MX game and played very well and scored a goal," said Herrera. "He is maintaining that hunger and wants to be part of our group. He's still in the picture. We can't get count him out yet. There's still another five rounds of matches in Mexico before I have to name my roster for the upcoming FIFA fixtures and two-months-and-a-half for the Copa America squad."
——-
What do you think of Herrara's comments about MLS? Would you like to see more Mexican players in MLS? What do you think lies ahead for Torres?
Share your thoughts below.