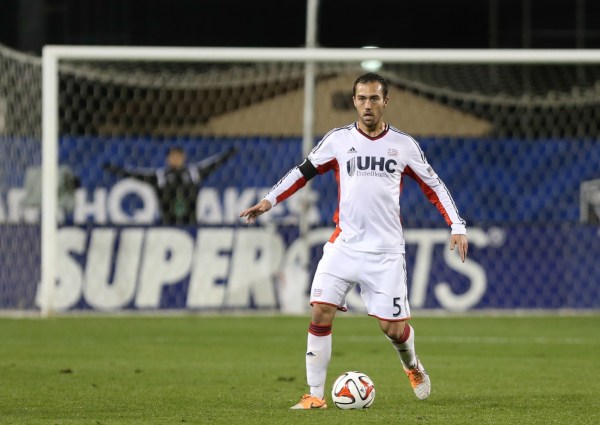 Photo by Kelly L. Cox/ USA Today Sports
By RYAN TOLMICH
After a series of stops and starts, A.J. Soares has finally found his new home.
Viking FC announced Monday that Soares has signed an 18-month contract with the club, which is currently in 10th place in Norway's top division. Soares was previously on trial with the club for the past two weeks.
"We have a great captain here and good coaches and they've been very welcoming," Soares told the club's website. "That will help with me adapting to the league and to the team. I think those guys have done a really job at helping me learn and get comfortable.
"I know about Viking now and that's my only concern really. Football is football and the games are going to be difficult, but I've gotten to know the group of guys here. I'm very pleased and happy. The team has been very welcoming. I'm looking forward to helping the club and hopefully moving up the table."
Soares was a starting centerback for the New England Revolution throughout 2014, leading the team to an MLS Cup final appearance. The centerback then opted to pursue moves abroad, most notably a move to Serie A's Hellas Verona and a training stint with Bob Bradley's Stabaek.
The 26-year-old says that he is looking forward to a new challenge and familiarizing himself to his new team.
"It's hard to tell so far because I've only played a little bit, but it's going to be a challenge," Soares said. "It's tactically slightly different. I can't judge on whether it's better or worse, I have no idea, but I know that in football, when you're in the league games are difficult, you have to fight, and that's something I'll always do for the club.
"I think I can bring good leadership and organization and just an influence to bring the guys together and work for the club. That's important in football and, if you have that, you always can win any game. That and, hopefully, quality of play. I think I can bring quality to the group."
What do you think of this move? Disappointed he couldn't secure a deal in Italy? Think he would have been better off staying with New England, or think Norway is a good springboard for larger leagues in Europe?
Share your thoughts below.